This post is also available in: Français (French) ìɡ͡bò (Igbo ) Yoruba
Pimples may affect anybody, male or female, at any time in their lives. But more especially among young persons entering puberty.
Pimples and dark spots may appear anywhere on your body, and they can be tough to get rid of.
If you have pimple-prone skin, you must take efforts to treat it since it has a negative impact on your appearance and self-esteem.
Pimples may form when your skin's pores get blocked with bacteria.  Hormones, food, bacteria, stress, and heredity also contribute to this skin disorder. 
It's inconvenient to wake up with a pimple on your face. Isn't that so? Unfortunately, pimples flare-ups like this do occur from time to time.
Using excellent pimples soaps is one of the greatest methods to get rid of pimples on your skin. There are a plethora of soaps on the Nigerian market that claim to remove pimples. 
From locally created soaps to foreign brands, there's something for everyone. The finest soaps for pimples in Nigeria, as well as their pricing, will be discussed in this piece.
Recommended for you: How to Get Rid of Acne(Pimples ), Blackheads and Boil Naturally
Best Soaps for Pimples in Nigeria | with prices
As previously said, there are several soaps on the market that claim to heal acne. Finding the best one is quite challenging. 
Of course, you can't try every soap, and even if you could, it would take a lifetime or more to finish them all.
This is why we've put together a list of the best soaps for pimples in Nigeria, along with their costs. As a result, you may choose the one you can afford. 
Please note that this list is not arranged in order of any relevance, meaning that whichever you go for will produce the same result as the others.
However, due to several factors, the pricing of these items may fluctuate at any moment. Competition, government rules, corporate policies, suppliers, and geography are just a few of these variables. 
So, without further ado, let's take a closer look at each of these products:
1. Avila Ultra Healing Neem Soap - (
N950 - N1,100)
Avila Ultra Healing Neem Soap is a very effective acne treatment soap. The components in this soap include antiviral, anti-inflammatory, and antibacterial.
Neem leaf is the main element in this product, as you would expect. The antifungal effects of this leaf are really powerful.
Avila Ultra Healing Neem Soap doesn't simply heal acne because of this. It may also be used to treat fungal infections including ringworm, nail fungus, and athlete's foot.
This soap is also beneficial for eczema, inflammation, and itching relief. Avila Ultra Healing Neem Soap has anti-ageing effects as well.
This assists in the reduction of wrinkles and fine lines. It also aids in the treatment of body odour. The soap is manufactured with natural components in a recipe.
As a consequence, it doesn't irritate anybody. When you use it regularly, your skin will get brighter and smoother.
2. Bio Aqua Handmade Soap - (N1,300 – N1,700)
Goat milk is used in Bio Aqua Handmade Soap. This homemade soap is enriched with coconut oil and vitamin E.
This soap is high in minerals, proteins, and vital fatty acids due to the inclusion of goat milk. All of these things work together to keep the skin nourished.
Alpha-hydroxyl acid is also included in Bio Aqua Handmade Soap. This acid is recognized to be a powerful exfoliant that aids in the removal of dead skin cells.
As a consequence, your skin will be cleaner, smoother, and brighter. This soap is high in vitamin E, which helps to revitalize the skin and make you seem younger.
Coconut oil also hydrates the skin cells and helps to maintain a consistent tone. This solution not only gets rid of pimples, but also gets rid of spots, markings, and hyperpigmentation. It is suitable for a variety of skin types.
3. Clear Essence Beauty Soap - (N2,800 upwards)
Alpha-hydroxyl acid is one of the primary constituents in the Clear Essence Beauty Soap. As previously said, this substance is one of the most effective when it comes to treating acne.
You can manage pimples and various types of acne using this soap. It also aids in the prevention of any of these illnesses.
The alpha-hydroxyl acid also has the effect of speeding up skin regeneration and making the skin surface soft and radiant.
When you use this product regularly, you'll notice that your skin has an even tone, is healthy, and is free of discolouration.
The chemicals in this soap assist to remove black stains and blemishes from the skin. It has an anti-ageing impact on the skin and is suitable for all skin types.
Read Also: What is the most recommended face wash to get rid of acne?
4. Neutrogena Transparent Facial Bar Soap - (2,300 upwards)
Neutrogena is a well-known skincare brand with a solid reputation across the globe. Neutrogena Transparent Facial Bar Soap is made using a solution that is intended to cure all types of acne, including pimples.
Aside from that, this soap works wonders on skin inflammations and helps to get rid of excess oil.
Neutrogena Transparent Facial Bar Soap has undergone dermatological testing. It is quite effective in treating a variety of skin diseases.
This soap cleans the skin, removing grime and excess oils. It also removes dead skin cells, which exfoliates the skin. The solution also has deep cleansing characteristics since it gets deep into the pores to remove any obstructions.
When you use this product regularly, you'll notice that your skin becomes brighter and more beautiful, with a more even tone.
You may be confident that the anti-ageing chemicals in this product will eliminate wrinkles and fine lines from your skin. It also removes hyperpigmentation patches, blemishes, and other symptoms.
5. Retin-A Treatment Soap - (N990 – N6,700)
Treatment with Retin-A Soap is clear and made from a recipe that is mostly used for face therapy. Tretinoin is a unique component found in this product.
This chemical has a lot of power when it comes to getting rid of acne and enhancing skin suppleness.
Using this soap also helps to balance out skin tone, resulting in a clean complexion and bright skin.
One of the most important advantages of using this soap is that it protects the skin from UV radiation and free radicals. It is suitable for all skin types, especially aged skin.
6. Shea Moisture African Bar Soap - (N4,500 upwards)
Shea Moisture is a traditional black soap with Shea butter and aloe leaf juice added to make it more moisturizing than other African black soaps.
Every skin type, particularly sensitive and acne-prone skin, may benefit from the Shea Moisture African Black Soap. 
This soap aids in the drying of existing pimples and the prevention of new ones. Its Aloe vera content keeps the skin moisturized and plump.
The soap also diminishes acne scars and dark spots over time with regular usage. The result is skin that is uniformly toned. 
The Shea Moisture African Soap has a pleasant aroma thanks to its essential oil combination, and it won't irritate your skin.
7. Skin Doctor Soap - (N2,500 upwards)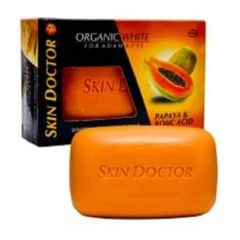 Grapeseed and Vitamin C are included in the formulation of Skin Doctor Soap, which helps to brighten dull skin.
Other active components work together to thoroughly cleanse the face and slough off dead skin cells that may clog pores and create pimples. 
Skin Doctor Soap may also be used to lighten stained skin. It diminishes dark spots and acne scars over time.
It also helps to reduce the appearance of wrinkles and fine lines. The Skin Doctor soap is beneficial to oily skin types since it helps to minimize facial oil. 
This company specializes in sensitive skin problems. The Skin Doctor Acne Soap is composed entirely of natural components and won't bother even the most delicate skin.
It may be used to cure body odour all over the body. With regular application, the skin becomes even-toned and silky.
See Also: BEST BODY CREAMS FOR CHOCOLATE SKIN
In Conclusion
Pimples are a skin problem that needs immediate treatment. Aside from the physical damage, it also has an impact on your self-esteem.
Using high-quality skincare products, such as soaps, is the best approach to deal with pimples. 
The list above is the best recommendation for soaps that will help you fight against this small irritating acne.
Have you tried any of them before? Is there any other you'd love us to add to the list? Then let's hear you out in the comment section.