How long does Fluconazole stay in your system? Healthsoothe is more than happy to answer this question regarding fluconazole for you.
Have you been taking Fluconazole and then you have been wondering how long does fluconazole stay in your system?
Well, no need to keep searching for answers on this, because Healthsoothe – one of the best healthcare sites got you covered as usual.
So what are you waiting for? Read on to find the answer you are looking for. 
Firstly, let's know what Fluconazole is
Fluconazole, also known by the trade of Diflucan, is a synthetic drug with antifungal properties and has a broad spectrum of action that is used to treat a wide range of fungal infections.
It is most typically used for the treatment of yeast infections, and because of how the medicine works, it may often be dosed as a single tablet for therapy.
It belongs to the triazole class of antifungals. It acts by reducing the development of the fungus responsible for the infection.
It is used to treat fungal infections, such as yeast infections of the abdomen, throat, blood, mouth, lungs, esophagus, and other body parts or organs.
Fluconazole is also used to treat fungal meningitis. It is also used to stop yeast infections in individuals who are at high risk of infection due to chemotherapy or radiation treatment prior to a transplant of bone marrow.
Fluconazole is also used to treat severe fungal infections that start in the lungs and spread throughout the body, as well as fungal infections of the skin, nails, and eye.
Fluconazole is also occasionally used to prevent fungal infections in persons who are at risk of being infected because they have HIV, cancer, or have had a transplant. Make sure to discuss the risks of taking this medicine for your illness with your doctor.
How long does Fluconazole stay in your system?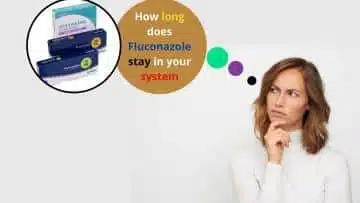 The time it takes drugs to leave your system varies substantially from individual to individual.
Fluconazole is mostly eliminated by the kidneys, therefore having adequate kidney function is an important factor in deciding how long does Fluconazole stay in your system.
If kidney function is normal, fluconazole has a half-life of 20 to 50 hours, with 30 hours being considered usual.
A medication is considered eliminated from the body after around 5.5 half-lives.
If we use the usual fluconazole half-life (30 hours), the average time it takes fluconazole to be eliminated from the body of a healthy adult is 165 hours or a little under 7 days.
This is why, in many cases, a yeast infection may be treated with only one tablet of fluconazole. It has a very long half-life in the body.
Fluconazole often begins to work within one day, but it may take up to three days for your symptoms to improve and up to seven days for your symptoms to subside.
Factors to consider which might influence how fluconazole lasts longer in the body
Because each patient's physiology is unique, there are various variables that come into play when determining how long does Fluconazole stay in your system. When determining how long does Fluconazole stay in your system, consider the following key factors:
Metabolism: Your metabolism controls how fast you metabolize meals, beverages, and medications like Fluconazole. If you have a slow metabolism, it will take much longer for the body to absorb and remove Fluconazole from your system than if you have a quick metabolism.

Age: Generally, the youthful you are, the better your body performs. Fluconazole will be eliminated from your system quicker if your body performs more efficiently.

Frequency of use: Fluconazole will stay in your system for as long as you've been taking it. For example, someone who has been taking Fluconazole for many years will take longer to eliminate Fluconazole from the body than somebody who has only been on Fluconazole for a few months.

Functions of the kidneys and liver: Fluconazole, like everything else, is eliminated through the liver and kidneys. If your liver or kidneys are compromised, your body will most likely take longer to clear Fluconazole from your system.
Quantity: The larger the amount of Fluconazole you are taking, the longer it will take for Fluconazole to be eliminated from your system. Genes predispose individuals to certain metabolic activities, which is important in how your body metabolizes drugs like Fluconazole. As a result, when determining how long Fluconazole will last in your system, your genetic composition comes into play.
Fluconazole is removed predominantly by renal excretion, with around 80% of the given dosage arriving in the urine as an unaltered medication, according to studies. Approximately 11% of the dosage is eliminated in the urine as waste.
Fluconazole has a plasma half-life of around 30 hours. Pharmacokinetics in healthy young individuals and the elderly are comparable.
According to studies, after 4 to 5 half-lives, 94 to 97 percent of the medication is removed. As a result, after 4 to 5 half-lives, a particular drug's plasma concentrations will be below a clinically meaningful value and hence deemed eliminated.
Fluconazole will be cleared from your body within a week (150hrs - 7 days) after the previous dose.
The bottom line on Fluconazole by Healthsoothe
Fluconazole may be administered with or without meals.
Follow your doctor's instructions precisely. Make sure you complete the course as directed by your doctor. If you are taking fluconazole for more than one day, try to take it at the same time every day.
Take fluconazole at least two hours before using GERD or acid reflux drugs such as proton pump inhibitors (for example omeprazole).
Fluconazole might produce dizziness, which can impair your ability to drive a vehicle or operate a piece of equipment. If fluconazole affects you in this manner, avoid doing dangerous duties.
Consult your doctor if you have an abnormal heartbeat, skin discoloration, persistent stomach discomfort, or any other concerning side effects while taking fluconazole.
Do not take any other drugs, including those purchased over the counter, unless your doctor or pharmacist has confirmed that they are compatible with fluconazole.
Fluconazole may not be appropriate for you if you are nursing, pregnant, or planning to become pregnant.
Fluconazole reaches peak levels within one to two hours of oral dosing. Infection symptoms, on the other hand, may take longer to go.
Fluconazole has a lengthy half-life, thus most infections may be treated with a single dosage or once daily.
Frequently Asked Questions
Is one pill of fluconazole enough?
Yeah, one pill is enough for a day.
What does fluconazole do inside your body system?
Fluconazole is a drug used to treat infections caused by fungi. It works by stopping fungi from reproducing, thereby killing them.
How long after taking fluconazole will the discharge stop?
Discharge should stop within a few hours of taking the drug.