There has been an increase in the number of cancer cases in Nigeria. Some people allege that it is the disease of the rich class. However, this is not true, as anybody can become a victim of this incurable ailment. The causes of cancer haven't been well enough for awareness purposes, but at least, there are measures for managing the disease.
One of such approaches is what we know today as "radiotherapy". The cost of Radiotherapy in Nigeria is very high; thus, radiotherapy is considered a very expensive management approach for cancer. It is on this note that it is still a core challenge for people living below the middle class in Nigeria to undergo the radiotherapy procedure.
What is radiotherapy?
Radiotherapy is a technique that involves the use of invisible high-energy rays or beams of subatomic particles to destroy cancerous cells. The medical personnel that are specialized in radiation therapy are known as radiation oncologists. There are two classes of radiotherapy; we have two types of radiotherapy; Internal and External Radiotherapy.
Cost of Radiotherapy in Nigeria (2021)
Let us look at the cost of radiotherapy in Nigeria today.
On an average scale, the current cost of one complete radiotherapy session costs N300, 000 to N1, 000,000. This depends mostly on the type of radiotherapy that is involved, the drugs administered, and the dose of the radiation.
The high cost of radiotherapy in Nigeria is highly due to the fact that in low- and middle-income countries (e.g. Nigeria), there has been an exponential increase in cancer incidence. According to the International Atomic Energy Agency, the biggest gap in radiotherapy availability and need is in Nigeria, where each machine serves an estimated 25.7 million people.
Therefore, when one radiotherapy machine serves 25.7 million people, demand is definitely higher than supply hence the cost of radiotherapy is very high as well.
The National Health Insurance Scheme (NHIS) does not cover cost of radiotherapy treatment but you can utilize the scheme to cover medications, some investigations, blood transfusions, and hospital admission. This will reduce the cost of radiotherapy a bit for you.
A woman whose daughter had pharyngeal cancer said she paid N800,000 naira for 24 doses of radiotherapy in University College Hospital, Ibadan, Nigeria. This includes accommodation as she came from Edo State.
Another woman said she paid about N400, 000 naira for 8 courses of radiation therapy for cervical cancer in Lagos University Teaching Hospital, Lagos, Nigeria.
A breast cancer survivor paid about N600, 000 for her radiation therapy in National Hospital, Abuja, Nigeria.
Therefore, as you can see, the cost of Radiotherapy is extremely high in Nigeria and calls are being made to the Federal Government to help reduce and subsidize the cost of radiotherapy in Nigeria.
Side effects of Radiotherapy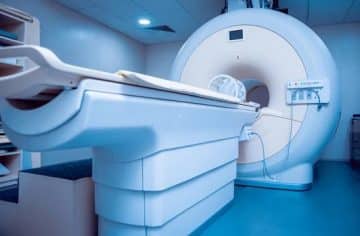 Getting radiotherapy can cure a lot of cancers. All the same, just like other cancer treatments, this one has its own side effects. The side effect depends largely on the type of cancer. It can also depend on some other factors like the dose of the radiation, the location of cancer and lastly the health of the individual. Most individuals with a weak immune system suffer adverse side effects of radiotherapy.
Hair Loss
In radiotherapy, large amounts of therapy are used in destroying cancerous cells. Improvements in technology have made radiotherapy to be more accurate in targeting cancerous cells, thereby reducing the side effect. This makes sure that the radiation only affects the cancer cells and leaves other cells alone. In chemotherapy, for instance, it is more targeted because chemical agents are used in the process. This is seen in reduced hair loss. On the other hand, radiotherapy can most times lead to complete hair loss. Total loss of hair is one of the major side effects of Radiotherapy.
Skin related problems
This is inarguably one of the most observed side effects of using Radiotherapy. In light of this, patients are known to report itching in their skin and most times, skin peeling and skin dryness. Although most skin-related issues patients complain about, it usually wears off after a couple of weeks.
Loss of strength
Radiotherapy can make patients feel weak and clumsy all the time. This also varies from person to person, as differences in body weight and body chemistry can be a major discrepancy factor in this case. Patients that combine Radiotherapy with chemotherapy experience more tiredness than patients that only underwent radiotherapy.
Long-term side effects of radiotherapy
On a general note, most side effects that are related to radiation are short-termed. However, there are also some side effects that would not go away easily. They keep recurring and might even develop into an illness. Sometimes, they can even result in another form of cancer.
Radiation recall effect
Radiation recall: one very serious side effect of radiation therapy. This one tends to physically look like sunburn. Radiation recall occurs when a very high dose of radiotherapy is used in treating the patient. It appears like a rash that is concentrated on the part of the skin where the chemotherapy or Radiotherapy took place.
Some of the symptoms of the radiation recall include swelling, wet sores and redness of the affected skin layer. The type of cancer that is being treated determines the intensity of the radiation. The symptoms might not appear immediately, but maybe after a couple of years.
Best Centers for Radiotherapy Treatment in Nigeria
Nigeria has at least seven approved radiotherapy facilities for radiotherapy treatment. They are located at:
University College Hospital (UCH), Ibadan
Lagos University Teaching Hospital (LUTH), Lagos
National Hospital Abuja
Eko Hospitals, Lagos- the only private hospital that has facilities for radiotherapy in Nigeria
University of Nigeria Teaching hospital (UNTH), Enugu
University of Benin Teaching Hospital (UBTH), Benin City, Edo
Ahmadu Bello Teaching Hospital, Kaduna
Uthman Danfodiyyo Teaching Hospital (UDTH), Sokoto
Conclusion
There has been an increase of cost of radiotherapy in Nigeria however, the number of available facilities is grossly inadequate, and there is dearth of trained personnel. It is hoped that the government carefully and strategically plan to develop labor capabilities in all fields of specialization related to radiotherapy service in order to adequately care for the multitude of cancer patients and also subsidize the cost of radiotherapy for poor cancer patients in Nigeria.
RELATED READING