There are many reasons why people desire DNA tests and in Nigeria today, DNA tests have become very popular as it has been trending on social media for a while.
Some of the reasons people desire DNA tests are that sometimes, there is a little confusion as to who the father of a child is, other times, foreign embassies and consulates request paternity tests for immigration as a proof of the relationship between two people before a VISA is granted.
It is also done to determine ancestry (or trace ancestral lineage) and in legal cases to determine paternity and in rare cases maternity of a person.
Cost of DNA Test in Nigeria
There are different types of DNA tests, so the cost differs on what exactly you want. Whether it is legal, ancestral and immigration test, the cost of DNA TEST is very important information that you cannot afford not to know before going to a laboratory to request for a test.
DNA tests are of various types and require various techniques, hence varying in how much they cost.
Although there is a general method for the most popular kind of DNA test, the paternity test, there are several other test methods that can be used to achieve the same result.
A DNA test in Nigeria costs between N50, 000 and N120, 000 per child/person depending on the clinic, procedure, and purpose. For instance, tests involving legal issues might attract more charges and could even be as high as N120, 000 – N200, 000 DNA Test on an unborn baby stake higher than the rest; it costs between N150, 000- N250, 000.
In addition, clinics, laboratories or hospitals where the test is performed matters a lot, as you could be even overcharged to the extent of N1, 000,000.
Although the test is usually more expensive in private clinics, laboratories or hospitals. Therefore, the cost of the DNA test in Nigeria is important information you need to know before going to the laboratory, as you do not want to be stranded.
Where Can One Take the DNA Test in Nigeria?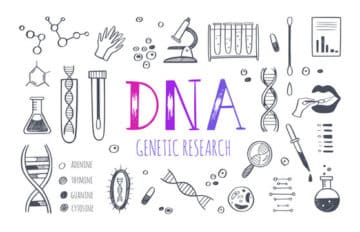 If you are pondering on how to get a DNA test done in Nigeria, there are lots of clinics, hospitals, and laboratories available. You can easily walk into any of these clinics and take the test, provided you have a good reason to want to take it.
Some of the well-known private clinics /laboratories in popular cities in Nigeria include:
Synlab (Lagos),
Brookside medical practice (Lagos)
Boded Laboratories (Lagos)
Prime care hospital (Abuja)
SaveAlife hospital (Port Harcourt)
While it is easy to locate a clinic or lab to take the DNA test, the more pressing issue lies in how much the test actually goes for. The cost of the DNA test in Nigeria, as already discussed above, has been up for discussion in recent weeks and it is essential to have a rough estimate of how much to put in mind when going for the test.
How to take the test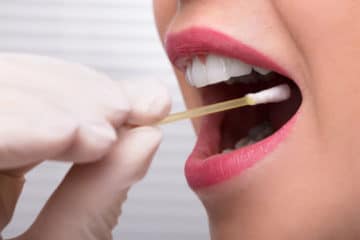 You book an appointment Or visit the laboratory, then your sample is taken by experienced doctors. Your result will be ready 10 working days (approx 2 weeks). It can be earlier if it is a legal case.
What Is The Test Like?
Have you been wondering how taking the test is like?
Well, collecting your DNA is painless and does not involve any needles. You can even take the samples yourself if need be.
Your DNA sample is taken from your cheek, cotton swabs to rub on each side of your cheeks for a few seconds and that is all. It can also be taken from your hair.
Are DNA Test Results Trustworthy?
Can you rely on the results of this test? Well, the simple answer is YES.
DNA is like a molecular 'code' that is present in your body's cells and unique to you. The closer you are related to someone, the more similar your DNA molecules will look.
The chances of an incorrect result are extremely slim, this, in fact, is one reason why DNA results are used in forensic studies and to solve legal issues. It is up to 99.9% accurate.
The manner the DNA test result will be presented depends on the type of DNA test and the reason for the test. Paternity and maternity test shows the result and confirms all that needs to be known. DNA siblingship tests are somewhat more technical and the results will be in the form of a ratio chance of a relationship.
Preparing For Your DNA or Paternity Test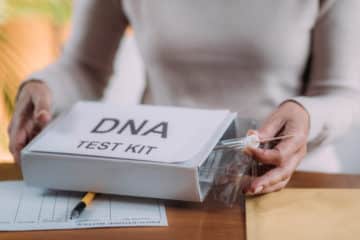 Whether it is an ancestry DNA test or a paternity test, here's what you should come with to a laboratory centre to make sure your sample is processed as fast as possible;
Three Passport photographs
A government-issued ID card and a photocopy.
Just in case the person whose sample is due to be taken is below 18 years, a guardian who can sign the consent form on behalf of the child should come along too.
Conclusion
Now you know the cost of DNA test in Nigeria (2021) and other information that follows it.
Also, know that the DNA test is accurate and can be relied on when conducted properly. The test is a biological matchmaking that endorses the biological configuration of both father and child.
The DNA test has helped solve various cases in Nigeria and rates among the most frequently performed tests in the country today. Whether by court endorsement or personal instinct, people have chosen to go for the test for several purposes.
RELATED READING