This post is also available in: Français (French) ìɡ͡bò (Igbo ) Yoruba
Treating yourself might seem like a luxury, but it's a worthwhile investment to improve your physical and mental health. Hence, take a day to treat yourself in a spa or eat healthy meals to detoxify your body of toxins.
Conveniently, you don't have to leave home to treat yourself. That being said, take a look at the best ways on how to pamper yourself at home.
Take Advantage Of Pampering Subscription Boxes
One way to treat yourself at home is to take advantage of pampering subscription boxes. As the term implies, pampering subscription boxes mean you'll receive continuous delivery of items based on your preferred frequency.
What's included in pampering subscription boxes? Choose a wide array of pampering items from different companies that offer subscription services. The items in these subscription services include cosmetic products, essential oils, aromatic candles, perfume, bath essentials, flowers, books, meal delivery, supplements, weed (CBD), and other health-boosting products. Take a look at this to find out more about cannabis subscription boxes.
Here are the advantages of availing pampering subscription boxes:
Save time and effort: Get to enjoy automatic delivery so you don't have to order your favorite pampering items every time. Subscribe and set your desired delivery frequency, which can be weekly, monthly, or quarterly.
Form of reminder: Receiving your pampering subscription boxes serves as a reminder that you need to take a rest and pamper yourself, even just at home.
Enjoy big discounts: Most companies offer great discounts when customers avail their subscription products and services. It's a form of marketing strategy that encourages more people to avail of subscription items and stay loyal to the brand.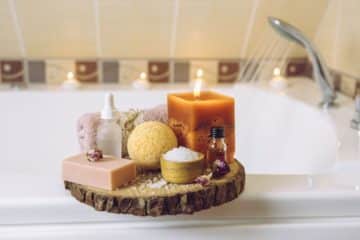 Facial Treatment
Getting a facial treatment is one way to take care of your skin. Regular facials include massage, exfoliation, and reducing fine lines, dark spots, and other skin imperfections.
Here are some facial treatment tips you can try at home:
Facial steaming: To save money paying a therapist at the spa, you can try a facial steam session at home. There are many ways to gain the same professional spa facial benefits, such as a 10-minute facial steam treatment.
Facial mask: A facial mask traps the skin's moisture and creates a film to hydrate, moisturize, or exfoliate the skin. Additionally, face masks allow active ingredients, such as benzoyl peroxide, charcoal, clay, or yogurt, to penetrate the skin better. Some of the natural ingredients you can use as a facial mask at home include oatmeal, aloe vera, avocado, coffee, lemon, honey, coconut milk, and turmeric.
Massage
Relax and soothe achy muscles by self-massaging at home. While often underestimated, self-massage can be just as effective as a spa therapist's massage, especially when the goal is to alleviate muscle tension, increase blood circulation, and reduce stress levels.
Self-massage involves applying pressure from head to toe, giving you a short burst of relaxation. As a tip, use lotion, cream, or essential oils, like jasmine or cedarwood, to massage your head, hands, feet, and other body parts.
Check the following ways to self-massage at home:
Head: Slowly massage your head using your fingertips. Move your thumbs along your scalp using small circles. Interweave your fingers and gently pull your hair away from your scalp.
Hands: Give your palm a good massage by using your fingers on the back of your other hand, rubbing the pads of your fingers on tender points.
Feet: Buy a few tennis balls to massage your aching feet at home. This can be done by rolling a ball beneath each foot while sitting. Roll the tennis ball under the foot's arch, under the toe and heel pads, and along the outer edge.
Eyes: First, warm your hands by rubbing them together, close your eyes, and cup your palms over them. Let the warmth and darkness fill your eyes and then massage under your eyebrow, nose bridge, and temples by using your fingers in a circular motion.
Aromatherapy
Experience the healing and relaxing scents of essential oils. Reap the body and mind benefits of aromatherapy at home by:
Consider dry evaporation: Put 2 to 4 drops of essential oil, such as sweet-smelling jasmine, on a tissue, clean cloth, or cotton ball and let it sit in a bowl in your room.
Creating a steam treatment: Put 3 to 7 drops of your favourite essential oil into a bowl of hot water. Next, place a towel over your head and put your face over the water into the trapped steam. Inhale the vaporized oil.
Making a bottled spray: To deodorize a room, create a spray or spritz with essential oils, transforming a space and setting your mood into an aromatherapy session. Place 10 to 15 drops of a combination of 1 to 3 essential oils in an ounce of water into a spray bottle.
Conclusion
Treat yourself with a relaxing facial treatment, massage, and aromatherapy. Also, take advantage of pampering subscription boxes to boost your health and wellness. Enjoy these pampering treatments at home so you'll be able to improve your health and wellness.