The key to staying fit is committing yourself to regular exercise and physical activities. Unfortunately, the hectic work and family life may not allow you to go to the gym frequently.
So, if you don't feel like going to the gym, bring the gym to your home. Luckily, you can convert your spare room into a home fitness room with these fantastic decoration ideas.
The Color says a lot
The perfect environment is vital for working out. The color of the walls is critical because it brings a sense of energy to you. You can give different colors to the other walls using the Neon Mama site or similar websites according to the various activities.
The blue and orange paint is for some thrust of energy that may include cardio exercises. The blue color compliments calmness, and it can go near your yoga setup. The bright red, orange, and vermillion are best suited for high-intensity workouts. The blues, lavender, white, and earthy colors will work best with meditation, yoga, and dancing activities.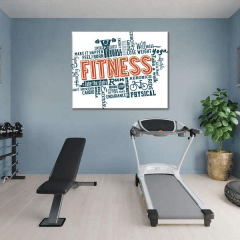 ElephantStock
Wall Art
Wall art is going to change the decor of your gym just like in apartments near El Paso to the next level. The trending home fitness room canvas and photo prints look so fascinating. The idea of wall art on the gym walls is to give it a personalized look and motivate you to work hard.
You can hang a large statement canvas of your favorite motivation line or an athlete. You can customize the photo prints according to your choice—for example, a vibrant abstract piece of multi frames or a hexagonal frame.
The number of frames, size, and shape all depends on your mood. Wall art fills you with energy and motivation. For more ideas, you can click from here to decorate your home gym
Mirrors
The installment of full-length wall mirrors in the gym creates an illusion of a larger space. It makes the room appear larger as it throws light in darker areas. Mirrors are necessary for your home fitness room as it may or may not be very spacious.
Mirrors in fitness rooms also invoke a sense of confidence while you work out. A fitness room mirror boosts your experience by helping you fix your posture. In addition, face-to-face exercising helps you keep a tab on your progress.
Flooring
You have to pay special attention to the flooring of your fitness room because you or your equipment might fall on the ground. Consider all your gear and go for fall-friendly flooring. You can opt for a light cushioned carpet that is anti-skid.
You can go for anti-slip tiles or cemented flooring if you are sure you won't get yourself hurt. The choice of flooring can go according to the people who are using it. If all your family members are using it, you must install safe flooring.
Wallpaper
Wallpaper installation on the walls of your home fitness room is a great idea for changing the temperament of the area. Readily available removable wallpapers are easily available and are very easy to paste; you can get them in loud, energetic patterns.
Organizers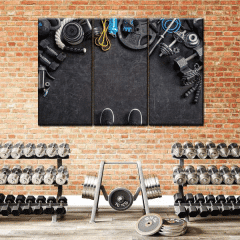 ElephantStock
With home fitness rooms comes a whole lot of gear. You don't want your gym to be messy with all the equipment lying on the floor. It is a lot of obstruction, and you might hurt yourself.
Experts say you should never hide the equipment in the closet; you will always forget to use it. Instead, go for open organizers. Place light-weighted gears on wall hanging organizers with some plant potters. You can keep all your heavy stuff in large floor organizers.
Greenery
A little freshness and green vibes will enlighten your place. You would love your gym to be airy and bright, and the greenery around your exercising area is a great motivator. You can place small pots with plants on shelves, or a large vase in a corner will look good.
Add ons
The decoration with utility goes a long way. For example, you can add an edible corner to your gym—a high table for keeping your cool water bottles, shakes, and smoothies. You can also keep your fresh towels and clothes here in a systematic manner.
Make sure you have enough light in your room and let the natural light enter your room. This practical decor idea is savage if you have some spare space.
Final Words
Everyone is sure that they want to stay fit and healthy and for that routine is necessary. You can bring the gym to your home and decorate it to your style by making little effort. Reconsider the space, install space-saving decor and make sure you have enough room for exercising.