In the world of medicine, there have been so many advances and so many new developments, these signs of progress have assisted to make diagnostic processes easier to bear. One of the best of these processes is laparoscopy, and today I am going to be telling you all you need to know about Laparoscopy including the cost of Laparoscopy in Nigeria.
The cost of laparoscopy in Nigeria is depended on the availability and accessibility of hospitals or clinics for the surgery. Based on recent reports, the cost of laparoscopy in Nigeria is between N500, 000 and N1. 2 million depending on the type the patient is going for. This price also depends on the hospital and the age of the patient. Before I break down the cost further, Let's take a look at what is laparoscopy, its benefits, risk factors, and the recovery process.
What is Laparoscopy?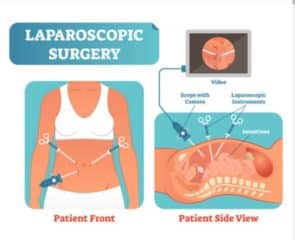 Basically, laparoscopy is a diagnostic procedure in which a surgeon inserts a tiny device that has a light attached to it and a camera into your body to assist them to clearly picture organ damage and disease. During laparoscopy, the surgeon inserts the laparoscope into the stomach through a small opening in the abdomen that they make with a scalpel. They will then use a tube, allowing for clearer picturing of the organs in the abdomen and pelvis.
In some cases, the surgeon might aid a laparoscopy process with some extra surgical instruments, which they can also insert through the incision spots. A patient undertaking a laparoscopy can often anticipate up to 4 small incisions or more depending on several factors.
A doctor that is carrying out a laparoscopy may make use of a uterine schemer, which is inserted into the vagina, cervix, and uterus for easy movement pelvic organ to help see different pelvic anatomy. Once the process is complete, the physician will remove most of the carbon dioxide from the abdomen, eliminate all instruments, close the cuts with stitches, and cover the affected area with small bandages
Please note that after the procedure, the patient may feel tired or nauseated due to the anaesthesia used. Normally, most patients are discharged from the hospital on the day of their surgery. Although most experts advise that patients stay an extra day in the hospital to enable full recovery before being discharged. This is more important in cases of laparoscopic hysterectomy that involves the removal of the uterus.
Benefits of Laparoscopy
Laparoscopy is a very useful surgical process that is used for a number of situations. While they may not be the only solution to certain ailments, they hold an advantage over many other types of treatments. Laparoscopy has many advantages compared to other surgical processes. They include but are not limited to the following:
They are less painful than normal open surgical operations
They ensure a faster recovery
IT usually involves smaller incisions
There is a lesser risk of infection.
Risks of Laparoscopy
Just like any other surgical processes, there are risks associated with laparoscopy. It is important the medical practitioner and surgeon explain these risks to the patients very well before they undergo the procedure. You are advised to tell your doctor of any health condition you may have or any particular condition you have. Some of the risks of Laparoscopy include:
bleeding, and hence, a potential need for blood transfusion
Just Like open surgery, there could be risks of infection, although there is a lesser risk of infection here.
There could be a risk of damage of internal structures like blood vessels, bowels, or ureter if the procedure is not properly done so it is highly advised you check the reputation of the hospital you want to undergo the procedure in.
There could also be an adverse reaction to anaesthesia in some patients, although the reaction wears off after a while.
There could be a risk of blood clot during or after the process.
The Recovery Process
After the laparoscopy procedure, patients may feel some side effects or symptoms. Please note that when any one or more of these symptoms, becomes persistent, it is recommended that the patient see a doctor as soon as possible. Some of the commonest symptoms that usually occur days after the process include:
fatigue
A sore throat, usually as a result of the breathing tube during surgery
uneasiness at the site of an incision
abdominal bloating
A shoulder or backache. This is usually caused as a result of carbon dioxide remaining within the abdomen, which irritates the diaphragm
severe pain
nausea or vomiting
heavy vaginal bleeding
heavy menstrual bleeding
Cost of Laparoscopy in Nigeria
The cost of Laparoscopy in Nigeria is heavily dependent on where you do it In private hospitals it costs an average of N2,000,000 – N3,000,000 million, but in government hospitals, the price is cheaper from N50,000 – 1,200,000 depending on the Laparoscopic surgery type.
The cost of Laparoscopy in Nigeria depending on the types using Lagos as a survey zone is:
Shirodkar's Stitch (Posterior Stitch) in Lagos N735,429
Hysteroscopic Adhesiolysis in Lagos N735,429
Lap Ovarian Biopsy in Lagos N735,429
Hysteroscopic Myomectomy in Lagos N848,571
Hysterotomy With Tube Ligation in Lagos N735,429
Cesarean Delivery (C-Section) in Lagos N622,286
Excision of Vaginal Septum in Lagos N735, 429.
McDonald's Stitch (Ant Stitch) in Lagos N 735,429
LETZ (Loop Excision of Transformation Zone) in Lagos N113,143
Stapes Sling Operation (For Prolapsed Uterus) in Lagos N1,074,857
Salpingo-Oophorectomy in Lagos N622,286
RVF Repair in Lagos N1,074,857
Manual Removal Of Placenta in Lagos N396,000
Excision And Debulking of Large Ovarian Tumor With Omentoctomy in Lagos N1,074,857
Laparoscopic Adhesiolysis in Lagos N735,429
Lap Hysterectomy in Lagos N1,074,857
Endo Metrial Biopsy in Lagos N113,143
Fothergills Operation in Lagos NGN  746,743
Vaginal Dilatations in Lagos NGN  735,429
Therefore, you can see how much the cost of Laparoscopy in Nigeria is dependent where you do it. Personally, I feel the government should either regulate the cost of laparoscopy in Nigeria or establish more public hospitals to reduce the cost of Laparoscopy in Nigeria, as the cost of Laparoscopy in Nigeria right now is too much.