In Nigeria, the cost of dialysis in Nigeria is one thing patients worry about when asked by their doctors to go for dialysis. Patients are told to go for dialysis when their kidney fails or when the patients have chronic kidney disease (CKD).
However, the cost of dialysis in Nigeria is what 80% of people with renal diseases in Nigeria cannot afford because many of them are low -income earners living below the poverty line while others don't know the cost dialysis in Nigeria. If you are among the latter or former, then read on to the end for in this article because we're going to give you a detailed article about the cost of dialysis in Nigeria, facts about dialysis and factors that affect cost of dialysis in Nigeria.
Cost of Dialysis in Nigeria
Dialysis is the process of removing excess water, solutes, and toxins from the blood in people whose kidneys can no longer perform these functions naturally, this is done at least thrice per week, and it is beyond the reach of the renal patients who are mostly poor.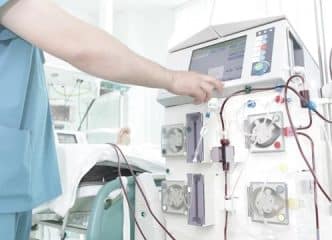 Hence, many of these renal patients opt for 1 session per week or even 2 sessions per month.
The average cost of dialysis in Nigeria is N30, 000 for an initial session with ranges between N15, 000 and N50, 000 per initial session. Subsequent sessions are between N10, 000 - N20, 000. Many hospitals that charge as low as N15, 000 per session (for initial procedure) are government-owned the government has subsidized hospitals and some of the consumables used during dialysis. Some other hospitals offer weekly dialysis with a total cost of N40, 000-N70, 000.
Factors affecting the cost of dialysis in Nigeria
There is no fixed price for all hospitals in the country. Some hospitals bill patients per dialysis session as listed above while others bill depending on the type of dialysis performed. This high cost of treatment and paucity of facilities is affecting about 25 million Nigerians who have kidney failure, according to the Nigerian Association of Nephrology.
Type of Dialysis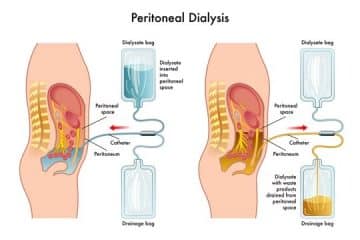 There are two types of dialysis namely, Haemodialysis and Peritoneal dialysis
Haemodialysis is a life-sustaining mode of treatment of End-Stage Renal Disease (ESRD) patients. However, the widespread and sustained application of this mode of treatment has been largely unsuccessful because of costs.
In a study conducted to assess the costs and use of haemodialysis in a Nigerian Teaching Hospital.
The Cost of baseline investigation, admissions, medications, and dialysis proper were assessed. This was compared to the total salaries of both the state and federal government civil servants. Dialysis records for the patients, over the past 2 years, were evaluated to assess the frequency of dialysis per patient.
Results: Average dialysis cost per month inclusive of procedures, investigations, medications and dialysis proper was about N292, 950 for the 1st month for twice a week dialysis and N357, 950 for the first month for 3 times a week dialysis. The annual cost was N1, 889,450 for twice-weekly dialysis and N2, 760,450 for 3 times a week dialysis.
A peritoneal dialysis is a form of renal replacement therapy that is both effective and relatively affordable. Peritoneal dialysis (PD) was first used in Nigeria as a treatment option for renal failure. Its use was first reported in Nigeria in 1967 and became more widespread in the 80s and 90s. It is mostly used for acute kidney injury in the past; indications soon included treating complications of chronic kidney disease and poisoning.
Peritoneal Dialysis was ideally suited for treating children with renal failure in whom vascular access could be problematic.
The cost of peritoneal dialysis is not exactly known since many hospitals and patients prefer haemodialysis. In fact out of over 30 dialysis centers in Nigeria, only a few offer peritoneal dialysis. However, the cost of peritoneal dialysis is said to be cheaper than haemodialysis.
A study was conducted to compare costs of haemodialysis and that of peritoneal dialysis in Nigeria; the mean costs for the nephrologist's visits were similar in both modalities of dialysis
Haemodialysis costs an average of $47.78 while peritoneal dialysis costs an average of $47.04
However, the mean nursing costs were higher for PD than HD ($99.89 vs. $66.06).
Consumables were significantly higher for HD than PD ($248.49 vs. $164.73)
The total cost of HD (haemodialysis) is $362.33 while for PD (peritoneal dialysis) is $311.66. From this study, you can see that the cost of HD is significantly higher than that of PD.
Consumables: These is some of the peripherals required for a dialysis procedure. It includes tubes, a catheter (for peritoneal dialysis) and fluids. The cost of consumables increases the cost of dialysis in Nigeria. From the study, the report above you can deduce that the cost of consumables is higher than the cost of the dialysis session itself.
In Nigeria, many hospitals have reported having to reuse some of their consumables like the tubes in order to reduce the cost of dialysis for their patients. The consumables are washed, sterilized, and then reused.
Nursing care: The cost of nursing a patient can add extra cost for a dialysis patient. If the patient comes from his house, this would not be necessary but if he stays in a hospital ward. He would have to pay for all the charges.
List of Dialysis centers in Nigeria
Now that you have known all you need to know about the cost of Dialysis in Nigeria, let me give you a list of some dialysis centers in Nigeria, I apologize that this list is not so extensive but you can get the complete list in the CAC directory
Dialysis centers in Abia State, Umuahia
Beatitudes Kidney and Dialysis Center, Aba
Immanuel life Dialysis centre
Atinu Critical Care Hospital
Federal Medical Centre, Umuahia
Abia State University Teaching Hospital
Abia State Specialist Hospital and Diagnostic Centre
Federal Medical Centre, Yola
Carebridge Dialysis, Uyo
Dialysis Unit, UITH
Ibom Specialist Hospital, Ikot Ekpene Road.
University Of Uyo Teaching Hospital
Prime Consultants Hospital
New Hope Hospital Onitsha: Anambra, Nigeria +2348053149595, +2348033796198
Nnamdi Azikiwe University Teaching Hospital, Anambra +2348034638982, +2348037998948
Apex Medical Centre Igbo-, Anambra State – +2348022979708

[email protected]

General Hospital Onitsha: Anambra, Nigeria +2348033701672
St. Charles Borromeo Hospital, Onitsha: Anambra, Nigeria +2348138955442, +2347098749019

[email protected]

, 

[email protected]

6. St. Michaels Haemodialysis Centre, Ozubulu +2348136734733

[email protected]

Iyienu Mission Hospital, Ogidi
Iyienu Mission Hospital, Anambra State, Nigeria +2348028261540 [email protected]
Related reading