Listeriosis is a bacterial infection caused by Listeria monocytogenes. is primarily transmitted via the oral route after ingestion of contaminated food products
It can cause severe illness, including severe sepsis, meningitis, or encephalitis, sometimes resulting in lifelong harm and even death.

WHO recently warned Nigeria and 15 other African countries of a listeriosis outbreak that started in South Africa in 2017, confirming its support for their preparedness and response to the disease.
The other African countries are: 
Angola, 

Botswana, 

the Democratic Republic of Congo, 

Ghana, 

Lesotho, 

Madagascar, 

Malawi, 

Mauritius, 

Mozambique, 

Namibia, 

Swaziland, 

Tanzania, 

Uganda, 

Zambia and Zimbabwe.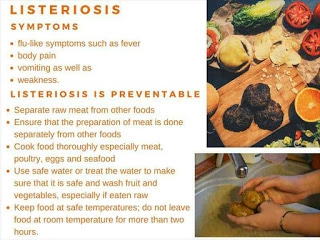 What is listeriosis? What causes listeriosis?
According to World health organization, nearly 200 South Africans have died since 2017 as a result of contaminated ready-to-eat meat products that are widely consumed in the country and may also have been exported to two West African countries and 14 members of the South African Development Community.
South African health authorities recently declared the source of the outbreak as a factory in Polokwane, in the country's northeast. This prompted a national and international recall of the food products.

However, in light of the potentially long incubation period of listeriosis and the challenges relating to large-scale nationwide recall processes, further cases are likely to occur. Whole genome sequencing of isolated strains of the Listeria bacteria was used to make the link between the contaminated products, the producing company and strains of Listeria isolated from the patients.
The WHO is currently supporting further genome sequencing to determine which cases are linked to this ongoing outbreak. Recently, South Africa hosted a meeting of SADC health ministers to address regional preparedness and response to listeriosis.

The ministers committed to regional collaboration, exchanging information and strengthening national food safety systems in line with international standards.
The WHO, however, does not currently recommend any trade-related measures in relation to the current outbreak of listeriosis in South Africa, other than the recall of products identified as sources of infection.

The UN health agency is working with the 16 priority countries to improve their ability to prepare for, detect and respond to potential outbreaks.
Immediate steps include increasing awareness on listeriosis, enhancing active surveillance and laboratory diagnosis, ensuring the readiness of Rapid Response Teams, and strengthening coordination and contingency planning. Experts have been deployed to South Africa, Lesotho and Swaziland to support these efforts.
"This outbreak is a wake-up call for countries in the region to strengthen their national food safety and disease surveillance systems," said Dr. Matshidiso Moeti, WHO regional director for Africa. (Xinhua/NAN)

WHO advice on listeriosis
Every country should strengthen national food safety and disease surveillance systems as a prerequisite to prevent similar events in the future and to ensure a safe food supply for their populations. Additionally, countries are urged to pay closer attention to common foodborne pathogens such as Salmonella species, Campylobacter jejuni, Escherichia coli and Listeria monocytogenes, to make listeriosis a notifiable disease if not yet done, to make the best use of a new "WHO manual to strengthen surveillance of and response to foodborne diseases", which was published last year and to refer to the "WHO Factsheet on Listeriosis".

What are listeriosis Signs and Symptoms?
Fever, muscle aches, and occasionally, nausea and/or diarrhoea are the usual symptoms associated with listeriosis.

Some patients may also experience fatigue and a decrease or loss of appetite.

These symptoms usually last up to one week and may spontaneously resolve.
However, in some people, organisms can spread to the brain.


The symptoms of meningitis and/or encephalitis (stiff neck, headache, and fever) may appear, including altered mental status (confusion and reduced mental activity),

Loss of balance problems and seizures (convulsions) may develop in brain infections.

Brain abscesses may also occur and cause similar symptoms.
 Prevention of  listeriosis
The CDC recommends the following food safety measures:

General recommendations:

Thoroughly cook raw food from animal sources, such as beef, pork, or poultry.

Wash raw vegetables thoroughly (scrub with a clean produce brush in uncontaminated running water) before eating.

Keep uncooked meats separate from vegetables and from cooked foods and ready-to-eat foods.

Avoid unpasteurized (raw) milk or foods made from unpasteurized milk.

Wash hands, knives, and cutting boards after handling uncooked foods.

Consume perishable and ready-to-eat foods as soon as possible.
Women and people with weakened immune systems are at risk, such as pregnant women, in addition to the recommendations listed above:
Do not eat hot dogs, luncheon meats, or deli meats, unless they are reheated until steaming hot.

Avoid getting fluid from hot dog packages on other foods, utensils, and food preparation surfaces, and wash hands after handling hot dogs, luncheon meats, and deli meats.

Do not eat refrigerated pâtés or meat spreads. Canned or shelf-stable pâtés and meat spreads may be eaten.

Do not eat refrigerated smoked seafood, unless it is contained in a cooked dish, such as a casserole. Refrigerated smoked seafood, such as salmon, trout, whitefish, cod, tuna or mackerel, is most often labeled as "nova-style," "lox," "kippered," "smoked," or "jerky." The fish is found in the refrigerator section or sold at deli counters of grocery stores and delicatessens. Canned or shelf-stable smoked seafood may be eaten.
What is the Treatment for listeriosis?
Individual with Listeria infections spontaneously clear the infection in about seven days. However, those patients at increased risk, especially pregnant women, usually require immediate IV antibiotic treatment to prevent, halt, or slow the development of more severe disease. For example, early effective antibiotic treatment of pregnant females may be lifesaving for the fetus.

In general, the length of antibiotic treatment increases with the severity of the infection. Meningitis is treated for three weeks while brain abscesses are treated for six weeks. The initial choice of antibiotics is usually IV ampicillin. Bactrim (trimethoprim-sulfamethoxazole) also has been used successfully. However, each patient's treatment should be individualized for optimal results; many professional clinicians recommend an infectious-disease consultant be involved, and if the patient is pregnant, her obstetrician and a pediatric specialist should help manage the treatment plan.


Are there home remedies for listeriosis?
There are no over-the-counter diagnostic tests for listeriosis so it will be difficult or impossible to know if you are infected with Listeria; that makes it difficult to decide if you can treat the problem at home. Because listeriosis can be fatal in about 20%-30% of those who develop the disease, home remedies may be a dangerous option without consulting a physician. However, there are suggestions to try, like activated charcoal, syrup of ipecac, garlic, and/or alcohol-free goldenseal to treat food poisoning in general. However, before trying any of these options, you should discuss them first with your doctor.

References

Medicine.Net. Infectious disease/ Listeria Center
https://www.medicinenet.com/listeria/article.htm

WHO
http://www.who.int/csr/don/28-march-2018-listeriosis-south-africa/en/