While CBD is most popular in the form of oils and tinctures, there are several other ways to get this useful compound into your system. You might vape CBD to experience immediate effects, or you might take a CBD edible for a longer lasting experience. Then again, if you need a regular dose of CBD and don't need the fuss or frills of other methods, you might consider CBD pills or capsules.
Though not as common as other methods, CBD capsules and pills are convenient, affordable and accessible to everyone who can legally buy CBD. Read on to learn more about this little-known CBD option that is as safe and effective (if not more so!) as other methods of use.
What Are CBD Pills?
As the name suggests, CBD pills are CBD in pill form; they offer a convenient way to take this supplement. Unlike oils and tinctures, which can be administered under the tongue or in the cheek, and unlike CBD topicals, which are applied to the skin, CBD pills are taken orally, so the CBD is absorbed through the digestive system.
There is great variation in CBD pills. Some pills are gel capsules, with CBD-infused oil packaged in a gel case; other pills deliver CBD through encapsulated powdered hemp. Pills can be full-spectrum CBD (meaning they contain trace amounts of THC and other cannabis compounds), broad-spectrum CBD (meaning they have other cannabis compounds but no THC), or CBD isolate (which contains nothing but CBD). What's more, pills can include other ingredients besides CBD, like turmeric or caffeine.
Many forms of CBD provide micro-doses, but CBD pills typically offer a large dose of CBD in one convenient package. Usually, each pill offers between 25 and 50 milligrams of CBD, which usually supplies about a daily dosage for most users.
Is There a Difference Between Pills and Capsules?
In general, CBD pills and CBD capsules reference the same product. In pharmacology, a "pill" is any medication in a small mass intended to be swallowed whole; there are two types of pills: tablets and capsules. CBD is rare as a tablet, which is as a compressed powder. Much, much more often, CBD is encapsulated in some form. Thus, you can safely assume that when anyone is discussing CBD pills, they likely mean CBD capsules.
Who Should Take CBD Pills?
Anyone who wants or needs a convenient and discreet dose of CBD should consider taking CBD pills. CBD pills are ideal for those who need a regular dose of CBD to manage a health condition but who feel uncomfortable with other methods of dosing with CBD. Indeed, pills certainly feel the most medical of all CBD products; because they are administered like most other pharmaceuticals, CBD pills feel like medicine where swallowing oil or vaping might not. Plus, CBD pills look like any other encapsulated supplement, so you are unlikely to get uncomfortable questions from onlookers when you dose with a pill — the same is not necessarily true of other types of CBD.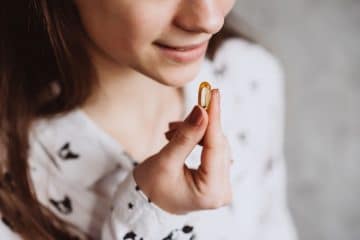 What Should You Look for in High-quality CBD Pills?
Not all CBD pills are created equal. Because regulation of the CBD industry remains spotty at best, you need to be careful to select a CBD pill that meets high standards for quality. Here are a few hallmarks of a good CBD pill worth your money:
An up-to-date COA. A certificate of analysis (COA) tells you that a product has been tested by a third-party laboratory. At minimum, the product should include the cannabinoid profile and potency, but it is even better if the product has been tested for contaminants like heavy metals, mold, pesticides and residual solvents.
The source of CBD. Ideally, your CBD will be sourced from hemp grown somewhere in the U.S. Though the United States has meager CBD regulation, it does carefully control cannabis cultivation, so CBD sourced from hemp grown in the U.S. is likely to be higher quality than hemp (or cannabis) grown elsewhere.
A lack of red flags. You never want to buy a CBD pill with exaggerated health claims (e.g. the pill will cure cancer), misleading ingredients (hempseed oil is not the same as CBD hemp oil) or poor reviews. If consumers like you aren't happy with the product, why would you be?
If you have never taken CBD in pill form, it might be worth picking up a bottle and experimenting with this method of use today.
We are sorry that this post was not useful for you!
Let us improve this post!
Tell us how we can improve this post?