Imagine how difficult it is to understand the severity of pains in people who are unable to communicate their pains and children between ages 2 months and 7 years, it's quite tasking and stressful, right?
This is where the flacc scale comes in. The Flacc scale is a behavioral pain scale used to assess a person's pain, especially those unable to communicate.
Doctors often use the flacc scale to determine the pain levels of people who can't speak out to express the level of pain they are experiencing, and also the flacc scale is very beneficial for accessing the pain levels of infants (since they can't talk yet).
So, the flacc scale makes healthcare/treatment much easier as it helps doctors to be able to make accurate diagnosis/prognosis for patients who are not able to communicate the levels of pain they are feeling.
So in this article, Healthsoothe is gonna expatiate on all there is to know about the flacc pain scale; what it is? Where can you get it? Who can do it? Does it have any side effects? How much does it cost? And much more.
We move.  
Explaining the Flacc Scale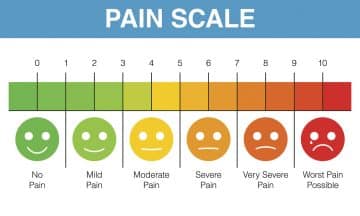 The FLACC scale, or Face, Legs, Activity, Cry, Consolability scale1Voepel-Lewis T, Zanotti J, Dammeyer JA, Merkel S (2010). "Reliability and validity of the face, legs, activity, cry, consolability behavioral tool in assessing acute pain in critically ill patients". Am. J. Crit. Care. 19 (1): 55–61. doi:10.4037/ajcc2010624. PMID 20045849. is a pain assessment tool for children aged 2 months to 7 years and adults who cannot verbalize their pain2https://en.wikipedia.org/wiki/FLACC_scale.
The scale is graded from 0 to 10, with 0 denoting no discomfort. The scale comprises five criteria, each with a value of 0, 1, or 2. The flacc scale makes it easier for the doctor to understand the severity and type of pain.
Criteria for the FLACC Behavioural Pain Scale.
| | | | |
| --- | --- | --- | --- |
| Behaviour | 0 | 1 | 2 |
| Face | No particular expression or smile | Occasional grimace or frown, withdrawn, disinterested | Frequent to constant quivering chin, clenched jaw |
| Legs | Normal position or relaxed | Uneasy, restless, tense | Kicking or legs drawn up |
| Activity | Lying quietly, normal position, moves easily | Squirming, shifting, back and forth, tense | Arched, rigid or jerking |
| Cry | No cry (awake or asleep) | Moans or whimpers; occasional complaint | Crying steadily, screams, sobs, frequent complaints |
| Consolability | Content, relaxed | Reassured by touching, hugging or being talked to, distractible | Difficult to console or comfort |
How to Use Flacc Scale
Two sets of instructions for the observer depend on if the patient is awake or asleep.
For awake patients:
Observe for at least 2-5 minutes

Observe the uncovered legs and body

Reposition the patient or observe activity; assess the body for tenseness and tone

If needed, initiate consoling interventions.
For asleep patients:
Observe for a minimum of 5 minutes

Observe the uncovered legs and body

Reposition the patient, if possible

Touch the body and assess the tenseness and tone
There are five categories, and each category is scored on a 0-2 scale which results in a total score of 0-10.
Interpretation of Flacc pain score - Assessment of Behavioural Score
0 → Relaxed and comfortable

1-3 → Mild discomfort

4-6 → Moderate pain

7-10 → Severe discomfort and pain
Does the Flacc Scale Have Any Side Effects?
Flacc pain scale doesn't have any side effects as it is a non-invasive process, and rather simple to do, if you know what you are doing. And it also doesn't take time, and many health practitioners use this method to determine a patient's pain levels even if that person can talk or express their pain levels vocally.
Who Can Perform a Flacc Scale Test? – Can Anyone Do It?
Yes, anyone can perform a flacc scale test, provided he/she has the knowledge required to do it. It's a non-invasive process, which can be done anywhere and anytime, and it doesn't require much time and effort.
Where Can You Get a Flacc Scale or Undergo a Flacc Pain Scale Test?
A flacc pain scale test can be done at any professional health center like hospitals and clinics. The test can also be done at home if you have been taught well about it, or you have your doctor come over and test you.
Where Can You Buy a Flacc Scale?
Flacc scale reference cards can be bought at a hospital, a well-stocked pharmacy, and even online stores like Amazon, Walmart, and also on virtual drug stores.
How Much Does a Flacc Scale Cost?
The Flacc scale reference cards cost from $11 to $13 dollars depending on the place you are buying them from. Make sure to buy from top recommended sources.
Conclusion
The Flacc scale was originally designed and validated for use in infants and children aged 2 months to 7 years to measure postoperative pain3FLACC Scale Archived 2008-12-10 at the Wayback Machine (Extracted from The FLACC: A behavioral scale for scoring postoperative pain in young children, by S Merkel and others, 1997, Pediatr Nurse 23(3), p. 293–297), but the FLACC scale has also been found to be accurate for use with adults in intensive-care units (ICU) who are unable to speak due to intubation. The FLACC scale offered the same evaluation of pain as did the Checklist of Nonverbal Pain Indicators (CNPI) scale which is used in ICUs.
All right, guys, that is it for now for flacc scale. I hope Healthsoothe answered any questions you had concerning the flacc pain scale.
Feel free to contact us at contact@healthsoothe.com if you have further questions to ask or if there's anything you want to contribute or correct to this article. And don't worry, Healthsoothe doesn't bite.
You can always check our FAQs section below to know more about flacc scale. And always remember that Healthsoothe is one of the best health sites out there that genuinely cares for you. So, anytime, you need trustworthy answers to any of your health-related questions, come straight to us, and we will solve your problem(s) for you.
Frequently Asked Questions Related to the Flacc Scale
Additional resources and citations
1

Voepel-Lewis T, Zanotti J, Dammeyer JA, Merkel S (2010). "Reliability and validity of the face, legs, activity, cry, consolability behavioral tool in assessing acute

pain

in critically ill patients". Am. J. Crit. Care. 19 (1): 55–61. doi:10.4037/ajcc2010624. PMID 20045849.

2

https://en.wikipedia.org/wiki/FLACC_scale

3

FLACC Scale Archived

2008-12-10 at the Wayback Machine (Extracted from The FLACC: A behavioral scale for scoring postoperative pain in young children, by S Merkel and others, 1997, Pediatr Nurse 23(3), p. 293–297)