If you've ever taken or planning to take action bitters then this article is for you. You should know what you are consuming and its effects are on your body system.
Action bitters is generally taken for lots of reasons in Nigeria.
A higher population of those that take action bitters take it for reasons such as:
The Mere Fun Of It

As An Energy Booster

Curing Malaria And

Typhoid

Weight Loss

Aiding Ovulation

Aiding Fertility

A Form Of Detox
Product Description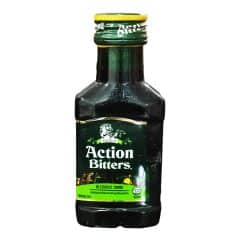 Action Bitters is a wine-colored full-bodied spirit with a slight bitter-sweet and appetizing aroma. The brand is for the class of consumers who desire it for its quality restorative and aphrodisiac values.
Targeted at the young, trendy, and inspirational men and women who want to be on top of their game while maintaining an active lifestyle.
Action bitters is a nexus joining the present with the past. This drink is soaked in the heritage, culture and traditions of the African soul. The brew is strong, healthy, reenergizing and reinvigorating. 
While some are alcoholic and used as a base for cocktails, others are non-alcoholic and can aid digestion and proper gut function. For the alcoholic variants, the minimum alcohol content is around 20% and can go as high as 50%.
One of the most common questions asked about bitters is if they can be drunk during pregnancy. If you are a pregnant woman, you should consult your doctor if you are unsure of what to consume. 
This also applies to anyone taking action bitters as a form of treatment for illness or any ailment as there may be side effects you're unaware of. Straight to the point though, Action Bitters is not a contraceptive or be used to flush out sperm.
What makes some of these things attractive is the historic effect caused by the alcohol contained in them.
What do Action Bitters do to the body??
Effects of action bitters on the body have been itemized below for you:
Action bitters support liver function and healthy skin

It soothes gas and bloating effects.

Action bitters also relieve random indigestion

Action bitters curbs sugar cravings.

This bitters also calms upset stomach and nausea

Ease of constipation and regulatory bowel movements can also be aided with action bitters

It encourages digestive enzymes, bile & HCL production

Increase absorption of fat-soluble vitamins A, D, E, and K is also an effect of action bitters.

Action bitters help preserve strong blood sugar levels

It also helps to keep a well-proportioned appetite
Benefits Of Action Bitters 
The herbal extracts are made of alkaloids which are an extension of nature's healing hands, reaching into this bottle. These alkaloids confer bitter tasting flavours which are a unique blend of some of the oldest medicinal traditions in Africa. 
This alcoholic bitters benefits your liver, kidneys, your skin, blood vessels and pancreas. It also balances appetites, curbs sugar cravings, helps maintain healthy blood sugar levels, encourages digestive enzymes, soothes gas and bloating, calms upset stomachs and nausea. You can make your drink your medicine. 
Some people also drink herbal bitters for weight loss, some to aid ovulation and fertility, others as a form of detox, while some men drink it before sex believing that it helps improve their sexual performance. 
          Product Information
Kinds Of Action Bitters 
Bottle:75cl, 37.5cl, 180ml, 100ml
Sachet: 5ml
CHARACTER
Original, Strong, Invigorating, Energising & Revitalizing. 
Product package 
Bottle and sachet 
Ingredients
Herbal bitters are typically made from fruits, nuts, herbs, bark, roots, spices or a combination of these. 
While some are alcoholoc and used as a base for cocktails others are non-alcoholic and can aid digestion and proper gut function. 
Conclusion 
Truly, you can make your drink your medication.
Remember, excess of anything is not good and the same is the case with alcohol.
There are emotional and physical consequences of heavy drinking and it can affect fertility as well.
In addition, alcohol, smoking, and some drugs all have been found to impact cell development and fertility negatively.
Action bitters and all other bitters are popular in motor parks because of their alcohol content. Alcohol can affect an individual in a variety of ways, but what makes action bitters one of the favorite bitters? Do well to re-check its benefits listed above. 
You've tried using Action bitters for any other thing not mentioned in this article? Share your experience with us in the comments section below.