1. Tamarind for skin health
Tamarind seeds are very beneficial for the skin and can act as an anti-aging formula. Tamarind seeds contain hyaluronic acid whose presence gives the extracts of the seed the ability to keep the skin fresh, moisturized, and reduce fine lines. Some people take Tamarind to reduce the effects of aging on their skins as the extracts help dissolve wrinkles and maintain smooth skin.
2. Lemon Juice for skin health
Lemon juice is a natural fruit that is good for the skin and also serves as a bleaching agent that can lighten the scars and stretch marks. The Alpha Hydroxy Acids and Vitamin C in the lemon juice will exfoliate the dead skin cells, allowing the moisture to penetrate deep inside the skin.
3. Cucumber for skin health
Cucumber is one of the best natural fruit that is good for the skin. It helps in the healing process of the skin and lightens the appearance of stretch marks. Cucumber can be categorized as the most skin nourishing foods, whether you eat it or apply it like cream to your skin. It contains zero calories. And what's more exciting is that it also helps in flushing out unwanted toxins from your body. Because these toxins make your skin appear dull and lifeless. Cucumber is also one of the vegetable fruits which has a lot of nutrients that boost your body's health. It helps in digestion and gives you a gentle skin or soft skin.
4. Tomato Juice for skin health
Tomato juice also works effectively to lighten the scars. The benefits of tomato juice stem from the tomato's rich vitamin, mineral, and phytonutrient content. Tomato is a powerful antioxidant, it has been found to promote good general health. It has also been linked to the prevention of a range of diseases, including skin disease and cancer.
5. Aloe Vera for skin health
Aloe vera is an excellent source of plant collagen, which works wonders in healing and repairing the skin deeply.
Aloe vera is a popular medicinal plant that is used in the cosmetic, pharmaceutical and food industries. It contains a powerful Antioxidants that is important for overall health.
Aloe vera is most commonly used as a topical medication, rubbed onto the skin rather than eaten.
It has long been known as a treatment for sores, particularly burns, including sunburns.
In fact, Aloe vera ointment
as an over-the-counter medication for skin burns since many years ago. it is considered to be safe.
Studies suggest that it is an effective topical treatment for first- and second-degree burns.
According to medical research, aloe vera could reduce the healing time of burns by around 9 days compared to conventional medication.
The evidence for Aloe vera helping to heal other types of wounds is inconclusive
6. Egg White for skin health
Egg white treatment is one of the best remedies for stretch marks. The egg white is a rich source of collagen, Vitamin A, and proteins. It contains almost 40 different proteins. It repairs and heals the scars and marks magically.
You will be able to reduce the aging with the help of egg whites. Egg white also removes facial hair and also helps in tightening the skin pores. Egg whites are effective because it reduces the oil from the skin by providing the skin tightening effects.
It is also used to clear all the type of acne on the face if you use the application of the egg white's mask.
7. Apricots for skin health
Apricots are one of the best fruits in the world, It's said that 100 grams of fresh apricots give you 12% of vitamin C, 12% of vitamin A, and 6% of potassium required by the body – all this under less than 50 calories. Apricots is a Good Source of Vitamin A: are rich sources of Vitamin C, which enables them to heal the damaged skin from deep inside.
Apricots are packed with Vitamin A, which is also known as retinol. It's fat soluble and helps in the enhancement of vision, among other things. And it keeps the immune system in check, protecting your skin in the process.
Apricot oil also helps in maintaining the elasticity of the skin and reduces the appearance of stretch marks.
8. Alfalfa for skin health
Alfalfa leaves have 8 essential amino acids in them and they work well on your skin. These leaves are a good source of proteins and Vitamins E, K, and amino acids, which help in nourishing the skin. Vitamin E helps in neutralizing the oxidant effect of free radicals as they damage the collagen and it is the reason for wrinkles. Vitamin K regulates blood clotting and bone mineralization. Alfalfa sprout is very helpful in weight loss and also it is an excellent remedy for stretch marks.
9. Basil Leaves for skin health
Research indicates that there are several health benefits associated with basil.
Studies have shown that basil "contains a wide range of essential oils, rich in phenolic compounds, and a wide array of other natural products including polyphenols such as flavonoids and anthocyanins."
Basil may contain compounds that fight the effects of aging. Basil Leaves is a wonderful herb that has proved it to cure many skin diseases as it has purifying qualities, hence reduces weight and stretch marks.
10. Avocado

for skin health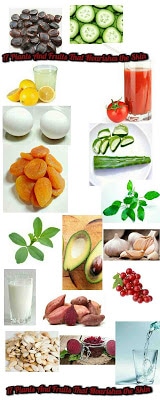 Avocado works as an excellent medicine to cure stretch marks. It penetrates into the skin well and restores the essential oils of the body. Avocado is the fruit for all kinds of skin treatments. It contains antitoxins and vitamins E and C. This fruit improves skin texture, tone, and also boosts skin vitality. It develops the moisture retention capacity of skin considerably.
Consuming avocados is also associated with healthy aging. It contains compounds such as xanthophyll. Research studies suggest that an intake of xanthophyll may decrease signs of the aging process on various parts of your body system.
Avocados contain carotenoids such as zeaxanthin and lutein, which are associated with a reduced risk of osteoarthritis. Intake of avocado and soybeans help to reduce the risk of osteoarthritis and strengthens bones. Furthermore, the levels of essential minerals in avocados are significant, including zinc, phosphorous, copper, and trace amounts of calcium and selenium. All of these are connected to lowered risks of osteoporosis and improvements in bone mineral density.
11. Milk for skin health
Cow's milk is designed to help baby cows grow fast, so it makes sense that humans who drink cow's milk can also bulk up quickly. Cow's milk is a rich source of high-quality protein, containing all of the essential amino acids. Whole milk is also a rich source of energy in the form of saturated fat, which can prevent muscle mass being used for energy.
Milk contains Vitamin A, D, thiamine, riboflavin, Niacin as well as other nutrients in small amounts. Milk can also help you to lose weight. The calcium present in the milk helps to cut down the fat and results in weight loss.
Sufficient dietary protein is needed to preserve or increase lean muscle mass. Dairy protein can support muscle growth and repair skin tissues.
12. Sweet Potato for skin health
The sweet potato is a root vegetable containing a high amount of vitamins and complex carbohydrates. Once you eat it, it releases sugar intermittently in your body. It also contains beta-carotene that is converted into vitamin A when digested. And this, in turn, oxygenates the skin naturally.
13. Garlic for skin health
Garlic contains allicin, a naturally synthesized chemical which on consumption reacts with blood to form a new product. It's this product that destroys the unwanted bacteria and viruses already present in the body and works to improve body's immunity. Garlic with antioxidants is an invincible combination. They have that amazing ability to slow down the aging of the skin. It is our very own fountain of youth!
14. Red Grapes for health
Red grapes are known to have anti-toxic and anti-histaminic properties that work wonders in treating inflammations of the skin. They also help to prevent other allergic reactions. Have some grapes with your salad or take them as a light snack between meals. This is certain that the red grapes will go a long way in keeping you safe from some of those skin problems.
15. Pumpkin Seeds for health
Pumpkin seeds and Brazil nuts are a storehouse of the mineral selenium which enhances the production of immunity-boosting white blood cells. But that is not the only benefit you get out of including these nuts in your diet. Zinc and selenium deficiencies are direct causes of acne outbursts, and therefore, nuts are the perfect antidote for fighting a bad case of acne. It also helps that these nuts are loaded with calcium, manganese, potassium, magnesium – all contributing to the excellent skin.
16. Beetroot for skin health:
Beetroot is considered one of the most beneficial vegetables as far as your skin is concerned. It contains minerals like potassium, calcium, magnesium, and sodium. It also contains vitamin A and E. It improves the health of the epidermis and acts as a cleanser for the body, leaving your skin rejuvenated.
17. Water for skin health

An ancient siege says water can make us glow from head to toe. Drinking lots of water throughout the day will keep your system internally hydrated, which in turn directly reflects on your skin and reduce skin wrinkles. Water helps us not only by flushing out the harmful toxins from our system but also by keeping those ugly wrinkles and give us naturally glowing skin. Keep a bottle of water handy and sip when you are tasty.
Read also: