To find the best lightening cream without hydroquinone in Nigeria, you must have gone through some with hydroquinone. Not everyone knows the challenge with using such lightening creams but it is the most common, and the demerits that come with using lightening creams with hydroquinone far outweighs its merits.
There are numerous lightening creams without hydroquinone in Nigeria, it only takes a good knowledgeable search among the many options on store counters to make the right choice. Some of them are Caro Tone, Dove Cream, and Snow White Cream. For chocolate skin here are the best one's.
In this publication, you will understand what hydroquinone is and how it affects your body negatively. We will also discuss about lightening creams without hydroquinone in Nigeria; a list and their ingredients.
Hydroquinone
Hydroquinone is an agent in many whitening creams that aids in removing pigmentation caused by melasma, freckles, and dark spots that might be as a result of hormonal changes, exposure to harsh environmental conditions, birth control pills or pregnancy.
It bleaches the skin by reducing the number of melanocytes present on the skin, consequently reducing the amount of melanin produced.
You will see it as Lustra, Alphaquin, Melanex, Eloquin, Solaquin, and so on, as brand names. However, avoid its usage if it contains more than 2% concentration of Hydroquinone as directed by the United States Food and Drugs Administration.
Safety of Hydroquinone
Hydroquinone was certified safe to use by the United States Food and Drugs Administration in the 1980s. However, concerns about its safety led to further testing which revealed that the level of mercury in hydroquinone products were high. Since then, the body has recommended that only 2% hydroquinone should be sold over the counter.
Hydroquinone is not well suited to dry and sensitive skin. Its effect is also not best on dark skins as it may even worsen pigmentation. However, on light skin, it works well.
The safety of hydroquinone, though put to rest by the FDA, still continues as it is said, though on rare cases, to cause Ochronosis. Ochronosis is a condition in which the skin has bluish-black coloration and papules. It is, therefore, advisable that you stop the use of hydroquinone after five months of use.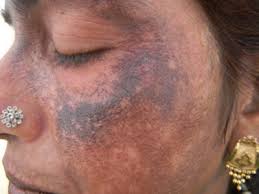 To avoid this risky skin condition, there are other lightening creams without hydroquinone that works wonders in removing pigmentation.
Best Lightening Cream without Hydroquinone in Nigeria
Caro White
One of the most popular skin whitening creams in Nigeria. it is an affordable lightening cream without hydroquinone. It contains Arbutin, Acid Hydroxyl, and Kojic acid as its main ingredients to tackle pigmentation and help to attain an even skin tone.
It is best suited for fair-skinned people.
Nivea Natural Fairness
As the name implies, it is made from natural ingredients and also help to return the skin to its natural fairness. Even though it helps to treat dark spots and pigmentation, it works more slowly and gently compared to others.
Despite its systemic action, its effectiveness is not in doubt as it also aids moisturization and help to block ultraviolet rays of the sun from further damaging the skin.
Extreme Brightening and Skin Radiance
This is a lightening cream without hydroquinone but works as effectively as hydroquinone. It is able to block the penetration of the skin by UV lights from the sun. This makes Extreme Brightening and Skin Radiance suitable for use as a sunscreen.
It also helps to treat hyperpigmentation by reducing the production of melanin. Its best result can be seen on naturally fair people.
Caro Tone
Caro Tone is another common lightening cream without hydroquinone. It treats pigmentation and inflammation on the skin. It is an excellent topical rub for removing dark spots on the face, it blends skin fairness by gradually removing discoloration.
Its major ingredients are made from berries; white berry, pear berry, and mulberry.
For best result, use continuously till you get the desired tone.
Meladerm Skin Lightening Cream
Meladerm skin lightening cream is a potent lightening cream without hydroquinone used for removing dark spots, hyperpigmentation, and attain even skin tone. It contains Vitamin C (Ascorbic acid), Alpha Arbutin, and Kojic acid to help achieve your desired skin goal.
Bismid Skin Whitening Cream
Also made up of white berry, mulberry and other natural ingredients, Bismid Skin Whitening Cream is a lightening cream without hydroquinone that is safe for fair-skinned people of all skin types to use.
It is efficient in removing dark spots and patches, even skin tone, and the perfect fairness glow. Its effectiveness is almost felt immediately on application to the skin.
Lotus Herbies Skin and Brightening
Another lightening cream without hydroquinone, used in Nigeria for the removal of dark skin and pigmentation. It is made from herbs to discourage the irritation of skin by chemicals that may pose more threat than benefits.
It is effective against skin blemishes such as dark coloration, uneven skin tone and general skin brightening and glow.
Dove Energy Glow Brightening Moisturizer
Dove creams are one of the household names in cosmetics in Nigeria. Dove Energy Glow is a lightening cream without hydroquinone that is made from natural skin-friendly and lightening products.
It has a soothing texture on the skin and an appealing smell that does little in justifying its effectiveness as a lightening cream. This lightening cream without hydroquinone works to give you fast result.
Conclusion
Hydroquinone is an effective skin lightening material that removes dark spots, patches, and pigmentation of all kinds. It has been declared safe for use and purchase over the counter. However, concerns about its ability to cause a bluish-black pigmentation ha sled to the migration to hydroquinone-free products.
These products as listed above are effective as lightening creams without hydroquinone and they work their wonders differently on different skin types.
Related reading