Did you know that before you use a sunburn remover cream in Nigeria, you need to know the active ingredient?
Sunburn is a quite common sight among people who spend the bulk of their day exposed to the sun. From the woman who sells her ware in the market, to the man who pushes his barrow from place to place in order to sell his wares, they all get sunburned, regardless of gender. The woman who works in a conducive office environment, protected from the harshness of the sun and the man who spends most of his day in an opulent office can also get sunburned.
To remove the burn that comes with the exposure to the ultraviolet ray that comes especially from the sun, you need to apply cream or lotion to the areas that the burn has affected to soothe the pain or remove the dark pigmentation that has appeared.
In this article, you will discover what leads to sunburns, who is more susceptible to sunburn, and what you can use to reduce the effects on sunburn.
Sunburn Explained
Sunburn is a fairly common term used worldwide to describe the coloration, usually red in white to fair skinned people, that appears after exposure to ultraviolet rays of light – usually from the sun – for some length of time.
Sunburn is a serious skin damage that can vary in degree, depending on the severity of the burn. It is more pronounced in white skin people who whose skin cannot be tanned. An attempt to tan their skin – known as the type I skin – will lead to sunburn. Other skin types also get burned but to different degrees due to the production on melanin.
Melanin is produced by melanocytes – cells that are present on every human's skin – and the amount of melanin they produce depends on skin type and level of irritation. Dark skinned people naturally have more melanin than fair and white-skinned people. This is why it is difficult to see sunburns of dark-skinned people.
When the ultraviolet rays of the sun hit the exposed part of the skin, usually the face, it causes damage to the skin cells, thereby, forcing to the melanocytes to produce more melanin in order to protect that part of the skin. The excess melanin is what causes hyperpigmentation or sunburn marks around the affected area.
How to Treat Sunburn Mark
To treat sunburn mark, you need to use a material, cream, potion, ointment, or orally ingested medication, that helps you reduce hyperpigmentation. It is, therefore, safe to say that when you are treating sunburn mark, you are treating hyperpigmentation.
To treat hyperpigmentation, you need to reduce the amount of melanin produced by your melanocytes in order to achieve an even skin tone. There are ways to achieve this. Some of them are:
Laser Therapy
Topical Creams or Ointment.
Our focus in this article is on the topical creams or ointment. One of the topical creams are the sunburn removal creams.
Best Sunburn Removal Cream in Nigeria
Sunburn is mostly evident in fair men and women and women here in Nigeria. However, there are ways to get rid of the annoying dark coloration that usually spans from under the eyes to its side. One of such ways is to use sunburn removal creams. To know how effective these creams are, they must contain one or more of these ingredients:
Kojic acid
Vitamin C
Hydroquinone
Retinoid
Glycolic acid
Azelaic acid
Without further ado, here are the best sunburn remover creams in Nigeria.
Bio-Aqua Golden Osmanthus Eye Mask
Bio-Aqua Golden Osmanthus Eye Mask is one of the best sunburn remover creams in Nigeria. it is quite easy to come by and has been effective in removing dark spots, dark circles under the eyes. It is designed to do so due to the natural golden Osmanthus extract it contains.
This sunburn remover cream also helps to take aging by reducing wrinkles, eliminating swelling, and moisturize the skin surrounding the eyes.
Tydineal
Tydineal is a sulphur-based cream that is used to soothe inflammation and fight skin infections such as ringworms, eczema, rashes and dark spots and patches.
Bio Oil
Bio oil is an effective sunburn remover cream in Nigeria that help to return your skin to its even natural tone. It clears hyperpigmentation by reducing the interfering with the quantity of melanin that is produced to the applied area.
It is effective for the removal of scars, stretch marks and hyperpigmentation caused by hormonal changes or exposure to UV light. It contains retinyl palmitate, also called Vitamin A, to help fight skin irritations and return the skin to its natural state.
Stephanie Nicholas Sunburn Remover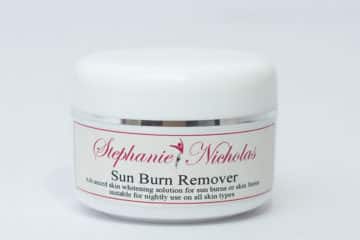 This sunburn remover cream is made in Nigeria. it claims to work its magic on your body in 5 days. It is made from natural ingredients such as oils and botanicals to give it its effectiveness. It not only removes sunburn; it moisturizes and nourishes the skin and it is suitable for all skin types.
Olay Ultimate Eye Cream
One of the products on the Olay cosmetic product line. Olay Ultimate Eye Cream is a sunburn remover cream that is without fragrance. It contains excellent ingredients such as iron oxide that helps the cream stay on for long, niacinamide, an amino acid that is essential for skin cell regeneration, glucoside, palmitic acid, and many more ingredients.
It is an excellent choice for people with oily, dry, and combination skin.
Conclusion
Sunburn is not gender-specific and arises due to exposure to ultraviolet rays from the sun. it is best to prevent sunburns from happening but they are unavoidable in some cases. To assuage the effect of sunburn, that is, the hyperpigmentation that occurs after the burn, it is advisable to use a cream that can help remove the dark coloration.
You can get rid of the dark patch around your eyes or back, depending on where the sun has hit your skin, by using a sunburn remover cream.
Related reading