Tydineal cream is used for treatment of fungal infections of the skin. It is effective against skin infections like eczema and ringworm.
COMPONENTS OF TYDINEAL CREAM
Tydineal Cream contains:
Ketoconazole is a broad spectrum anti-fungal agent that acts on the cell membranes of fungi by changing its permeability.  
Pharmacological studies have shown that ketoconazole has extremely potent antimycotic actions against dermatophytes such as (Trichophyton sp., Microsporom sp.,   and Epidermophyton sp.), Saccharomyces and Candida Albicans. Strains of fungi are unlikely to have a natural resistance to Ketoconazole. Clobetasol is a cortex hormone that is highly effective against gram positive and gram negative bacteria. As a result, this combination of Tydineal cream is highly effective against fungi, bacteria, inflammation and pruritus (itching).
Neomycin sulfate (5000IU) 
Neomycin is an antibiotic that is used to prevent bacterial infection in the intestines. Neomycin is most often used topically to treat superficial infections. This includes treatment of superficial infections from staphylococci and gram-negative bacilli, either alone or in combination with bacitracin, chlorhexidine, or polymyxin. It has also been used orally in combination with other agents for patients prior to abdominal surgery or, in those at special risk from opportunistic infections, with gastrointestinal bacteria. It can also be used to decrease ammonia in encephalopathic patients suffering from hepatic coma.
Clobetasol propionate (0.25mg)
Clobetasol propionate is the most potent of all topical steroids. It is successfully applied in the treatment of various skin diseases such as atopic dermatitis, psoriasis and vulvar lichen sclerosis. Clobetasol propionate relieves the symptoms of a flare-up by reducing inflammation, itching and redness. It is not a cure for the condition, but it will help to relieve the symptoms.
USES OF TYDINEAL CREAM
The cream is extremely effective for treatment against the following:
Bra rashes and 

Eczema

Itchy skin

Ringworm (Lapalapa)
HOW TO ADMINISTER TYDINEAL CREAM TO THE SKIN
Apply externally to the affected area twice daily.  
Use this product as directed. Some products call for grooming before use. Follow all directions on the product package. 
It is recommended to use tydineal for two (2) weeks on ringworm infections and jock itch, then for four (4) weeks on athlete's foot and fungal infection of the hand.
Some products need to be shaken before use. Check the label to see if you should shake the bottle well before using. Apply to the affected areas of the skin as needed or as directed on the label or by your doctor.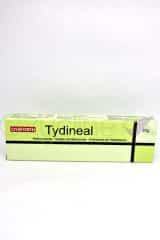 How often you apply the medication will depend on the product and your skin condition. To treat dry hands, you may need to use Tydineal Cream every time you wash your hands, applying it throughout the day.
If you are using Tydineal Cream to help treat diaper rash, clean the diaper area well before use and allow the area to dry before applying it.
If you are using Tydineal Cream to help treat radiation skin burns, check with radiation personnel to see it can be applied before radiation therapy.
Use this medication regularly to get the most benefit from it. Most moisturizers need water to work well. Apply the product after bathing/showering while the skin is still damp. For very dry skin, your doctor may instruct you to soak the area before using the product. Long, hot, or frequent bathing/washing can worsen dry skin.
Follow all the directions on the label for proper use.
PRECAUTIONS
Apply to the skin only. 

Avoid sensitive areas such as your eyes, inside your mouth/nose, and the vaginal/groin area, unless the label or your doctor directs you otherwise. 

Check the label for directions about any areas or types of skin where you should not apply the product (such as on the face, any areas of broken/chapped/cut/irritated/scraped skin, or on a recently shaved area of the skin). 
Consult your doctor or pharmacist for more details.   
WHAT ARE SIDE EFFECTS OF TYDINEAL CREAM?
Common side effects of Tydineal Cream include:
Burning or irritation of the skin where the cream is applied.

Dryness of the skin

Irritation of the skin

Itching

of the skin

Oily or Dry Scalp 

Redness of the eyes

Oozing

Pain

Redness of the treated skin.

Redness of treated skin areas

Severe itching

Stinging

Swelling of the body

If your condition lasts or gets worse, or if you think you may have a serious medical problem, seek immediate medical attention.
TIPS ON MAINTAINING A HEALTHY SKIN
We all dream of flawless, glowing skin, but with new products constantly hitting the shelves and the seemingly endless skincare advice out there on the Internet, it's not always easy to figure out the skincare routine that's going to work best for you. To maintain your skin's health and glow, follow these tips:
Avoid direct heat exposure.

Clean your makeup brushes regularly.

Don't touch your face unnecessarily

Don't use too many products.

Hydrate inside and out

Maintain a healthy diet.

Moisturize both day and night.

Simplify your skincare routine.

Use the correct cleanser for your skin type.

Vitamins should go on your skin, too.

Wear sunscreen 365 days a year — rain or shine, indoors or out.