The BB in BB Cream stands for Beautifying Balm. It is also known as blemish balm or bag balm. BB Cream is a face makeup product that is a hybrid of skincare and makeup, thereby making it a multi-purpose product.
This beautifying balm is formulated with skin care benefits that include hydration, anti-aging properties, and SPF protection.
WHAT ARE THE BENEFITS OF BB CREAM?
It is an all-in-one treatment product:
BB creams are part makeup and part skin care products. Your skin can reap the benefits of several products from one application.
It gives you a light and natural look:
The coverage you'll get with a BB cream is natural and dewy, never heavy or cakey. Plus, you can easily apply BB cream with your fingers, which allows the product to melt into the skin for a fuss-free makeup application.
It helps to cover blemishes and imperfections without causing irritation to the skin:
If you have acne-prone skin and need to conceal blemishes, your skin could benefit from a BB cream. The soothing minerals often found in BB cream formulations are beneficial for treating blemishes.
Acne-prone skin will also benefit from the lighter textured product that allows the skin to breathe as well as the shorter ingredient list.
It is good for all skin types:
BB creams are good for all skin types including oily, dry and acne-prone, and more. 
HOW DO I USE BB CREAMS?
You can use a BB cream as part of your daily routine in place of foundation.
If your skin tends to be oily, the moisturizer in a BB cream may be enough. 
But if you have normal or dry skin, you may want to apply a moisturizer before your BB cream.
Here are the steps healthline.com recommends for applying BB cream:
Apply BB cream to cleanse the skin after any additional serums or moisturizers.
Use a foundation brush, sponge, or your fingers to apply the cream. Velve likes to use her fingers because they warm up the product and allow it to blend into the skin more easily. Let the product settle on your skin.
Apply foundation for more coverage and concealer in any problem areas. BB cream doesn't need to be powdered, but the concealed areas might need to be set with a bit of powder.
Add an additional SPF product if you know you'll be in the sun for long periods of time.
POSSIBLE SIDE-EFFECTS OF BB CREAM
In general, BB creams are an excellent choice for people who want a foundation with extra benefits. However, there are some factors you might need to consider before purchasing this product.
Some BB cream products lighten the skin, so consumers need to read the packaging to understand what the product does before purchasing. Choosing the wrong product can make the skin become pale and ashen-looking.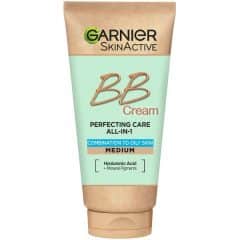 The moisturizing benefit might not be enough for dry skins:
Users with dry skin might have an expectation that the moisturizing effects of a BB cream would moisturize their skin adequately, however an additional moisturizer might be needed. 
To fix this problem, you should make a layer moisturizer under the BB cream when applying on the skin.
THINGS TO CONSIDER BEFORE PURCHASING A BB CREAM PRODUCT
If you have oily skin, look for a water-based formula. 

If you have very oily skin, go with a BB cream that has kaolin clay, which helps to absorb excess oil without irritating the skin.

Steer clear of fragranced formulas and opt for hypoallergenic formulas to help avoid irritation. 

Finally before buying a product, it is recommended that you apply a few swatches on your neck to see how it blends. 

Consider working with an aesthetician to get the best BB cream for your skin type and tone.
BB CREAM PRODUCT RECOMMENDATIONS
The BB Cream products mentioned below are a few that you could choose from:
Maybelline Dream Fresh BB Cream
An affordable product, Maybelline Dream is available online and in drugstores. It is a top seller for all skin types. It comes in a variety of shades including light, medium, and deep. This BB cream smoothens, hydrates, and comes with a dose of SPF 30.
E.L.F Cosmetics BB Cream SPF 20
This BB Cream variety is ideal for both dry and oily skin. It will give your skin a natural look while also providing even coverage and protection from the sun. The E.L.F formula is lightweight, which makes it an excellent choice for everyday wear.
La Roche-Posay Effaclar BB Blur:
La Roche-Posay is ideal for acne-prone skin and it is oil-free, fragrance-free, and non-comedogenic. It also helps to minimize the appearance of large pores and covers blemishes. It is formulated with SPF 20 too. 
Iman Cosmetics BB Crème with its sheer hint of color, SPF 15, and a touch of creaminess, works well with darker skin tones. It is available in a variety of darker shades. This BB Creme will help to even out skin and provide a nice glow.
To find the right BB cream for your skin type and tone, it's always a good idea to talk to an aesthetician or makeup specialist.