If you're starting a new workout regimen that includes lifting weights using a barbell, it may be difficult to determine how much weight you are lifting, especially for novices who are unsure of how much a barbell actually weighs.
You can calculate the total weight you are actually lifting if you know how much a barbell weighs. The number and type of weight plates you attach to the bar's ends can be used to simply calculate how much weight you are actually adding to the bar. Don't forget that the weight of the barbell must also be factored into the calculation to get the overall amount of weight you are lifting. 
But, how much does a barbell weigh?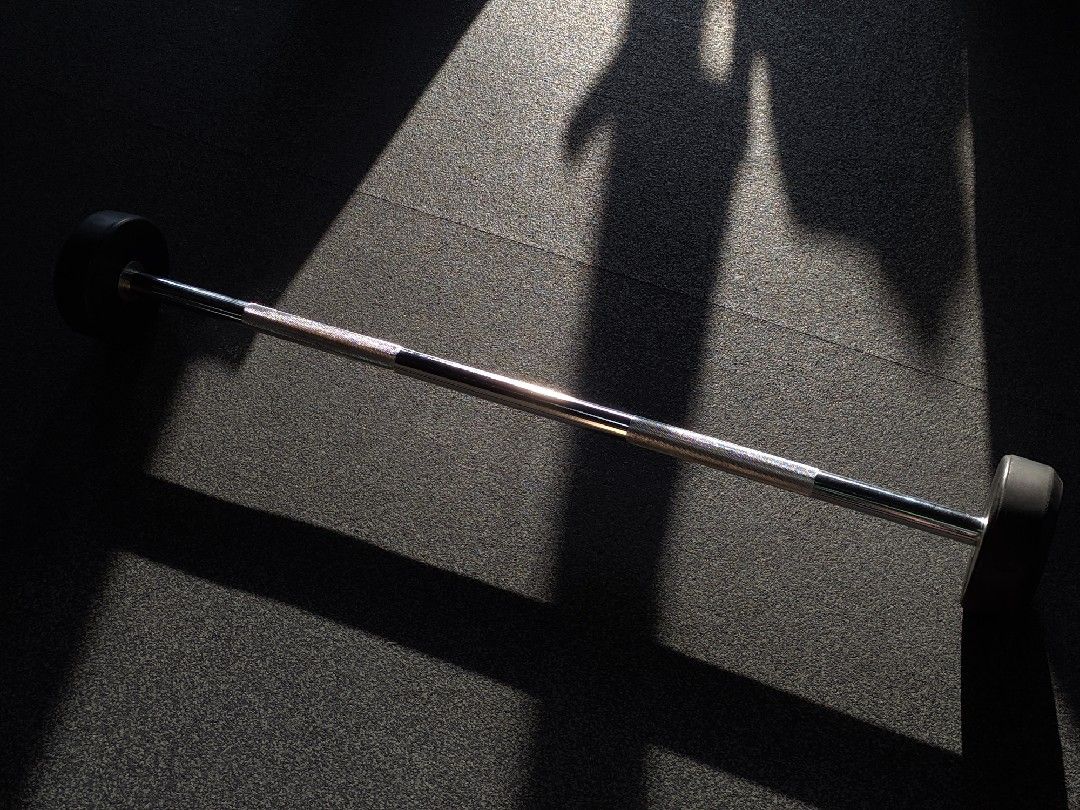 There are several types of barbells that differ in shape, size, and weight distribution, each designed with a specific purpose. In this article, we'll explore everything you need to know about barbells' weights and answer the common question, "how much does a barbell weigh?" so you can choose the perfect one for your workout goals. 
What is a Barbell and What is its Purpose?
A barbell is a piece of equipment used in weight training, bodybuilding, powerlifting, and weightlifting. It consists of a long metal bar with loadable sleeves or collars attached on both ends to accommodate weight plates. The barbell is grasped in the middle with both hands and lifted overhead or rested on the shoulders. It is a versatile piece of equipment that may be used for bench presses, deadlifts, squats, and numerous other workouts.
The shaft of a barbell is typically about 1 inch in diameter, or about 28 mm to be more precise. The barbell's shaft has a knurled pattern (knurling), which is simply etched crosshairs of varied depths to aid grip and avoid slipping, especially when your hands get sweaty.
The purpose of a barbell is to provide resistance against which muscles can work. This resistance can be varied by changing the weight of the barbell or by using different types of barbells such as those with added weight plates or dumbbells. Barbells are an essential piece of equipment for strength training and can help to increase muscle mass, improve bone density, and reduce body fat.
How Much Does A Barbell Weigh? 
How much does a barbell weigh? Well, It depends on the type, size and various other factors such as the material it is made out of, the barbell's shaft diameter, length, sleeves and so on. For example, a standard barbell typically weighs anything between 15 - 25 pounds while on the other hand, an Olympic barbell typically weighs around 45 pounds. There are also barbells that weigh over 50 or even 60 pounds.
Types of Barbells and Their Respective Weight
There are different types of barbells, each designed for a specific purpose or exercise. Here are some of the most common types of barbells and their respective weight:
#1. Standard Barbell

 
This type of barbell is the most common type especially among beginners or intermediate lifters and are usually seen in commercial gyms. It is straight and evenly weighted, with no added features.
The standard barbell typically weighs around 15 to 25 pounds. The bar is about 7 feet (2.13 meters) long and has a diameter of about 1 inch (25 mm). It can hold a maximum weight capacity of around 200 to 300 pounds. 
This barbell can be used for a number of exercises, including squats, deadlifts, and bench presses. 
#2. Olympic Barbell

 
The Olympic barbell is longer, heavier and sturdier than what most people refer to as the standard barbell, and it is used in Olympic weightlifting competitions. 
The Olympic barbell weighs around 20 kg or 45 pounds for men and 15 kg or 33 pounds for women. The bar is about 7 feet long and the bar sleeve or collar where the weight plates are loaded is around 2 inches (50 mm) and has a diameter of 28 mm for women and 29 mm for men. The weight plates used with an Olympic barbell also have a larger diameter hole, allowing for a more precise and secure fit.
[irp]
The barbell can hold a maximum weight capacity of around 800-1000 pounds unlike the standard barbell which can hold a minimum weight capacity of around 300 pounds. The bar has less aggressive knurling and a more pronounced whip to help lifters generate speed and momentum for the lifts.
#3. EZ curl Barbell
The EZ bar is a shorter and curved barbell with angled grips in the middle. This design allows for a more comfortable grip, and lift. 
It is formed by bending a solid steel bar into an indistinct zig-zag shape.
It weighs around 15-30 pounds and is suitable for isolation exercises such as bicep curls and tricep extensions.
#4. Powerlifting Barbell
Powerlifting barbells are typically thicker and stiffer than other barbells, especially the Olympic barbell. This barbell is quite similar to the Olympics barbell as their differences are not easily noticeable. 
[irp]
The powerlifting barbell weighs around 40 to 44 pounds. The bar is about 7. 2 feet long and has a diameter of about 1. 2 inch (29 mm). It can hold a maximum weight capacity of around 1500 pounds. 
The bar also has more aggressive knurling to provide a better grip for heavy lifts and also, it has a thicker shaft that makes it sit better on the shoulders during squats. 
#5. Hybrid Barbell
Hybrid barbell, also known as multi-purpose barbell, is a type of barbell that combines both the characteristics of the powerlifting barbell and an Olympic weightlifting barbell.
What this means in essence is that, the stiffness or whip of the bar, the knurling and smooth ring placements, as well as the amount of allowed sleeve rotation falls midway between the Olympic barbell and the powerlifting barbell. 
[irp]
The hybrid barbell weighs about 44 pounds and has a diameter of 28.5mm and a maximum weight capacity of 1200 pounds. They are designed to be versatile, making them suitable for a wide range of lifting exercises.
#6. Squat bar
The squat bar is a specialized barbell that has a curved shape, with two handles at the front and a pad that rests on the shoulders. 
This design allows for a more comfortable squatting position and reduces stress on the shoulders and wrists making it ideal for lifters with shoulder or wrist injuries. 
[irp]
The squat bar typically weighs around 60-70 pounds (27-32 kg).
#7. Deadlift Barbell
Deadlift barbell is a type of barbell designed specifically for deadlift exercises. 
Deadlift barbells are typically longer and thinner than the Olympic barbells, with a 27mm diameter and a maximum weight capacity of 1500 pounds. It weighs around 44 pounds and has a length of about 7.5 feet. 
The barbell has a more flexible whip, allowing lifters to lift heavier weights more comfortably.
How to Choose the Right Barbell Weight for Your Fitness Goals
When it comes to choosing the right barbell weight for your fitness goals, there are a few things you need to keep in mind;
Know Your Fitness Goals

: The first and most important step you need to take into consideration before selecting a weight for your barbell is to determine what you want to achieve with your fitness routine. Are you looking to build muscle mass, increase strength, improve endurance or lose weight? The answers to these questions will guide you on your weight selection process.
Assess Your Current Fitness Level

: Assessing your current fitness level is critical in determining the right barbell weight for you. If you are a beginner, it is recommended to start with a lighter weight and gradually increase as you progress. If you are an experienced lifter, you may need a heavier weight to challenge yourself and your muscles. 
Consider Your Body Weight

: Your body weight is also an important factor to consider when selecting a weight for your barbell. If you are the type with a smaller body stature, you may need to choose lighter weights than someone who has a  larger body structure and has more muscle mass.
Consult with a trainer or coach

: If you are unsure about which barbell weight to choose, it is always best to consult with an experienced trainer or coach. A qualified trainer or coach can assess your fitness level and help you choose the right weight for your fitness goals.
Gradually Increase Your Weight

: It is important to gradually increase the weight of your barbell as you build strength and endurance. Adding too much weight too quickly can lead to injury or muscle strain. 
Key Takeaway
If you're looking to take your fitness to the next level, a barbell is definitely worth considering. It's one of the most versatile pieces of equipment you can have in your arsenal if you're into bodybuilding, powerlifting, or any other weight-bearing activities.
But before you go out and buy a barbell, it's important to understand the different dimensions and weights available. You'll want to make sure you have the right equipment to reach your strength goals, whether that's something light and portable or a heavy-duty piece of equipment.
Luckily, with so many options on the market today, it's never been easier to find the perfect barbell for your needs. And once you do, you'll be able to incorporate a variety of exercises into your routine that will help you build strength, improve your overall fitness, and achieve the results you're after.
So if you're serious about your fitness goals, consider adding a barbell to your workout routine. It might just be the missing piece you've been looking for to take your training to the next level.