Some of this first aid kit is needed to save a life at home, you can actually buy this at home for emergency purposes they are listed as follows;
Scissors: This is very important as it is used to cut.
Sterile Bandage: You all no the purpose of the bandage.
Splinter forceps: 3 inches in size.
Sterile gauze: 3x3 inches.
Burn ointment: preferably 5 percent tannic acid.
Inelastic tourniquet.
Iodine solution.
Wire or thin board splints.
Sterile caster oil.
Sterile plaster.
Boric acid solution.
Baking soda.
13. Ointment; like Bacitracin.
Resuscitation equipment (such as resuscitation bag, or airway or pocket mask)
Two elastic wraps
A splint
Directions for requesting emergency assistance
50 - Adhesive Bandage 1" x 3" 30 –
Adhesive Bandage 3" x 3/4" 20 –
Adhesive Bandage 1 3/4" x 3/8" 3 –
Knuckle Bandage 3 –
Fingertip Bandage 3 –
Butterfly Closure 2 –
Tape Roll 2 –
Triangular Bandage w/safety pins 1 –
Trauma Pad (5 x 9) 1 –
Eye Pad 4 –
Gauze Pad 4" x 4" 4 –
Gauze Pad 3" x 3" 4 –
Gauze Pad 2" x 2" 1 –
Gauze Roll 2" 1 –
Gauze Roll 4" 4 –
Examination Gloves 1 –
Instant Cold Pack 1 –
Tweezer 10 –
Burn Cream 10 –
Sting Relief Pads 30 –
Alcohol Pads 20 –
Antiseptic Towelettes 1 –
Case 1 –
First Aid Guide 4 –
Finger Splints / Tongue Depressors 20 –
Cotton Tip Applicators 1 –
Filtration Mask 1 –
Eye Wash
The fact is your present and participation in helping accidents and injuries people with those first aid kit mention above, can actually save the life. Don't just look or stand do something.
Accidents and injuries are major occurrences around the world. In every large country and even in the family and some area, a day will not pass by without injuries, without people getting hurt.
According to research thousands of people around the world get injuries /or accidents. Majority of the family get hunt either by cut, or bruised, or getting something in the eye, having a toothache and even car accident. Many have a deep cut that bleeds seriously. That's why you need to have first aid kit in your household and car.
My question is when such an accident occurs what do you do?
All that most people do is to stay and watch or some people wait until medical personnel arrives when there is a chance that you could actually save that person with first aid kit. You should be able to help a soul. Everybody should be able to know what to do in case of emergency, by doing this you have actually been able to save a life.
  We have various accidents and injuries which are:
Bruises: When a person falls and strikes some part of the body, the skin is not usually broken, but the flesh under the skin is injured and some of the small blood vessels are broken.
Abrasions and cuts.
Severe wounds and bleeding.
Sprains.
Burns.
Fracture.
Electric shock.
Dislocation.
Scalds.
Snakebite.
Scorpion stings and many others.
But today am going to talk about one major accident which is :
first aid kit for Broken Bones
   In every case, there is always a reported accident on broken bones (fracture) in this case a physician should be called. However, for those who can not secure a physician, a major first aid kit instruction should be done before the physician arrives.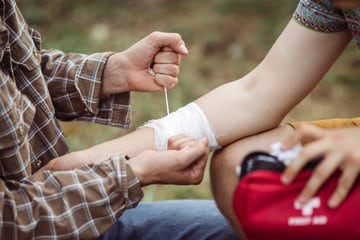 At first, make sure the patient mind is at rest and calm him/her down and remain quiet. When a bone is broken it actually looks like a jagged end with sharp splinters like two ends of a broken piece of wood. And if there is any movement of the limb it can cause the flesh to splinter and tear which cause severe pain and bleeding. That is while you need to calm the patient down.
Before you attempt to move anyone with a broken bone, apply an add splint of some kind to prevent movement of the broken ends of the bone. It should be painted with an antiseptic if you don't have a clean covered bandage.
Wrap the broken part very well so that the bones will be held as still as possible but be careful that the circulation is not cut off. It is best not to straighten a broken knee or elbow joint, leave them in a position you find them.
 For those who know how to apply a splint, you can do so by gently straighten the broken arm or leg just enough to permit the application of the splint. All this must be done gently to avoid too much pain. After doing this the next thing is to surround the broken limb with a thick layer of cotton or used a few clothing as a pad before the physician arrived or move to the hospital.
However, it requires up to six to twelve weeks or longer for a broken bone to get well, and therefore it is necessary to have your first aid kit and stay calm and avoid an accident if possible.
RELATED READINGS