Shoulder pain from dead arm syndrome is a problem. It results from repetitive motions that stress the joint. As the shoulder ages, it becomes unstable, which causes localised pain and discomfort. As a result, overhead actions like pitching a baseball or serving a tennis ball may be challenging.
If you participate in particular sports, you have a higher risk of developing dead arm syndrome. Similarly to this, you can be in danger if you often raise your arm while doing manual labour.
Read on if you want to learn more about dead arm syndrome. The causes, symptoms, treatments, and prevention methods will all be covered in this article.
Patients who have this injury may experience discomfort while throwing or hitting, decreased velocity when throwing or serving, diminished control, and difficulty warming up. Tears are more severe than strains.
Rest and physical therapy are the first steps in treatment. Surgery is a potential choice, nevertheless, if a patient does not improve after receiving conservative therapies.
Arthroscopy is used to carry out this outpatient procedure. A torn labrum is arthroscopically repaired in this situation.
What are the symptoms of dead arm syndrome?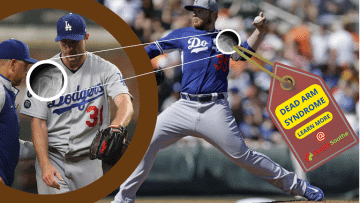 When throwing, dead arm syndrome causes discomfort or numbness in the upper arm. It may occur gradually or unexpectedly, such as when your arm quickens to throw a ball.
Your arm may seem limp or "dead" in addition to being painful and feeble. Other typical signs include:
numbness or tingling

fatigue in the affected arm

reduced throwing speed

inability to throw with force

reduced control when moving your shoulder
What causes dead arm syndrome?
Overuse is often the root cause of dead arm syndrome.
The ligaments in your shoulder may be stretched by repetitive motions like throwing. Ligaments are bands of tissue that link bones and support the joints. As the ligaments sag and loosen, the shoulder becomes unstable and uncomfortable.
Injuries to the rotator cuff tendons may also result in dead arm syndrome. Your upper arm bone is held in place by a collection of muscles and tendons called the rotator cuff. You are able to go through the whole range of motion because it stabilises your shoulder.
However, actions like throwing may exert a great deal of tension on the shoulder. As a result, your rotator cuff must work even harder to support your shoulder throughout the motion. When done frequently, this might tear the rotator cuff tendons, producing dead arm syndrome.
Who's at risk for dead arm syndrome?
Some people are more prone to getting dead arm syndrome. This includes those who often toss objects above.
People who are at greater risk include:
baseball pitchers

water polo players

tennis players

volleyball players

young athletes

manual labourers
How is dead arm syndrome treated?
You can treat dead arm syndrome by strengthening and stabilising your shoulder. Depending on the extent of your injury and how often you conduct overhead motions, the optimal course of action will vary.
Treatment options include:
Rest. Regardless of how bad your symptoms are, it's imperative that you cut down on your activities. This will stop the deterioration of your symptoms.
physical treatment You should consult a physical therapist as soon as your shoulder begins to feel better. They may demonstrate shoulder-strengthening exercises for you.
Ice. Any soreness in your shoulder may be alleviated by placing ice on it.
drugs that reduce inflammation. To further lessen the discomfort, you may use anti-inflammatory medications like ibuprofen.
Surgery. Surgery can be necessary if the aforementioned therapies are ineffective or if your symptoms are severe. Your shoulder's torn tendons or ligaments may be fixed by a surgeon.
You'll need to wear a sling if you want to have surgery. Physical therapy will also begin 4 to 6 weeks following surgery.
Your doctor will also give you a "return to play" regimen to follow before you may resume your regular activities. You may gradually build up your strength with the use of this programme.
Even if you don't have surgery, it's crucial to receive your doctor's okay before getting back to your regular activities. If you come back too soon, you risk reinjuring your shoulder and delaying recovery.
The length of your total recovery depends on your symptoms. If your symptoms are minor, healing may just take a few days. But it might take up to a year or more if you have a serious injury or need surgery.
What's the best way to prevent dead arm syndrome?
Perform a strengthening routine. Exercises that build strength in your shoulders, upper back, and core are important.
This will enhance the stability of the shoulders.
Use the appropriate method. Learn the proper technique for your sport over time. One of the greatest methods to reduce the chance of harm is to do this.
Adjust your body's posture.<span style="font-weight: 400;"> Try to vary how you carry out overhead motions whenever you can. This will lessen the shoulder's exposure to repetitive stress.
Regularly stretch. Adapt your stretching regimen to the sport you play. Before and after an exercise, be sure to stretch and condition your body.
Rest. Give your body some downtime, particularly after periods of vigorous exercise. Limit the number of throws your players make each game or each week if you're a coach.
Conclusion:
Overuse is the root cause of dead arm syndrome. It happens when the muscles or tendons of the shoulder are injured by repeated overhead actions, such as throwing a ball. Dead arm syndrome is characterised by discomfort, numbness, and weakness in the upper arm.
The illness is more likely to affect athletes who participate in sports like baseball, tennis, and water polo. The risk is larger for manual workers who regularly reach overhead. Ice, anti-inflammatory drugs, and lots of rest are all part of the treatment. To increase shoulder stability, strengthening workouts are also necessary.
Fortunately, the danger of dead arm syndrome can be reduced by taking rests and employing the proper technique. Stretching and strengthening activities will assist keep your body in shape and keep your shoulders strong.
A Word of Advice from Healthsoothe
Overuse causes dead arm syndrome. It happens when repetitive overhead actions, such as tossing a ball, harm the shoulder muscles or tendons. Pain, weakness, and numbness in the upper arm are common symptoms of the dead arm syndrome.
Athletes that participate in activities such as baseball, tennis, and water polo are at a higher risk of developing the illness. Manual workers who regularly reach above are also in increased danger. Ice, anti-inflammatory drugs, and lots of rest are all part of the treatment. Strengthening workouts are also required to enhance shoulder stability.
Fortunately, by taking rests and using the proper technique, it is feasible to reduce the danger of dead arm syndrome. Stretching and strengthening activities can also assist the condition of your body and keep your shoulders firm.
Remember that it will be beneficial for you, if you are injured, to find dead arm syndrome treatment ASAP. The longer the injury goes untreated, the worse the possible outcome.
Frequently Asked Questions Related to Dead Arm Syndrome