Mental illness has been around for centuries. Nevertheless, discussions around the illness only began a little while back. In the US, one in 20 adult cases of severe mental illness is recorded annually.
This calls for mental disorders to be treated with the same urgency as physical illnesses. In recent years, significant advancement has been witnessed in the healthcare sector concerning mental healthcare. For example, mental health practitioners like NeuroFlow have put significant effort into integrating technology with treating mental health disorders.
Mental health software is an example of the technology used to diagnose and treat mental illnesses efficiently. This article looks at mental health software and how it improves the patient's experience. Read on to discover more.
What Is Mental Health Software?
Mental health software, similar to this EHR for mental health services, is a custom-built application that mental health professionals use to ease administrative, clinical and everyday operations.
The designs used to develop this software are a result of collaboration between therapists, psychiatrists, psychologists, and other behavioral health practitioners.
Some of these programs are used across the healthcare industry, while others are specially designed for mental health needs. The former programs have to meet a specific criterion to qualify as mental health software. This criterion includes the following features:
Ability to manage the clinical operations of a mental health practice seamlessly, including e-prescriptions and charting
Capacity to promote the efficiency of administrative operations in mental health practice, such as in registration, insurance claims management, and patient engagement
Validation of the requirements of mental or behavioral health practices
Provision of built-in electronic medical record (EMR) or electronic health record (EHR) software
Ways Mental Health Software Enhances Patient Experience
Before diving in, it's important to state what patient experience means. The patient's experience involves a patient's encounter with various healthcare professionals during their healthcare visit. You can evaluate their experience by seeking their views on the following:
Ease of access to care
Ease of access to information
How effective wasthe communication with relevant healthcare practitioners
How was their experience with the efficiency of services and time-management
How satisfied were they with the services
Now, here are some of the ways mental health software improves the patient's experience.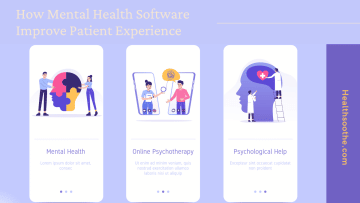 1. Provide Electronic Health Records Interface
Most mental health software doubles as electronic health records. EHR software promotes communication and interaction between healthcare professionals and their patients.
Since this information remains in the software, the mental health software acts as a health record. Also, since recent technology has robust cybersecurity measures, this software improves the safety of patient information.
EHR software also promotes the simplification of patient charts. This improves the accuracy of the information on the chart because the process is automated. Further, it promotes efficiency, considering behavioral health practitioners spend less time retrieving the charts.
Consequently, the EHR interface improves patients' experience by easing access to information, improving communication, and promoting good time management.
2. Ensure Safe Storage Of Digital Health Records
Healthcare data is very sensitive. Mental health information is even more critical, considering it pertains to a patient's thoughts and behavior. Therefore, this data must be stored securely to protect patients and healthcare organizations.
Sharing sensitive information about a mental health patient's medical history endangers their health. This is because of the information these patients share with their healthcare providers. Also, a data breach can ruin a healthcare organization's reputation and cause extreme financial losses.
As such, it would be unwise to leave a paper trail where confidential information is involved. Mental health software facilitates the digital storage of patient and organizational data, thus promoting safety. Consequently, this improves patient satisfaction, which then enhances patient experience.
3. It Allows Real-time Update Of Patient Information
Since most mental health software doubles as places for patients' records, this facilitates real-time information updates. It eliminates delays when other professionals need to access the same health records.
Ease of access streamlines many other functions, promoting efficiency. Remember, the more efficient, the better the experience.
4. Facilitate Patient Engagement Through Patient Portals
Patient portals are easy for patients to interact and communicate with their doctors. Additionally, they also provide patients with access to information concerning their health. For instance, if a patient wanted to look up their treatment plan, all they'd have to do is log into their portal. Most mental health software has this tool to enable patients to interact with a mental health practitioner in real time.
Some of these applications allow patients to message their doctors, improving care efficiency. For instance, there's no telling when a mental illness will manifest. If a patient develops anxiety at night, going to a care facility may not be an option. Nonetheless, having access to a patient portal can help them receive virtual care.
Some mental health practices are also taking advantage of technology to provide virtual care to patients. Such practices must invest in mental health software with the patient portal feature to facilitate effective communication. Patient portals facilitate other functions, including video appointments, access to educational health information, and prescription ordering.
All these features improve patient satisfaction, promote good time management, and ease access to care and knowledge, thereby improving patient experiences.
5. Facilitate Interprofessional Collaboration
Collaboration is important in healthcare because it prevents medical errors and enhances patient outcomes in the long term. In mental and behavioral health practice, some patients are referred to other professionals for further diagnosis and treatment. Imagine how exhausting a referral would be for them and the professionals involved.
Thanks to mental health software, professionals can easily share files and other important information with other practitioners. Mental health software automates interprofessional collaboration in healthcare, promoting accuracy and efficiency.
For one, the possibility of making errors is significantly reduced, and consequently, the quality of patient care increases. Additionally, professionals can consult one another to ensure they give their patients the best care. Improved accuracy and efficient collaboration enhance patient outcomes and satisfaction, thus improving patient experiences.
Wrapping Up
Mental health software makes the diagnosis and treatment of mental illnesses easier. The outcome is increased patient experiences. Nonetheless, for patient experiences to improve, some requirements must be met.
For instance, patient data must be secure and easily accessible, which is made easier by electronic health records. Similarly, there's a need to increase patient engagement and achieve efficiency through interprofessional collaboration.
By integrating mental health software into your treatment process, you'll enjoy all these benefits that improve the patient's experience. If you're still second-guessing the importance of mental health software, today is a good day to stop and consider adding it to your mental health treatment process.