Period cups are very popular these days among women all over the world because of their safety and ease of use. However, women and teenage girls who are thinking about carrying period cups for the first time often look very confused and conscious. They may wonder whether carrying such a plastic device into the vagina would be comfortable; is it ok to walk around; are there any chances of unpleasant and embarrassing odors; or may we experience leakage problems with menstrual cups as do with sanitary pads and tampons. All of your questions are valid and we are here to give you logical answers. Be staying with us!
What is a period cup?
If you are intending to use period cup for the first time, then you must know what it is. Period cups also known as menstrual cups are made of highly flexible medical-grade silicon plastic. They are available in different sizes based on your low and high cervix.
Where I can buy a period cup?
Most of the women, particularly teenage girls are very shy and uncomfortable about talking and purchasing menstrual cups. First, let us remind you, it's really ok if your body starts producing monthly fluid. You should be thankful being healthy enough for going through a normal processing of puberty. Second, you don't need to think much like why I am uncomfortable or shy discussing such a topic. You will be used to it over time. Now, the answer to the question, where I can buy a period cup is, you can have menstrual cups easily from any of your nearby medical store.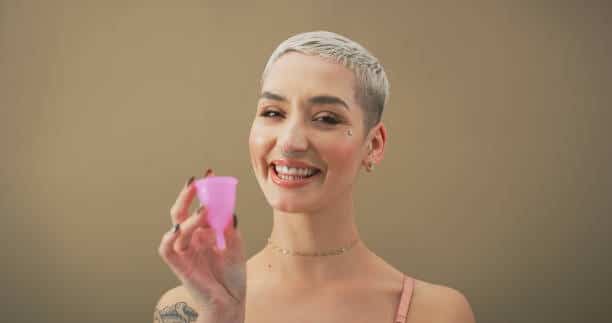 For your convenience, period cups are also available online. These quality products can easily collect all of your menstrual blood. Sanitary pads and tampons are designed to absorb your blood and last for 3-4 hours depending on whether you are wearing them on the first day of your periodic cycle or in between. So you have to dispose of it and get a new one. When it comes to period cups, you don't need to throw them away after using them only once. Menstrual cups are reusable and you can use them with no harm for many years if you carefully consider the cleaning and sterilizing protocols. You can easily walk, swim, exercise, and even run while carrying a period cup into your vagina with no pain. The most satisfying thing about menstrual cups is that these are eco-friendly and cause no harm to the environment as do period pads and tampons. You can now happily switch to menstrual cups instead of pads or tampons.
Why Menstrual Cups Leaks? How to Fix It?
There are many reasons for the leakage of menstrual cups. Have a look at them.
First, you have not inserted your menstrual cup at a right angle into your vagina. Fold your menstrual cup at the open end and push gently while holding the stem. You will learn about the best of your right angle after using it once or twice. So don't lose heart and keep on trying.
Another reason for leakage is you might have folded the mouth of your menstrual cup fully, so that it's not even open enough to collect all the blood that is coming from different directions. To fix this problem, keep sliding your finger along the side of the vaginal wall and menstrual cup right after insertion. This will make the folded ends of your cup open, ready to collect all of your fluid and prevent you from leakage.
The third reason for leakage is very obvious. You are using a menstrual cup of inappropriate size. Self-assessment is needed while purchasing a perfect-sized menstrual cup. If you still cannot find a menstrual cup that fits you, keep trying different sizes until you find one that does.
The fourth most common reason for your menstrual cup leakage is that it is filled and starts overflowing. Though menstrual cups can collect blood for 8-12 hours, many women experience heavy periods and keep on changing sanitary pads or menstrual cups after a few hours. Flow is also too high during the initial days of menstruation. Therefore, you should always wash menstrual cups frequently and maintain proper hygiene standards.
Another reason for leakage is that you have inserted your menstrual cup too high into your vagina. This will also make the removal of your menstrual cup difficult. Therefore, you should carefully control the insertion force.
Last but not least, leakage from a menstrual cup might be caused by the strong muscles of your pelvic floor. In this case, you should always wear liners or underwear.
Hope we have clarified some of your questions regarding menstrual cups. Discover the cause of leakage in your menstrual cup and fix it according to our suggestions. Have a healthy menstrual life!