44334 white pill is one of the effective analgesic combinations, used to treat pain such as from headaches, migraines, osteoarthritis, general body pain, and fever. It is capsule-shaped and can be gotten over the counter, making it possible that its use can be abused and easily overdosed or used inappropriately used.
The 44334 white pill is an analgesic combination drug that is called Extra Strength Relief acetaminophen 250 mg / aspirin 250 mg / caffeine 65 mg. It contains these analgesic compounds that help to deal with pain, hence the name, Extra Strength. It is a solid white capsule-like tablet with the imprint "44334" on one of its surfaces, while the other end is blank. It is not a controlled substance and it is classified as inappropriate in high doses during pregnancy.
In this article, we will discuss the individual active ingredients in the 44334 white pill, with the aim of understanding how each one of them contributes to dealing with pain. We will also consider the proper dosage and use of the 44334 white pill, the side effects and what consequences are attached to overdosing on the pill.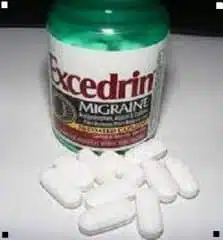 What is the 44334 White Pill?
It is difficult to go into the drug store or pharmacy and ask for a 44334 white pill. Even though the pharmacist may be able to figure out the exact pill you want, you can make the job easier by knowing the name of the pill. The 44334 white pill is supplied by LNK International and it is available in pharmacies under the brand name, Excedrin. It is white and capsule-shaped, measuring about 17 mm in length, and considered an Extra Strength Pain Relief.
It is classified as an Analgesic combination drug because it contains acetaminophen, aspirin, and caffeine; employing all three compounds to relieve pain from osteoarthritis, migraines, headaches, fever, and general body pain.
There is no attention on the possibility of abusing this drug because it is available over the counter and is not considered as one that may cause dependence or withdrawal symptom to its users. However, a break away from the recommended dosage may have some serious consequences.
How to Use the 44334 White Pill – Dosage
The purpose of the 44334 white pill is to treat pain; however, it is most effective when used as soon as the pain begins. The maximum dosage for adults and children that are 12 years old and above, are the same. Generally, patients should not use more than 8 tablets in 24 hours, and the recommended dosage is 2 tablets of acetaminophen 250 mg / aspirin 250 mg / caffeine 65 mg, orally, every 6 hours.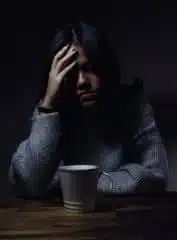 It is advisable to use the tablets with a full glass of water. Also, do not use the tablets if you are on any medication that contains acetaminophen, NSAID products such as aspirin and Ibuprofen, or caffeine. Also, limit your consumption of caffeine-containing foods and beverages.
If you have questions concerning the drug, ask your doctor or the pharmacist on duty, to get accurate answers. However, since the drug is available over the counter, read the leaflet that comes with it thoroughly and use the drug as directed in the leaflet. However, ensure that you don't use the 44334 white pill for a protracted period as it is a short term remedy for pain. Do not use it for more than five days for pain, and three days for fever. If your symptoms persist, consult your doctor.
Related Article: All You Need to Know About the M366 Pill.
Side Effects of 44334 White Pill
As is common in some drugs but rare in others, some side effects of drugs require immediate medical attention. The 44334 white pill may cause some significantly dangerous side effects in some patients. If you notice any of the following side effects after using the pill, contact your doctor immediately.
The first group of side effects with using the 44334 white pill appear as allergic reactions to the medication. They include rashes that may be itchy on the skin; sometimes, the skin may have hives, may be swollen, blistered, peeling, and red.
Respiratory issues that presents as tightening in the chest or throat, wheezing, breathing troubles, difficulty swallowing or talking, swelling of the face, tongue, mouth, throat, or lips.
Dark urine, stomach upset, vomiting, jaundice, tiredness, and such symptoms may point to liver problems and cause side effects when you take the 44334 white pill.
It is also possible that the user experience vaginal bleeding, blood in vomit or urine, the gum may bleed, bruises on the gum or other body parts without cause, and uncontrolled bleeding.
Confusion, dizziness, and fainting, stomach ulcers, hearing loss, headache (after prolonged use), are other side effects of using Excedrin.
Safety of 44334 White Pill
As an over-the-counter medication, the 44334 white pill is safe as there are very few reported cases of abuse of this drug. However, as it is with most drugs, it is best to use this medication after seeking your doctor's counsel. Generally, it is advisable to avoid any other aspirin or NSAID drug, other drugs that contain acetaminophen, as in S 90 3 pill, and reduce your consumption of caffeine.
During pregnancy, this analgesic combination should be avoided, especially in the third trimester as it may cause delayed labor and birth. Also, there is a high chance of increased bleeding during labor due to the presence of aspirin in the drug. Caffeine and acetaminophen have not been linked to any form of pregnancy distress or loss; however, aspirin is known to inhibit prostaglandin synthesis, and at high doses, it can cause neonatal acidosis and neonatal salicylate toxicity.
Patients with renal and hepatic issues should avoid this analgesic combination as they see fit. Consult your doctor for recommended dosage as adjustments need to be made to reduce the risk of bleeding from the liver, and salicylate toxicity for the kidney.
Conclusion
The 44334 white pill is an analgesic combination that is used to treat minor pains and ache such as osteoarthritis, migraines, fever, headache, muscle ache, and many more. It is available over the counter but should not be used for the long term as it can cause serious side effects.
Liver and Kidney issue patients should consult their doctors before using this analgesic combination, as should pregnant women, especially in their third trimester.