If there is any drink that can give you as much health benefits as the combination of cloves and milk, we will like to know; but as far as we know, the benefits of cloves and milk is as numerous as anyone can fathom. However, most of the benefits you will find on the internet are unproven and are difficult to believe. This doesn't mean they do not have proven health benefits.
Cloves are commonly used as spice in cooking traditional dishes and although they were not researched on until recently, they have been used for some medicinal purposes. Cloves are said to help improve almost every aspect of the human health ranging from organs such as the mouth to the gut. However, the efficacy that milk offers to the combination of the cloves and milk drink is what is astounding.
Milk is known to be one of the most nutrient-dense drinks, suitable for people of all ages, but more preferred in children. However, the nutrients they contain, such as the B-vitamins, protein, selenium, and other minerals have their own health benefits. When these nutrients are combined with cloves, the provide more health benefits.
In this article, we will focus on the health benefits of cloves and milk and how each member of this combination drink contributes to each health benefit. As a bonus, we will provide information on how you can prepare a cloves and milk drink to help improve your health.
CEYLONFLAVORS FRESH AND PURE Organic Hand Picked Whole Cloves 3.5oz. Harvested from a USDA Certified Organic Farm in Sri Lanka
as of September 21, 2023 6:21 pm
Features
Fresh harvest and naturally dried.
We import our products only via air express to protect the flavor and the quality
Each clove is selected by hand to meet the quality of premium grade
Packaging may be vary as shown in the images
Health Benefits of Cloves and Milk
One of the common medical issues among married people is infertility. In some cases, the man's sperm cells are not strong enough or do not move fast enough to reach the woman's egg to fertilize it. In other cases, the woman has irregular ovulation, making it difficult to ascertain their most fertile period.
These fertility issues may arise as a result of many things, one of them being obesity. Cloves are effective in helping with weight loss as it is rich in fiber and low in sugars, consequently helping to regulate the hormonal functions of the body as the bad fat is reduced. This helps to improve the health of the sperm cells and regulate the menstrual cycle.
While it is expected that the eyes become weaker as you age, you can improve the health of your eyes by consuming foods that are rich in zinc, omeg-3 fatty acids, vitamins C and E, among others. One food material that provides these is a combination of milk and cloves. Cloves are rich in vitamins C and E; they also contain omega-3 fatty acids. Milk is rich in minerals such as zinc and selenium.
Vitamin A, which is principal in improving eyesight, is one of the nutrients in cloves. Therefore, the combination of cloves and milk will provide you with nutrients that improve your vision.
Increases organ functions
Clove is rich in antioxidants and many bio-active compounds, such as flavonoids. They have hepatoprotective properties, that is, they protect the liver. Also with nutrients such as magnesium, calcium, iron, vitamins A, C, and K, they help to improve the functions of the liver, kidney, brain, teeth, and bones.
Milk also contains nutrients that help in the development of the brain, teeth, and bones, making the cloves and milk combination beneficial to the health of most organs in the human body.
Soothes the digestive system
Cloves have been used in the past to help soothe an upset stomach. When the gastrointestinal organs are irritated, in the traditional medicine, it helps to soothe the irritation. This is probably due to its anti-inflammatory properties.
Relieves respiratory issues
Respiratory issues such as asthma, and any other condition that makes breathing difficult due to inflammation of the lungs. Cloves have anti-inflammatory properties and together with milk, they provide minerals such as magnesium and potassium, that helps muscles to relax, making breathing easier.
Treats tonsillitis and sore throat
Tonsillitis and sore throat have one thing in common, they make it difficult to swallow. While tonsillitis is characterized by the swelling of the tonsils, sore throat is characterized by the irritation of the back of the mouth and throat. They can both be caused by virus or bacterial infection.
To treat tonsillitis and sore throat, a combination of cloves and milk help to reduce the inflammation of the tonsils and soothes the irritation of the throat.
High and low blood pressure are dangerous conditions that may render the affected individual comatose or dead, if not promptly addressed. The high blood pressure in the heart is usually caused by restrictive blood flow in the arteries.
Cloves help to reduce the amount of bad cholesterol, that blocks the artery, in the body, making the pressure under which the heart pumps blood to different parts of the body reduce. Also, conditions such as anxiety makes the blood pressure increase, but cloves help to reduce it, too.
Enhances libido and sexual stamina
Cloves have been used as an aphrodisiac for a long time. The Chinese use it to help men have stronger erections because it helps to dilate muscles, thereby increasing blood flow into the sponge tissues of the penis.
Has anti-inflammatory properties
The anti-inflammatory properties of clove is delivered to the stomach with the aid of milk. It helps to reduce inflammation on different parts of the body. It reduces the swelling of the tonsils through its anti-inflammation properties and makes breathing easier by reducing the inflammation of the lungs.
Effective against anxiety and depression
Cloves is known to help cause calmness and improve the mood, thereby making it effective against depression and anxiety. It is speculated that it works, although to a less extent, similarly to the anxiety and depression drugs.
If this is true, them, it will help to eliminate the dependence and withdrawal problems associated with drugs such as blue pill Xanax and Farmapram.
Cloves are rich in vitamins such as vitamin C and E. These vitamins are essential in helping the body get rid of toxins, and removing dead skin cells, replacing them with new ones. They also help to protect the skin against the effect of UV rays of the sun.
Milk is also rich in Vitamin E and other minerals that help to improve skin elasticity and collagen.
Helps with weight management
Whether your goal is to gain weight or lose it, cloves are excellent choice to help you achieve that weight goal. It is rich in protein and carbohydrates, helping you consume adequate amounts of calories. When combined with milk, which is also rich in protein and other nutrients, it fills the stomach for longer and keeps away the desire to eat.
The vagina is home to many bacteria, some of which are good and others bad. Cloves and milk help to increase the population of the good bacteria, increases the self-cleaning property of the vagina, thereby making the vagina mostly free of bacterial infection, probably due to its antibacterial property.
Beneficial effect on pregnancy
Cloves are rich in vitamins and minerals that are essential to the health of a developing fetus. It contains folate, vitamin E, vitamin C, Iron, Calcium, all of which have beneficial effect on the baby. Also, it improves the appetite of the mother and wards off nausea, which is common during pregnancy.
Soothes stomach ulcer pain
Cloves help to reduce the pain associated with stomach ulcer due to its anesthetic properties. It does so by helping to numb the nerves of the stomach lining, making it feel the effect of the stomach acid when in contact with the wound, less.
Clove oil is a product gotten from cloves. It helps to improve the health of the scalp, spurring new hair growths and making the hair growth thicker.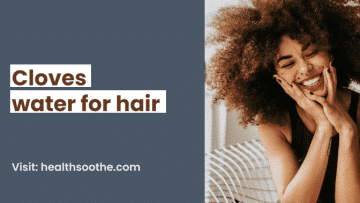 Allows easy fecal passage
If you have issues passing feces, consider drinking some cloves and milk. Cloves are good at helping to empty the bowels since they are rich in fiber. Blend a copious amount and stir it in milk.
Regulates blood sugar level
Insulin is the most important hormone when it comes to managing blood sugar. A diabetic either has insufficient insulin production, or ineffective use of insulin in the body. Clove and milk help to introduce the insulin-similar property of cloves into the blood stream, thereby helping to remove sugar from the blood.
Beneficial for teeth and bone health
Cloves and milk are rich in calcium; therefore, they are good in making the teeth and bones stronger. They are also rich in vitamin K, which is good for the same purpose and improve oral health.
Antioxidant properties of cloves as given by Vitamin C, which is also present in milk, helps to restore good health to the cells by ridding them of toxins that may cause unnecessary cell growth and replication.
How To Prepare Cloves and Milk
to enjoy the numerous health benefits that come with consuming the cloves and milk combination, you need to consistently ingest it. this means you need the knowledge of how to make the clove and milk combo. to help you, here's a video guide on how to prepare clove tea with milk, otherwise called Milk Masala Tea.
Print
How to Prepare Clove and Milk
Boil Clove in water and add milk. serve warm and with sugar (optional).
Total Time:

14 minutes

Yield:

2

servings

1

x
1 tbsp

Black tea (optional)

2

cloves

1½ cup

water

3 tbsp

milk (powdered)
Fill your pot or kettle with a cup of water
Add 2 cloves, and if you wish, 1 tablespoon of black tea, or any tea of your choice.
Let the clove and tea boil for 5 to 7 minutes in high heat
Make your glass cup half-full with water.
Add 3 tablespoons of powdered milk to the water and stir.
Add milk to the boiling clove and continue heating for another 5 minutes
Strain your Clove and milk/Clove tea into a tea pot
serve warn and with sugar (optional).
Prep Time:

2 minutes

Cook Time:

12 minutes

Category:

Drinks
Keywords: clove and black tea, clove and milk, clove drink
Conclusion
The numerous health benefits associated with using cloves and milk helps us to get a break from using drugs that have serious side effects, especially from long-term use. However, the use of clove and milk should not be embarked on if you are pregnant or suffering from high blood pressure or diabetes, without consulting your doctor.