Hawaii soap is a skincare soap product that comes in three variants. They are:
Hawaii Premium Gold Soap

Hawaii

Carrot

Hawaii Papaya Calamansi
Hawaii Premium Gold Soap:
Hawaii Premium Gold Soap is a specially formulated soap manufactured with papaya, carrot, and apricots. It contains active ingredients that aids to achieve beautiful skin naturally at the same time as shielding it from sun damage. The ingredients and their functions include:
Argan oil moisturizes the skin deeply.

It also prevents wrinkles.

Argan oil as an active ingredient in Hawaii Gold Premium soap makes it possible to prevent stretch marks.

It also supports skin whitening.
Glutathione is a powerful anti-oxidant. 

It helps to whiten the skin by minimizing the production of melanin. 

It detoxifies the cells which endorse younger-looking skin.
It whitens the skin by exfoliation illuminating lighter, younger and smoother skin. 

Apricot Exfoliators were made from natural sources (Apricot kernels).
It is Rich in papain enzymes which remove dead skin cells.

Papaya Extract brightens and keeps the skin hydrated.
It is rich in beta-carotene. 

It also promotes younger-looking and glowing skin.
It is an Anti-oxidant. 

Vitamin E boosts the skin's immune system.

It also enhances skin healing.

Vitamin E protects against Ultra Violet damage.
TCC is an Antimicrobial and antifungal compound.
It is a non-irritant ingredient. 

It soothes and heals the skin.
Benefits of Hawaii Gold Soap:
Hawaii Gold Soap gives you smoother, softer, and brighter skin.

It contains anti-bacterial properties that help to fight bacteria and give protection.

It helps to protect the skin from the sun.

Hawaii Gold Soap also prevents

wrinkles

and stretch marks from appearing.
Hawaii Papaya Calamansi: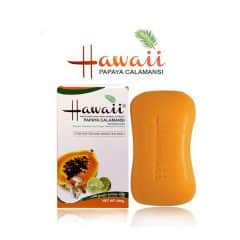 Hawaii Papaya Calamansi is a specially formulated variant of Hawaii soap that contains a pure mix of Papaya herbal ingredients, Calamansi, and Songyi Mushroom. Calamansi extract naturally whitens delicate skin.
This leaves the skin whiter, smoother, more radiant, and ever young, with a pleasant long-lasting fragrance. With Vitamin E as an antioxidant, it is enriched with Symmollient and Symwhite Plus for a perfect body experience. Its active ingredients are and their functions are:
It is rich in papain enzymes which exfoliates dead skin cells. 

It brightens the skin and keeps it hydrated.
Vitamin C protects from sun damage. 

It prevents melanin production by constraining the production of the enzyme tyrosinase. 

It also supports skin immunity and the renewal process.
It is an Anti-oxidant. 

Vitamin E boosts the skin immune system

It also enhances skin healing.

Vitamin E protects against Ultra Violet damage.
It is a brightening ingredient.
It provides a long-lasting skin hydration
Benefits of Hawaii Papaya Calamansi:
It is a natural skin brightening agent. 

It contains a high level of Vitamin C.

It has exfoliating properties.

It has a long-lasting fragrance.
Hawaii Carrot: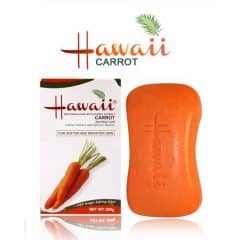 Hawaii carrot is completely packed with vitamins and nutrients, making it perfect to include in your daily skincare system. 
Benefits of Hawaii Carrot are:
It contains

multivitamins

.

Hawaii Carrot nourishes the skin.

It gives flawless and glowing skin.

Hawaii Carrot cleans all impurities.
While each of these three variants is safe for use on all skin types, it is still advised to try out each formula on a personal level to determine which type best suits your skin.
Is Hawaii Soap a bleaching cream?
This has been one of the most burning questions users of Hawaii Soap ask a lot. A study of the ingredients in Hawaii Carrot and Hawaii Papaya Calamansi variants revealed that they do not contain any of the top bleaching agents used in core skin bleachers.
However, Hawaii Premium Gold is the only Hawaii soap that contains glutathione which is an active ingredient branded to lighten skin by reducing the ability of the skin to produce melanin. 
Therefore if you are trying to successfully bleach your skin from dark to light, then Hawaii Soap might not be the top choice for you.
But then again, if you are only trying to achieve brighter skin or reduce hyper-pigmentation through effective exfoliation, then the soaps are a great choice.
Conclusion 
Everyone's skins react differently to certain skincare products. It is advised to try out a bar of Hawaii soap first and see one is comfortably okay with the results. If not, stop the use with immediate effect.
For more information about Hawaii Soaps, click on the video below. 
Any personal review about the soap variants? Share with us in the comments section below.
We are sorry that this post was not useful for you!
Let us improve this post!
Tell us how we can improve this post?