Having good dental hygiene is essential to keep one's teeth and gums healthy. It includes practices like brushing two times a day and having frequent dental checkups. A study has shown that there is a connection between the health of a person's mouth and his or her overall health.
Without proper treatment, tooth decay, teething troubles, or gum problems can lead to pain, self-confidence issues, as well as tooth loss. These could lead to speech problems, malnutrition, and deflect in a person's work life, school life, or even personal life. These problems can however be prevented with proper dental hygiene and care both at home and the dentists' office. Visit a dentist in Upper East Side to get tailored advice on how to best care for your dental hygiene.
Listed below are some highlighted dental and oral practices that can keep both the teeth and gums healthy: 
Brush regularly and correctly: 
Most people are indeed aware that brushing their teeth twice a day is one of the most essential habits required to keep their teeth clean. But are they doing it correctly?
Please know that brushing twice a day can only have its desired effects only when it is done with the correct brushing technique. How do you brush with the correct technique? Well, it's easy. You brush by using small circular motions on the front, back, and top of every tooth. Ensure you repeat this process for two to three minutes.
Do not use just any toothbrush: 
When buying a toothbrush, ensure it's not too hard and it's just the right bristle for your teeth. Why? Using hard brushes can damage your tooth enamel and gums which could, in turn, lead to gum erosion. Ensure you change your toothbrush every three months. Specialists recommend using a toothbrush with soft bristles.  
Floss at least once a day: 
Flossing helps to remove food particles stuck in between the teeth thereby helping to prevent bad breath and also remove plaque and bacteria from the teeth. Therefore it is advised to floss your teeth at least once a day.
See your dentist every six months(twice a year) :
 Visit your dentist so that a dental examination would be carried out on your teeth. This way, the dentist would be able to help you clean your teeth as well as remove any plaque or hardened tartar from them. 
Smoking damages the body's immune system, which makes it difficult for the body to heal tissues, including those in the mouth. People who smoke usually have a hard time healing from dental procedures. It also gives one's mouth bad odors and leads to yellowing of the teeth and tongue. 
Limit your intake of sugary foods and drinks: 
Eating sugar can lead to cavities as well as adverse dental outcomes. Try to drink more water than sugary drinks. And if you are to take sugary drinks, do so in small volumes.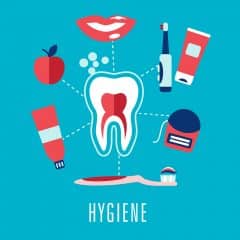 Dental hygiene tips for babies and kids:
One's baby teeth are just as important as their permanent teeth. With this in mind, it is advised to introduce good dental care for children, especially during infancy. 
Wipe your baby's gums with a warm, wet washcloth every day, even before they have any teeth. 

Your baby should not go to bed with bottles or sippy cups. Milk and juice contain sugars that can cause tooth decay if they remain on the teeth for extended periods.

Once your baby has teeth, brush them twice a day with a soft baby toothbrush. Use a tiny amount of fluoride toothpaste, no bigger than a grain of rice. 

Do not leave your children's teeth for them to brush until they are old enough to do so thoroughly without help. 

Keep the toothpaste out of children's reach when it is not in use.
Practicing good dental hygiene from infancy to adulthood can help a person keep their teeth and gums healthy.
Brushing daily and correctly, flossing daily, not smoking, avoiding sugary foods and drinks, and having regular dental checkups can help people avoid gum disease, cavities, and other dental issues. 
Did you find this article helpful enough? Kindly let us know in the comment section. For more tips and tricks on keeping dental hygiene, kindly click on the video below.
Remember to stay safe and healthy.