If you have an elderly or disabled relative who has been living independently in Elmira, NY, until now, you might have a hard time convincing them that they should try an assisted living arrangement. After all, they probably value their privacy and like living alone.
However, there are advantages to assisted living in Elmira that they might not be aware of. Here are the positive aspects of assisted living there that might convince your elderly or disabled relative to change their mind.
Located Near Hospitals And Other Health Care Facilities
Your elderly or disabled relative will probably appreciate that medical services are located quite close to their assisted living home - this includes hospitals such as the Arnot Ogden Medical Center, and St. Joseph's Hospital. Being situated near medical services means that your relative will be able to get medical attention quickly so that they won't have to panic when medical emergencies arise.
But even if there are few medical emergencies, sometimes your relative may just need a routine checkup from time to time. They might also need a prescription filled right away, so it is good that Elmira has many pharmacies in the vicinity as well.
The assisted living facility itself, such as non-profit CDS Life Transitions, might also offer in-house care like assisting in medication administration and serving meals that follow a particular guided dietary restriction to their elderly or disabled residents. This would be very advantageous if your elderly or disabled relative has trouble remembering when to take a certain medication and cooking their own food.
Located Near Major Churches
If your elderly or disabled relative enjoys attending worship services of their Christian group, it may delight them to find out that there are many Christian churches flourishing within Elmira. So, just showing your relative how near the assisted living facility is to their preferred church might convince them that moving into such a facility would be good for them.
Offers Social And Recreational Opportunities To Residents
An assisted living facility would also be an ideal home for your elderly or disabled relative if they like human interaction because many assisted living facilities offer activities that would help your relative socialize and amuse themselves. Take note that some elderly or disabled people who insist on living alone might become shut-ins whose main occupation is watching TV only. Interaction with the staff and with co-residents will allow your relative to enjoy a better quality of life because there is intellectual stimulation and relationships can be formed with others.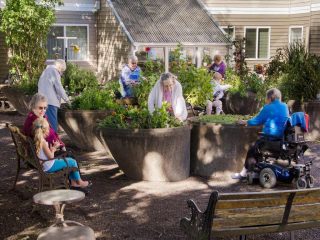 Offers Assistance Services
Some elderly or disabled people may need close supervision and assistance if they find it hard to do some regular or ordinary tasks. These include bathing, getting dressed and even feeding themselves. Doing their own laundry might also be difficult. A good assisted living facility would have caregivers who can help residents stay clean, tidy and presentable especially if they have age-related problems or certain types of disability that get in the way of that.
Offers House Or Room Maintenance Services
If your elderly or disabled relative has trouble keeping their room or house neat and clean, the good news is that an assisted living facility has housekeeping personnel who will do that for them. This is especially important if the resident has incontinence issues. Having someone manage this for your relative will do wonders as well in their hygiene and personal care. Housekeeping personnel will clean and maintain their living quarters so that when family and friends drop by for a visit your relative won't be embarrassed by the state of their living conditions.
Offers Security Services
If your elderly or disabled relative is living alone, one factor would probably hinder their quality of life and that is security concerns. In an assisted living facility, they would have security personnel who can guard over the facility and its residents so that your loved one will be able to sleep soundly at night and can afford to relax and let down their guard. Your relative will be able to enjoy life again because there would be no concerns about crime and threats to their security.
Final Thoughts
Assisted living in Elmira, NY, maybe the right solution for the care and well-being of your elderly or disabled relative, especially if they already seem to be having trouble caring for themselves. Your relative might prefer to live in an assisted living facility if they are also afraid of being alone in their home. The good news is that Elmira, NY, has a lot to offer residents of assisted living facilities. Do take up this option with them so that they know that assisted living is a valid solution that can make them happier and more comfortable, compared to living on their own.