A dental prophylaxis is a medical term used in dentistry to promote good oral health. The procedure includes dental exams to getting dental sealants to prevent the teeth from cavities and tooth decay. Also, known as scaling and polishing tray set up instruments.
Learn the basic prophylaxis tray setup and different types of prophylaxis.
Dental Prophylaxis Services
Cleaning
Fluoride treatments or sealants
Prophylaxis Tray Setup
Cavitron Tip
Mouth Mirror
Perioprobe
Scalars
Straight Nose
Prophy Angle
Prophy Paste
2x2 Gauzes
Cotton Rolls
Floss
Alternatively, you can set up your Prophylaxis Tray / scaling and polishing tray set up instruments like this: 
Basic: Mouth Mirror
Explorer
Cotton Pliers
Periodontal Probe
Topical Anesthetic
Cotton tip applicator
Aspirating Syringe
Carpule
Needle
Needle Protector Cutting
Spoon Excavator Procedure
Scalers 1 or 2
Disclosing Agent
Cotton Tip Applicator
Prophy Angle
Prophy Paste 
Dental Floss
Nose Cone
INSTRUMENTS & SUPPLIES FOR PROPHY AND SRP
Instrument for prophylaxis tray setup : Ultrasonic Scaler Unit

Function: To use with water-cooled ultrasonic tips, to remove calculus
Characteristics: Has ultra-high frequency tip movement that also sprays water, attaches to the dental chair
Instrument: Ultrasonic Scaler Tips
Function: To remove supra/subgingival calculus on teeth, remove bacteria from periodontal pockets and stain.
Characteristics: Used with Ultrasonic Scaler Unit, water is used to cool tips, 25 k 30 k size tips. Not interchable
Instrument: Universal Curette

Function: To Scale and remove deposits and stain, remove calculus
Characteristics: Blade has two cutting edges, rounded toe, round on the back Single or double-ended.

Instrument: Area-Specific Curette

Function: To scale and remove deposits from specific subgingival surfaces.
Characteristics: Anterior and Posterior specific Curettes.
Instrument prophylaxis tray setup: Sickle Scaler

Function: To remove large amounts of deposits from supragingival surfaces, ideal for anterior interproximal area
Characteristics: Variety of sizes, sharp edges with a sharp point.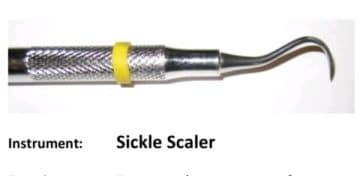 Instrument: 0.12 % Chlorhexidine

Function: Oral rinse before treatment, aid with lowering patients oral bioburden
Characteristics: Blue or Pink liquid, 15 ml oral rinse before and after cleaning.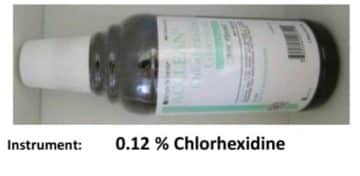 HYGIENE SET UP FOR PROPHY AND SRP 
Instrument: Prophy Cup & Paste

Function: To polish the coronal surface after cleaning or before certain operative procedures
Characteristics: Different prophy cups/points fluoridated or non-fluoridated pastes, also differ in grit
Instrument: Fluoride varnish
Function: To decrease in post-cleaning sensitivity, remineralize incipient carious lesions, caries prevention
Characteristics: Differs in colour, sticky, resin-based, some patients may be allergic to the resin in the varnish
Instrument: Patient Tooth Brush

Function: To allow the patient to continue good oral home care
Characteristics: Soft bristle toothbrush
Instrument: Patient floss
Function: To allow the patient to continue good oral home care
Characteristics: Waxed or non-waxed floss
Instrument: Prophy Angle

Function: To polish teeth with prophy cup or brush
Characteristics: An attachment for straight or prophy handpiece; types: prophy cup for polishing all surfaces of teeth, prophy brush for polishing occlusal surfaces and lingual surfaces of anterior teeth.
Conclusion
In this article, I have provided 10 Prophylaxis Tray Setup and INSTRUMENTS & SUPPLIES FOR PROPHY AND SRP. These are the tools used during Prophylaxis services or scaling and polishing tray set up instruments. If you have any suggestion or addition to what I have listed above feel free to let us know in the comment section below.
Related Tray Set-up
REFERENCES AND SOURCES
The University of California, San Diego pre-dental society
"Torres and Ehrlich Modern Dental Assisting;" Doni L. Bird, MA, and Debbie S. Robinson, MS; 2009.