Every now and again, everyone has a song lodged in their brain. But what happens when you believe you hear a song that isn't really playing?
Have you ever seen or being with someone who claims to be hearing musical sounds (sounds are usually musical in nature and can range from popular music, orchestral symphonies, or radio tunes) that aren't actually there, or have you experience this yourself?
You undoubtedly know someone who has tinnitus, which is a ringing, buzzing, pulsating, hissing, or humming sound that has no external cause. In accordance with the American Tinnitus Association, it affects around 15% of the US population and is often referred to as "ringing in the ears."
But are you aware that some individuals have tinnitus wherein they hear genuine melodies?
If you have, then you are definitely wondering what causes this? Or what is it all about, and how to treat and prevent it? This condition could be 'musical ear syndrome'. Ever heard of it?
If you have, you may be worried that MES could be an early sign of dementia. Although it can be distressing, rest assured that it is not an indication of dementia — it's more likely the result of hearing loss.,
Musical ear syndrome (MES) is a condition that causes patients with hearing impairment to have non-psychiatric auditory hallucinations. In advanced age, it could be confused with dementia, which is very inaccurate.
So, in this article, Healthsoothe will give you all you need to know about musical ear syndrome. If you are a victim of musical ear syndrome, or you wanna know more on it, so as to know how to treat and prevent, then you are in the right place. Healthsoothe will take care of you, as usual.
We will expatiate on there is to know on musical ear syndrome – what causes it? What are it symptoms? How can you treat and prevent it? We will give you what you really need to know about this condition.
Alright, enough intro, let's get down to business.
Musical Ear Syndrome – What is this Condition all About?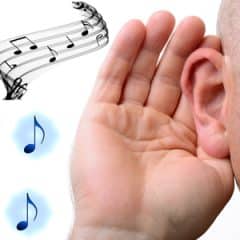 Musical ear syndrome (MES) occurs when a person hears music from an unknown source. Some hear a single instrument playing a basic tune, others numerous instruments performing a complicated piece of music, and yet others a vocalist singing, either with or without accompaniment.
However, Christmas carols, patriotic music, and hymns are the most popular melodies. What makes this different from when you can't get a music piece out from your head?
In the instance of MES, the music seems to be coming from an apparent and definite direction, making it difficult to conclude that it is internal. It seems to be something external. That's why it might take some time for many individuals to realize what's going on.
Symptoms of Musical Ear Syndrome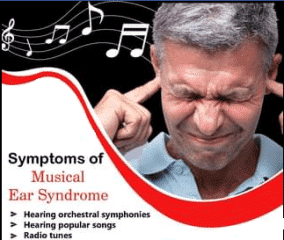 Musical ear syndrome (MES) is a condition that causes patients with hearing impairment to have non-psychiatric auditory hallucinations. In advanced age, it could be confused with dementia.
In addition, MES is suggested to be a variant of Charles Bonnet syndrome (visual hallucinations in visually impaired patients) by some authors. Although its mechanism is unknown, secondary to hearing loss, phantom sounds are thought to be caused by hypersensitivity in the auditory cortex associated with sensory deprivation.
Hallucinations are usually musical in nature and can range from popular music, orchestral symphonies, or radio tunes.
An 87-year-old woman who was admitted to a neurology outpatient clinic, complaining about hearing a concert play for a month that no one else was hearing. She used to think that these sounds were coming from the next door.
When the music became persistent, she realized that her relatives were not hearing these sounds, and she really got confused. Her medical history included hypertension and bilateral sensorineural hearing loss caused by presbiacusia. Audiogram showed 75% hearing loss on the right ear and 95% hearing loss on the left ear.
Her vital signs were normal. The patient was alert, fully oriented, and had a normal cognitive profile. Her physical and neurological examinations were normal. Her brain magnetic resonance imaging (1.5 T) and electroencephalography showed no relevant pathology. Although quetiapine had been started for hallucinations (at the dose of 50 mg/day), she showed no change in her symptoms.
The patient and her family were informed about the nature of hallucinations, and quetiapine was discontinued. It was suggested that the patient should maximize hearing with a hearing aid and enrich the environment with sound, which will give the brain much-needed input to reduce its own generated sound. The patient is still followed up and is complaint-free.
 If you want a video explanation on musical ear syndrome, watch the video below:
What Causes Musical Ear Syndrome?

MES is a condition that causes musical auditory hallucinations, usually related to hearing impairment. MES appears to stem from hearing loss, but the exact mechanism behind MES is a mystery. When you hear anything, you are experiencing a mix of sound input, brain interpretations, and brain predictions. The amount of forecasting needed by your brain is reduced by strong sound input.
When you don't receive enough auditory input, your brain needs to perform more forecasting to make logical sense of what you do get. The higher the degree of hearing loss, the greater the auditory deprivation, likewise the greater the necessity for the brain (mind) to fill in the blanks.
In layman's words, the most frequent theory on what causes MES is that the brain becomes bored due to sensory deprivation and begins to make sound on its own.
The brain collects information from the senses to help you comprehend the world. When your sense of hearing is impaired, the brain isn't prepared to simply ignore this sense. So, the brain continues to seek input.
Getting little or nothing in return, the brain starts to fill in the blanks using what it already knows about the world. This can produce a variety of sounds. In the case of MES, the brain chooses to fill in the blanks with music.
MES is similar to tinnitus, which produces ringing, buzzing, or hissing sounds and is also related to hearing loss. MES is sometimes referred to as musical tinnitus.1Cape T. (2019). Musical hallucination (musical tinnitus). tinnitus.org.uk/musical-hallucination
While the mechanics behind MES are not very well understood2Cakmak MA, et al. (2016). Frequently seen but rarely diagnosed: Musical ear syndrome. DOI: 10.5152/npa.2015.8815, there are still some causes behind it that have been identified. But most definitely, MES has been distributed to the following factors:
Hearing loss: Absent other hallucinatory or cognitive symptoms, hearing music that isn't there is likely due to hearing loss. But the cause can't always be determined. Of course, it's possible to have MES alongside another condition such as dementia3Goycoolea M, Mena I, Neubauer S. Spontaneous musical auditory perceptions in patients who develop abrupt bilateral sensorineural hearing loss. An uninhibition syndrome? Acta Otolaryngol. 2006;126:368–374. http://dx.doi.org/10.1080/00016480500416942. [PubMed] [Google Scholar].
Cochlear implant: There have been reports of cases in which cochlear implantation or removal has triggered MES4Low WK, Tham CA, D'Souza VD, Teng SW. Musical ear syndrome in adult cochlear implant patients. J Laryngol Otol. 2013;127:854–858. http://dx.doi.org/10.1017/S0022215113001758. [PubMed] [Google Scholar]. The link between cochlear implants and MES has not been well studied5Kompis M, et al. (2019). Musical ear syndrome and cochlear explanation: Case report and proposal for a theoretical framework. DOI: 10.1097/MAO.0000000000002408, so information is limited. In one small study involving 82 patients, 22 percent were found to have developed MES — 7 before implantation and 11 after implantation.6Low WK, et al. (2013). Musical ear syndrome in adult cochlear implant patients. pubmed.ncbi.nlm.nih.gov/23941807/
Medications: Certain medications can cause hallucinations, including auditory hallucinations. This is more likely to involve hearing voices or noises. It's rare for medications to cause MES. If you believe your medication is causing hallucinations of any kind, talk to your healthcare provider right away about adjusting your dosage or changing treatments.
Investigations such as magnetic resonance imaging or CT scanning and electroencephalograms (EEGs) may be worthwhile, but will rarely show any serious pathology.
It is believed that because this kind of phenomenon is usually heterogenous in causation, a wide variety of factors need to be considered, which could give possible explanation for why MES is seen as under diagnosed.
Some of these factors may include significant trauma7Bhatt, Y.M.; de Carpentier, J.P (June 2012). "Musical Hallucination Following Whiplash Injury: Case Report and Literature Review". The Journal of Laryngology & Otology. 126 (6): 615–18. doi:10.1017/S0022215112000242. PMID 22643207. S2CID 206237070 to the head or any side-effects from substances such as antidepressants, marijuana, alcohol, procaine, or general anesthesia. MES may occur even when there are little to no symptoms derived from medical testing.
Lists of Drugs that cause Musical Ear Syndrome (MES)
There are more than 600 prescription and over-the-counter drugs that can trigger tinnitus and MES, make existing tinnitus or MES worse, or cause a new tinnitus sound to appear. In fact, most drug classes have tinnitus/MES-causing drugs sprinkled throughout.
For example, antibiotics, painkillers, anti-anxiety, and anti-depression drugs, antimalarial medications, anti-cancer drugs, and blood pressure controlling medications – to name a few – can all trigger tinnitus and MES. In most cases, this type of tinnitus or MES is an acute, short-lived side effect; if the patient stops taking the medication, the tinnitus/MES symptoms typically recede.
Familiarity with a complete list of ototoxic medications is unnecessary, but knowing which ones are known to cause more permanent MES or tinnitus symptoms can save you a lot of frustration.
Below is the brief overview of drugs that could cause musical ear syndrome; Scroll down for a complete list.
Non-Steroidal Anti-Inflammatory Drugs (NSAIDs)
Certain antibiotics, including aminoglycosides
Certain cancer medications
Water pills and loop diuretics
Long-Term Hormone Therapy
Quinine-based medications
Other common medications that can cause ototoxicity include the following:
Certain anticonvulsants
Tricyclic antidepressants
Anti-anxiety medications
Antimalarial medications
Blood pressure controlling medications
Allergy medications
Chemotherapy drugs, including cisplatin
Drugs that can cause Musical ear syndrome
Vapors, Solvents:
cyclohexane
dichloromethane
hexane (gasoline)
lindane (Kwell)
methyl-chloride
methyl-n-butyl-ketone
perchlor-ethylene
Styrene
tetrachlor-ethane
toluol
trichloroethylene
Antibiotics
aminoglycosides
amphotericin B
chloramphenicol (Chloromycetin)
minocycline (Minocin)
polymyxine B
sulfonamides (Septra, Bactrim)
vancomycin (Vancocin)
Antineoplastics
bleomycin (Blenoxane)
cis-platinum (Platinol)
carboplatinum (Paraplatin)
methotrexate (Rheumatrex)
nitrogen mustard (Mustagen)
vinblastin (Velban)
Diuretics
acetazolamide (Diamox)
bumetanide (Bumex)
bendrofluazide
clorothalidone (Hygroton, Tenoretic)
diapamide
ethacrynic acid (Edecrin)
furosemide (Lasix)
hydrochlorthiazide (Hydrodiuril)
methylchlorthizide (Enduron)
Cardiac Medications
celiprolol
flecainide (Tambocar)
lidocaine
metoprolol (Lopressor)
procainamide (Pronestyl)
propranolol (Inderal)
quinidine (Quinaglute, Quinidex)
Psychopharmacologic Agents
amitryptiline (Elavil)
benzodiazepine class
alprazolam (Xanax)
clorazepate (Tranxene)
chlordiazepoxide (Librium)
diazepam (Valium)
flurazepam (Dalmane)
lorazepam (Ativan)
midazolam (Versed)
oxazepam (Serax)
prozepam (Centrax)
quazepam (Doral)
temazepam (Restoril)
triazolam (Halcion)
bupropion (Welbutrin)
carbamzepine (Tegretol)
diclofensine
doxepin (Sinequan)
desiprimine (Norpramin)
fluoxetin (Prozac)
imipramine (Tofranil)
lithium
melitracen
molindon (Moban)
paroxetin
phenelzin (Nardil)
protriptilin (Vivactil)
trazodon (Desyrel)
zimeldin
Non-Steroidal Anti-inflammatory Drugs (NSAIDs)
asprin
acematacine
benorilate
benoxaprofen
carprofen
diclofenac (Voltaren)
diflunisal (Dolobid)
fenoprofen (Nalfon)
feprazon
ibuprofen (Motrin, Advil, Nuprin)
indomethacin (Indocin)
isoxicam
ketoprofen (Orudis)
methyl salicylates (BenGay)
naproxen (Naprosyn, Anaprox, Aleve)
D-Penicilliamin
phenylbutazone (Butazolidine)
piroxicam (Feldene)
proglumetacin
proquazon
rofecoxib (Vioxx)
salicylates
sulindac (Clinoril)
tolmetin (Tolectin)
zomepirac
Glucocorticosteroids
prednisolone (Prednisone)
ACTH (adrenocorticotrophic hormone) (Acthar)
Anesthetics
bupivacain
tetracain
lidocaine (Novacaine)
Antimalarials
chloroquine (Aralen)
hydroxychloroquine (Plaquinil)
Others
Miscellaneous Toxic Substances
Arsenicum
lead
Mercury
auronofin (gold, Ridaura)
What to Do If You Suspect a New Drug Is Causing MES
When you are aware of which drugs can damage your ears via ototoxicity, you are in a position to help protect them. As a drug accumulates in your body, the risk for ototoxicity increases. If you experience MES after you begin taking a new medication, contact your prescribing physician.
You should not stop taking any medication without first consulting with your healthcare provider. The risks of stopping a medication may far exceed any potential benefit.
In addition, if you already have tinnitus, let your physician know before he or she prescribes a new medication, as effective alternatives to ototoxic drugs may be available. If you are worried about MES as a side effect of your medications, again, please consult your subscribing physician or pharmacist.
In addition, remember that just because your doctor prescribes one of these medications, that doesn't mean you will lose your sense of hearing or develop tinnitus; experiences with ototoxic medications vary from person to person.
Is Musical Ear Syndrome a Common Condition?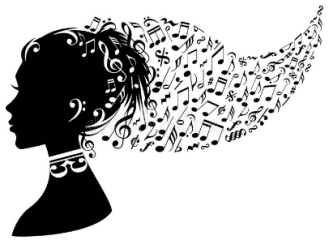 According to the limited journal research, musical ear syndrome affects only approximately 20% of persons with tinnitus, or about 3% of the total population. It's most certainly underreported, though, since persons suffering MES are afraid of seeming mentally unwell if they tell someone.
Dr. Neil Bauman, who created the term: 'musical ear syndrome' and has been creating awareness about the illness for many years, has learned from so many individuals afflicted by MES that he estimates it affects more than 10percent of total of the overall population!
MES is not uncommon, but it's rarely diagnosed. While, tinnitus is more common in males, MES seems to be more common in women.
The occurrence of MES has been suggested to be very high among the hearing impaired through acquired deafness or the ear condition known as tinnitus. Though exact causation is uncertain, it has been theorized that the "release phenomenon" is taken into effect.
The "release phenomenon" says that individuals with acquired deafness may experience musical hallucinations because the lack of stimulation, which can give room for the brain to interpret internal sounds as being external.
The hallucinatory experiences differ from that commonly experienced in psychotic disorders although there may be some overlap. The most important distinction is the realization that the hallucinations are not real. Delusional beliefs associated with the hallucinations may occur, but some degree of insight should be preserved.
There should not be any other psychotic symptoms present, especially hallucinations in other modalities. Due to the high correlation with hearing loss, MES is common in the elderly due to their often depreciating hearing abilities.8Berrios GE, Brook P. The Charles Bonnet Syndrome and the problems of visual perceptual disorder in the elderly. Age Ageing. 1982;11:17–23. http://dx.doi.org/10.1093/ageing/11.1.17. [PubMed] [Google Scholar]
Is there a Treatment or Cure for MES? – How is Musical Ear Syndrome treated?
Tinnitus is less understood than MES. However, as with tinnitus, there are several strategies to mitigate its MES symptoms, which are the following:
Hearing aids: Treating hearing loss may ease symptoms. If you can improve your hearing with the use of a hearing aid, that may be all you need to stop your brain from filling in the blanks.
Cognitive behavioral therapy: Cognitive behavioral therapy (CBT) won't stop the music, but it can help you learn to get along with it. Basically, this method involves training yourself to ignore the music. Research shows that CBT can help people deal with tinnitus9Jun HJ, et al. (2013). Cognitive behavioral therapy for tinnitus: Evidence and efficacy. DOI: 10.7874/kja.2013.17.3.101.
Awareness: Many individuals find that putting a name to their feelings relieves a great lot of tension and worry. Knowing that others have gone through it is also reassuring – it's wonderful to know you're not alone in experiencing your MES.
Stress reduction:  Stress has been found to aggravate symptoms, therefore finding measures to reduce stress may help to reduce the intensity of your MES. Deep breathing, for example, may calm your body while simultaneously drawing your focus away from the MES, enabling it to recede into the background. Cognitive behavioral treatment has also helped certain people.
Increase the amount of sound in your surrounding or environment:  MES is caused by a lack of sound, therefore give your brain lots to listen to! Get some hearing aids if you don't already have them. Wear your hearing aids as often as possible if you have them. Increase your time spent in outdoors and socializing. Natural noises and conversations are excellent sources of stimulation for a dull mind.
Change your medications:  MES has been documented as an adverse reaction of around 300 drugs, both popular and obscure. However, don't make any adjustments on your own; instead, visit your doctor if you feel the MES is a potential complication of your present prescription. Some case studies have found that switching to a prednisolone steroid after a betamethasone steroid which caused MES helped alleviate hallucinations
Treatment by using prescribed medications: If your MES isn't being caused by a medication you're taking and nothing else is working, there are some medications that may help. These following medications have been used to treat MES: Haloperidol, benzodiazepines or antiepileptics, atypical neuroleptics, also called atypical antipsychotics, selective serotonin reuptake inhibitors (SSRIs) or serotonin-norepinephrine reuptake inhibitors (SNRIs), cholinergic/GABAergic agents, and acetylcholinesterase inhibitor like donepezil,. All medications have possible side effects, so discuss all the potential pros and cons with your doctor before deciding on a treatment strategy.
Lifestyle changes: Beyond medication changes and hearing aids, there are small tweaks you can make in your daily life to help reduce the effects of MES. If you're able to hear with or without a hearing aid, try adding some noise. It may seem counterintuitive, but listening to music or any type of background noise may discourage your brain from striking up the band.
Other strategies that can help you when the music is causing problems include:
deep breathing exercises

meditation

mindfulness

Some activities can also help you reduce overall stress related to MES, such as:

regular exercise, including stretching

yoga and tai chi

aromatherapy
If you're having trouble coping with MES, talk to your doctor. Ask for a referral if you think you'd benefit from seeing a therapist.
If you believe you might be experiencing MES, it's important to see your doctor to get the correct diagnosis so you can start the appropriate treatment. There's no standard therapy for MES, so treatment is decided on a case-by-case basis.
Musical ear syndrome exists and is more frequent than you may imagine. Contact a professional ear doctor or specialist immediately for a consultation if you or someone you care about thinks they have tinnitus, whether musical or otherwise.
To get more knowledge on musical ear syndrome, watch the video below:
Healthsoothe's Outlook on Musical Ear Syndrome
MES occurs when you hear music even though there isn't any playing. It's a creation of the brain, but it's not a psychological problem or symptom of dementia. It's usually due to some degree of hearing loss, but the cause can't always be determined.
Treating hearing loss may resolve the problems MES is causing. If you're experiencing MES, see your doctor to find out if you have hearing loss or some other underlying condition that can be treated.
Although MES is not a "scary" disease, persistent hallucinations may disturb patients and affect their quality of life. Patients should be educated about the syndrome and firmly assured that they are not mentally ill. There is no standard consensus for treatment.
Hearing impairment is not found to be effective for all patients. Haloperidol, atypical neuroleptics, selective serotonin and norepinephrine reuptake inhibitors, and cholinergic and GABAergic agents are used with some success, along with cognitive behavioral therapy. We believe that nondrug treatment options should be preferred to drugs to avoid adverse effects in the elderly population10Berrios GE, Brook P (1982). "The Charles Bonnet Syndrome and the Problems of Visual Perceptual Disorder in the Elderly". Age and Ageing. 11 (1): 17–23. doi:10.1093/ageing/11.1.17. PMID 7041567..
In conclusion, formed complex auditory hallucinations without cognitive and psychiatric impairment should strongly be indicative of MES for clinicians.
All right, guys, that is it for now for musical ear syndrome. I hope Healthsoothe answered any questions you had concerning musical ear syndrome. 
Feel free to contact us at contact@healthsoothe.com if you have further questions to ask or if there's anything you want to contribute or correct to this article. And don't worry, Healthsoothe doesn't bite. 
And always remember that Healthsoothe is one of the best health sites out there that genuinely cares for you.
Additional resources and citations
1

2

Cakmak MA, et al. (2016).

Frequently seen but rarely diagnosed: Musical ear syndrome

. DOI:

10.5152/npa.2015.8815

3

4

5

Kompis M, et al. (2019). Musical ear syndrome and cochlear explanation: Case report and proposal for a theoretical framework. DOI: 10.1097/MAO.0000000000002408

6

Low WK, et al. (2013). Musical ear syndrome in adult cochlear implant patients. pubmed.ncbi.nlm.nih.gov/23941807/

7

Bhatt, Y.M.; de Carpentier, J.P (June 2012). "Musical Hallucination Following Whiplash Injury: Case Report and Literature Review".

The Journal of Laryngology & Otology. 126

(6): 615–18. doi:10.1017/S0022215112000242. PMID 22643207. S2CID

206237070

8

9

10

Berrios GE, Brook P (1982). "The Charles Bonnet Syndrome and the Problems of Visual Perceptual Disorder in the Elderly". Age and Ageing. 11 (1): 17–23. doi:10.1093/ageing/11.1.17. PMID 7041567.