Nigerian dry fish is a type of fish that has been carefully smoked over time until it is dried and dry. Different types of fish are dried and marketed, some of which are more delicious than others.
Fish of all sizes, huge and little, are dried for food. Some are sliced into pieces before drying, while others are dried whole, folded or bent and kept in place with a thread or stick for storage.
Nigerian dried fish is a frequent ingredient in many Nigerian dishes. It is created by smoking various types of fish; there are many different varieties of dried fish available in Nigeria, but this essay will focus on smoked catfish, which is one of the most popular.
The fish is often dried to varying degrees, ranging from partially dried to bone dry.
Jokojoko 'soft' refers to the partially dried variety, in which the skin is dry but the insides are still fairly soft.
This variety is difficult to handle, especially while washing because it readily breaks apart and spoils.
I either dry it further in the oven or drink soaked Garri with it. When cooking, the too dry variety is best cooked with the meat since it takes a long time to soften.
Drying concentrates the flavour of the fish, which has a direct influence on the taste of the food it is used to produce, particularly soup stock in Nigerian soups.
Nigerian dry fish is used in almost all Nigerian soups, including yam pepper soup, plantain porridge, Oto Mboro (unripe banana porridge), palm oil jollof rice, palm oil stew, dry fish pepper soup, palm nut soup/of akwu, and others. It is a crucial component of Nigerian cuisine.
Procedures on how to make dry fish in Nigeria
To produce dry fish in Nigeria, first purchase the fish/fishes you want to dry and then smoke it/them to transform them into dry fish/fishes.
1. Ingredients for Smoking or drying Fish
Smoked fish freezes nicely, so make as much as you like and keep it in the freezer.
Fish/fishes                                           

Salt (to taste)

Toothpicks (1 for each fish)

Oven
N/B: For this, you may use either a microwave oven with a grill setting or a standard kitchen oven (gas or electric). I like a standard kitchen oven since it produces better results. I also have better control over the grilling process.
2. Before you smoke or dry the fish
Clean the fish by removing the guts and gills before smoking or drying it. If you like, you can leave the guts in, as smoked fishmongers in Nigeria do, but the intestines give the fish a harsh taste when done. This is why, before smoking the fish, I remove the guts.

Thoroughly rinse the fish to remove all blood.

Sprinkle salt over the fish. Fish can get too salty if you use too much salt.

Bend the fish's tail fin across its mouth. This will be similar to the fish chewing off its tail fin.

Pin the top and lower jaws of the fish with the toothpick.

Repeat the technique with the remaining fish.
3. How to dry or smoke the fish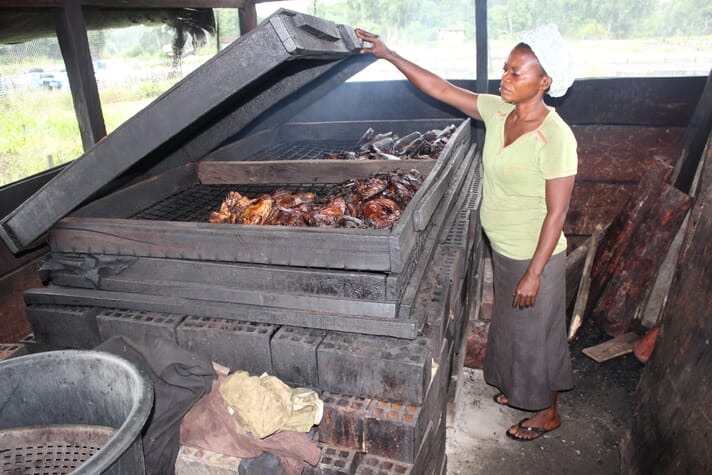 Line the oven rack with foil.

Arrange the pinned and bent fish on the foil-lined oven rack and cover with another layer of aluminium foil.

Preheat your oven to 250°C / 480°F with top and bottom heating (bake). The baking setting cooks the fish before it begins to dry.

Cook for 15 minutes. I used little sized Mackerel but bake for much longer if yours are larger.

Remove all of the foil sheets and turn your oven to Grill/Broil for 10 minutes, or until the salmon browns.
The fish is now ready to serve in any Nigerian dish that calls for smoked fish.
4. How to preserve the dried fish
Make sure the fish is completely dried before storing it, and shake it to check for insects.
The best approach to preserve is in the freezer, but you must have a consistent power source to do it. Simply wrap the fish in four layers of newspaper or brown paper, knot it in two or more polyethene bags, and place it in the freezer. It keeps its freshness until you're ready to utilize it.
Once or twice a week, you may also store by sun-drying or oven drying ( depending on how the fish is).
5. Precautions to be taken on fish drying
Always make sure to obtain fresh fish for drying

Not all fishes are enjoyable when dried, so always obtain the species that will be enjoyable when dried

Always use the current amount of salt for preserving your fish after drying. Not too much and not too little

Always store your dry fish in a cool dry place which is free from rodents and pests.
If you find it difficult to follow all these steps, perhaps this video would be of help
Conclusion on how to dry fish in Nigeria
Smoked fish complements many African dishes, particularly soups such as Nigerian Okra Soup, Concoction Rice, and Abacha (African Salad). It may be found in Bitterleaf Soup, Ora (Oha) Soup, and many other traditional Nigerian soups.
The main fish mostly used for Smoked Fish in Nigerian dishes is Mackerel (Azu Eke in Igbo), also known as Titus in Nigeria.
The good news is that this fish is accessible all around the world. Smoked fishmongers in Nigeria prepare this by roasting the fish in smoky dry grass with little or no heat.
The heat from the smoky grass dries up the fish, bringing out the flavour of several traditional Nigerian dishes.
If you want to consume dried fish, make sure you thoroughly wash it before eating. The fish oils generated during the smoking process adhere to the fish skin, attracting dust, sand, and occasional bugs, which enter the meat. Before eating dry fish, it should be well rinsed.
The freshness of the fish is important to consider since mould can grow on dried fish. If it is on the fish's skin, you will see it with careful attention.
Some merchants will brush it off with oil and it will seem brand new. If the mould is more prevalent and penetrates deeper into the fish, smell it.
There will be a distinct musky odour of mould or a general lack of freshness. Do not buy since it will be a waste of money. Aside from the health concerns, the taste will be revolting.
Drying the fish concentrates the flavour of the fish, which has a direct influence on the taste of the meal it is used to produce, particularly soup stock in Nigerian soups.
Nigerian dry fish is used in almost all Nigerian soups, including yam pepper soup, plantain porridge, Oto Mboro (unripe banana porridge), palm oil jollof rice, palm oil stew, dry fish pepper soup, palm nut soup/of akwu, and others. It is a crucial component of Nigerian cuisine.
Read Also: Can A Pet Fish Also Serve As An Emotional Support Animal?
Frequently Asked Questions about Nigerian Dry Fish

 
1. How do you dry fish at home?
Pour roughly two pinches of salt into a big container after cleaning, gutting, and filleting your fish. Place a layer of fish on top, then another inch of salt, and repeat. Cover with another couple of inches of salt once you've spread out all of your fish. Allow this to dry for eight to ten days.
2. How long does it take to dry fish in the sun?
Dried fish takes three days to manufacture.
3. Is dried fish healthy?
Pure dried fish is a natural product that preserves the antioxidants and omega-3 advantages of fresh fish while also serving as a nutritious and generally available diet for both humans and dogs. Fish helps to reduce the occurrence of heart attacks and maintain the body's circulation.
4. Why is salt used to preserve fish?
It is connected to pickling (the preparation of food with brine, or salty water) and is one of the oldest ways of food preservation. Salt limits microbe development by pulling water out of microbial cells via osmosis. Most undesirable bacteria require salt concentrations of up to 20% to be killed.
5. Which fish is good for drying
Fish that is good for drying typically has a low-fat content since they will keep longer with less fat. Cod and pollock are two common species of fish that may be used for this.
6. Can diabetics eat dry fish?
It is abundant in protein, vitamins, and minerals, which aid in the normal functioning of all organs. According to physicians, dry fish can also assist with diabetes and obesity. It has a low-calorie count and a high Omega 3 content. Dry fish also contains Vitamin D, which diabetics frequently lack.
7. Is dry fish good for heart patients?
Dried fish is not recommended. For people who have hypertension. The majority of dried fishes are thought to be high in protein and low in fat. It is also high in fatty acids, vitamins, and minerals. However, one component in dried fish is highly dangerous for people who are at risk of developing hypertension.
8. Is dry fish good for lungs?
Fish-derived omega-3 fatty acids are useful to people suffering from chronic lung disorders such as chronic obstructive pulmonary disease. It also contains anti-inflammatory effects, which help COPD sufferers reduce lung irritation.
9.

Can all fish be dried?
Fatty fish should be avoided since it spoils faster. Low-fat fish will keep for longer when dried. Choose from cod, flounder, snapper, or sole. Catfish, salmon, and sharks are examples of fatty fish. Any sort of fish may be dried, however the lighter the fish, the longer it will keep.