Intravenous (IV) fluid administration is common in a long-term care setting, rehabilitation center, or hospital. IV therapy is a staple in the medical space. However, the ordinary person is still in the dark about some aspects of this therapy. And it might be a concern if IV therapy is recommended for you or your loved ones.
IV therapy entails the administration of fluids straight into your bloodstream. Aside from that, you have yet to learn how much information there is to discover about IV therapy. There's more to IV therapy than most people realize. This guide will help you know more about IV therapy, including the different types, how it works, its benefits, and what to expect.
What Is IV Therapy?
Intravenous or IV therapy is administering fluids into your body through the veins. It's also known as IV nutrient therapy, IV vitamin therapy, or IV nutrition therapy. Depending on your condition, the fluids administered during therapy may contain medications, nutrients, vitamins, or other appropriate treatments.
Did you know IV therapy is the quickest way to deliver crucial nutrients or medicine into your body? The nutrients are directly injected into your bloodstream and bypass the digestive system. There are different nutrients contained in an IV bag, and below is a look at some of the most common ones:
Saline: It's the primary solution in an IV bag. A saline solution consists primarily of water and sodium chloride and helps your body's hydration. It also delivers the other nutrients needed during your IV therapy treatment.
Antioxidants: IV therapy delivers antioxidants such as vitamins C, A, E, or glutathione into your body. These antioxidants play a vital role in preventing diseases by protecting the body's cells.
Calcium: IV therapy solutions may also contain calcium, an essential mineral in forming strong bones and teeth. Calcium can be found in green, leafy vegetables and dairy products. IV therapy may include calcium solution to treat medical conditions such as hypoparathyroidism and supplement a low-calcium diet.
Magnesium: Magnesium deficiency affects about 20% of the population. This is worrying, considering magnesium promotes healthy metabolic functioning. Other benefits of this mineral include minimizing leg cramps in pregnant women, reducing inflammation, and helping diminish migraines. Luckily, IV therapy containing magnesium ensures you don't become part of this statistic.
Lactated Ringers: This IV solution is a mixture of water, potassium chloride, sodium lactate, calcium chloride, and sodium chloride. Lactated ringers hydrate the body and are often used during surgery.
Dextrose: This is a healthy type of sugar that helps stabilize the body's blood sugar levels. Since this IV solution is a form of sugar, the body can convert it into energy.
Antibiotics: IV therapy also contains various types of antibiotics. The common antibiotics in IV therapy solutions include glycopeptides, penicillin, nitroimidazoles, carbapenems, oxazolidinones, fluoroquinolones, and cephalosporins. These substances help deal with infections from various diseases. These include Lyme disease, meningitis, bacterial infection, and skin infection, to name a few.
Consequently, you'll soon realize the positive effects of IV therapy after a short time.
What Are The Different Types Of IV Therapy?
IV therapy is classified into two types: IV Drip and IV Push. Despite their differences, these two can deliver 90% to 100% absorption of minerals and vitamins. Here's a closeup look at each of them:
IV Push: IV Push or Direct IV involves slowly administering 30 ml to 60 ml of IV fluid into your body through the veins. It's done through the catheter inserted into your arm. Your body can absorb IV fluid faster than the IV drip, usually within a few seconds. Hence, this type of IV therapy is what healthcare professionals use in emergencies. For instance, it can be administered when a patient suffers a severe allergic reaction or heart attack.
IV Drip: This IV therapy takes about 45 to 60 minutes, and the IV fluid passes through a plastic catheter connected to your vein. About 250 ml to 1000 ml of IV fluid is administered during each session. Because this IV treatment takes time, you can relax, work or sleep during the procedure.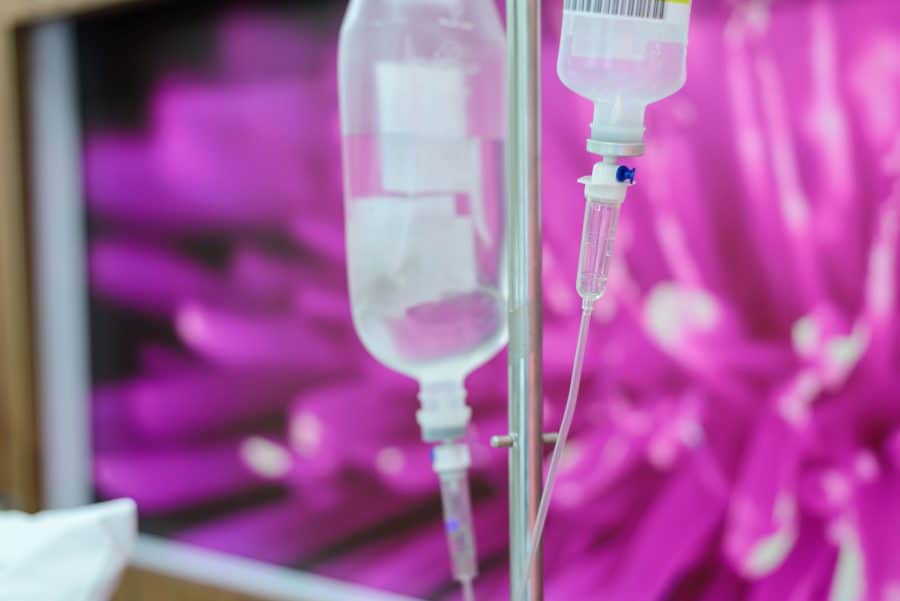 How Does IV Therapy Work?
IV therapy is always done under the guidance and supervision of a trained medical specialist. This process takes roughly 30 minutes to one hour. You can receive this medical treatment either at the hospital, at your home, or with a mobile provider. Below is a look at how IV therapy works.
Assessment: Before a medical professional can insert a needle into your body, they'll first look through your medical history. This procedure helps them determine your best treatment plan depending on your unique health needs. Only after that will the medical expert proceed to administer IV therapy.
Infusion: This involves inserting a small needle into the vein, usually on your arm. However, it can also be placed on other body parts, such as your leg or foot. The needle is secured and connected to an IV bag through a tube. After they inject the needle, the medical staff will check the IV to ensure the correct delivery rate. Because the nutrients and minerals are directly infused into the bloodstream, your body absorbs them much faster than if you take them orally.
Monitoring: During the IV therapy session, a medical professional will closely monitor your progress the entire time the infusion takes place. This is to ensure administering IV fluid takes place at the desired rate. They may use a manual or electric pump which determines the rate at which the IV fluid enters your body. You can nap, watch television, or read a book as the IV fluid slowly enters your bloodstream. Once the process is complete, you can relax for another 30 minutes to allow the IV drip to take effect.
Care: Once the IV therapy process is complete, the medical professional will remove the needle from your body. After that, you'll need to apply pressure with cotton or gauze on the spot where the needle got inserted. You might experience minor bruising or discomfort, but these effects won't last long.
Many patients can go home a few minutes after the IV therapy session. Remember to follow all the doctor's instructions after your IV therapy session, such as not undertaking strenuous activities. In addition, it helps to drink plenty of water. Doing so will help you get the most out of your IV treatment.
What Are The Benefits Of IV Therapy?
It's always wise to go to a reliable health facility like IV Therapy Scottsdale for this treatment. So, before booking your appointment, knowing its health benefits is essential. After all, it would be best if you didn't blindly take other people's words. Here's a look at the different health benefits of IV therapy:
Boost Your Athletic Performance
Performing intense workouts will exhaust your body and make it feel sore. IV treatment helps ease these effects by delivering the needed nutrients. These include amino acids, antioxidants, and vitamins that can boost your repair of the destroyed tissue cells. They can improve your energy levels and helps rehydrate your body by restoring the electrolytes lost during your workout.
IV therapy not only enhances your athletic performance. It's also beneficial if you occasionally suffer chronic fatigue. By quickly replenishing the essential nutrients needed, your body's functions normalize.
Enjoying a drink or two with friends is fine, but overindulging leads to severe hangovers. IV therapy quickly relieves your body of the hangover symptoms, usually within 30 to 60 minutes. Essentially, this IV treatment can remove all the harmful toxins and hydrates your body to ease your hangover.
IV therapy provides your body with minerals and vitamins. Hence, it gives your body the essential elements needed to remain healthy. As a result, your chances of getting infections after receiving IV treatment are much lower. This therapy can boost your immune system, which translates to an improvement in your overall well-being.
IV therapy is also an excellent way to deal with skin conditions like eczema and acne. IV therapy for beauty combines vitamins, antioxidants, and nutrients. Together, these nutrients improve your appearance by enhancing your nail strength, skin, hair, and overall health. In addition, it can improve your appearance in the following ways:
Reduce the presence of wrinkles on your skin
Decelerate the aging process
Remove free radicals from your body
Diminish blemishes
Regenerate destroyed cells
All of these benefits can significantly boost your physical appearance and improve your confidence.
You should consider IV therapy if you often suffer from a severe cold or flu. IV therapy can provide the essential minerals and vitamins needed to fight off the flu and hydrate your body. It can also deliver anti-nausea and anti-inflammatory medications, which help ease severe flu symptoms such as headaches, coughing, fever, and body aches.
What Should You Expect From IV Therapy?
Many people are usually nervous about what they should expect from IV therapy. To ease your nerves, here's a look at what you should expect from your IV therapy sessions:
Before IV Therapy
You'll need to consult a medical provider before your IV treatment. This allows the medical professional to review your medical history and determine the most suitable IV therapy for you. You'll also need to do certain things to enhance your IV therapy experience.
Eat: Make sure to eat before your IV therapy, ideally foods rich in protein. It would be best to eat nutritious food before your IV treatment. Some minerals and vitamins might cause you to feel nauseated if you have an empty stomach.
Dress comfortably: You want to be as comfortable as possible during your IV therapy session. It helps to put on your comfy socks and pants before receiving this treatment. Also, you can bring a blanket to cover yourself should you feel cold during your IV therapy session.
Hydrate: IV treatment administers vitamins and minerals which affect the body cells. Hence, it's best to hydrate adequately before your IV therapy. Meanwhile, if you're not well hydrated, it causes the veins to constrict. Consequently, when veins are less visible, it may affect your body's response to the IV treatment.
Relax: People may feel slightly tense before their IV treatment. To ease your nerves, try closing your eyes. You can also take a few deep breaths to relax.
After IV Therapy
Your body will feel the positive effects of IV therapy immediately after receiving it. IV solutions can replenish the essential electrolytes and hydrate your body. You can go home after the treatment and continue your regular daily duties. You can also schedule additional IV therapy sessions to keep enjoying its benefits, such as lower anxiety and a boost in your energy levels.
Significantly, it's wise to keep in touch with your doctor so that you can update them on your progress. Doing this is advised as a small percentage of people experience side effects after IV therapy. Here are some of them:
Air embolism
Muscle stiffness
Nausea
Rashes
Headaches
Itchiness and infection of the injection spot
You can avoid all these risks by going to a credible healthcare professional. An experienced doctor is less likely to make careless mistakes that could lead to issues such as air embolism 1https://www.healthline.com/health/air-embolism%22%20/l%20%22:~:text=What%20is%20an%20air%20embolism,called%20an%20arterial%20air%20embolism.. It also helps to be honest with your medical professional. It's best to tell them if you're using any supplement, specific medication, or undergoing other treatment. These measures will significantly reduce your chances of suffering from adverse side effects.
Takeaway
Concerns about IV therapy are natural, especially if you've never tried it before. On the other hand, many people are turning to intravenous therapy. It's becoming a trend that's expected to continue in the coming years. Luckily, this in-depth guide has explained everything you need to know about IV therapy.
With a better understanding of IV therapy, you can gauge the safety and convenience of this health treatment. Knowing all the precautions will help you understand whether to opt for IV therapy when dealing with conditions such as electrolyte imbalance, dehydration, low blood sugar levels, or chronic fatigue.
Additional resources and citations
1

https://www.healthline.com/health/air-embolism%22%20/l%20%22:~:text=What%20is%20an%20air%20embolism,called%20an%20arterial%20air%20embolism.