With the ever-increasing technological devices and advanced tools around us, a stringent requirement for elevated dental practices is becoming significant. Long gone are the days for waiting to make appointments in long queues. If it is not convenient, people do not want to go the extra mile. Thus, a dire need for innovative, easy-to-use, and suitable clients is standing in the open.
Let us help you map out how you can do the same using online appointment forms intelligently!
What Are Online Appointment Forms?
Online appointment forms are a seemingly effortless way to allow your clients to schedule meetings with you. These come in a paper format online wherein clients have to fill up the blanks with the information that is asked to provide by the form provided. With such a service, clients can make appointments with their dental practice in seconds without waiting in long queues outside their chamber. Thus, it makes for a reasonably convenient option at the end of the day. An easy-to-use online form can instantly make the client fill-up the form. These are generally present on the dental practice website that makes it convenient for clients to find these forms and fill them out for their needs.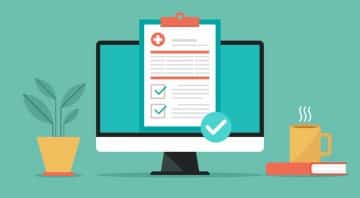 How Are They Helpful In Elevating Your Dental Practice?
We all know that our clients are the backbone of our company's growth and advancement. Thus, no matter how many awards you have won or how incredible your experience is, you can't succeed if you fail to impress your clients. With this secret ingredient in mind, you can elevate your dental practice immediately. Most people may be wondering, how can someone advance their dental practice solely by online appointment forms? We have an answer to that for you!
Imagine having been given two grocery store options. Both are equally good at their job. However, one of them requires to wait in long queues while the other provides the items immediately. Which one would you pick? Naturally, the latter. That is how effective online appointment forms can be for elevating your dental practice. It makes sure that clients do not get the opportunity for frustration and moving away to another dental practice for their treatment. Such a plan also helps retain your existing clientele properly.
Why Else Do They Make Such A Wise Choice?
Online appointment forms make sure that you have an easy, convenient and immediate experience with them. No one has the time for booking appointments anymore. If it takes too long, we might as well not go for it. But what if it takes just seconds to book an appointment? With all-in-one cloud dentistry solutions, the practice of online appointment bookings becomes cheesecake. Moreover, easy billing that comes in online payments makes it a more intelligent choice like never before.
All you have to do is hire someone who can keep a track record of all these appointment bookings online right on time. This way, they will help schedule appointments without any hesitation and help keep your clientele protected at all times.
Inform Your Clients About The Safety Of Appointment Forms
Many people are afraid to fill out appointment forms for dental practices as they feel that it is not safe enough for them. However, this is a myth. Online appointment forms do not allow the information to leak at all when your clients are filling them out. So, if you do not inform them, many of them won't fill it out. Ensure you have an entire section dedicated to this that helps your clients understand how it is alright to fill out online appointment forms as the information is end-to-end encrypted. Such a thing will help you avoid any complication with your clients in the long run. It also helps retain them without any hassling experience at all. Thus, you can be at ease along with your clients and have great business relations with them for a long time.
The Bottom Line
With these small measures, you can go a long way with your clients. Making them fill out online appointment forms on your website will also help them foster your dental practice growth and profitability. So, why keep waiting? Start with it today for the best experiences.