Some people like to run at dusk or dawn for exercise, but when the weather is hot, running at night becomes a perfect option for many people, and maybe, this is the only time when you can exercise. The Hokolite running headlamp is one of my favorite outdoor sports products.
Running is the most popular and easiest form of exercise. Running regularly can make our bodies better and help us fight off viruses more effectively. Whether you're a night owl and love to run at night, run to a quiet street before the sun comes out and see a beautiful sunrise, or just want a relaxing run when you get home from getting off work, low-light conditions require you to have a piece of High-performance lighting equipment. Hokolite rechargeable headlamps are loved by many people who love sports, it can help runners see the road ahead and help drivers or other runners see you.
Depending on your running environment, you will need different types of running lights. The stylish headlamp for running is perfect for early morning hikes, while the adjustable clip-on running light is perfect for street running. Here we have done a review of different running lights, I believe you will find the best running headlamp.
MOST UNIQUE DESIGN View More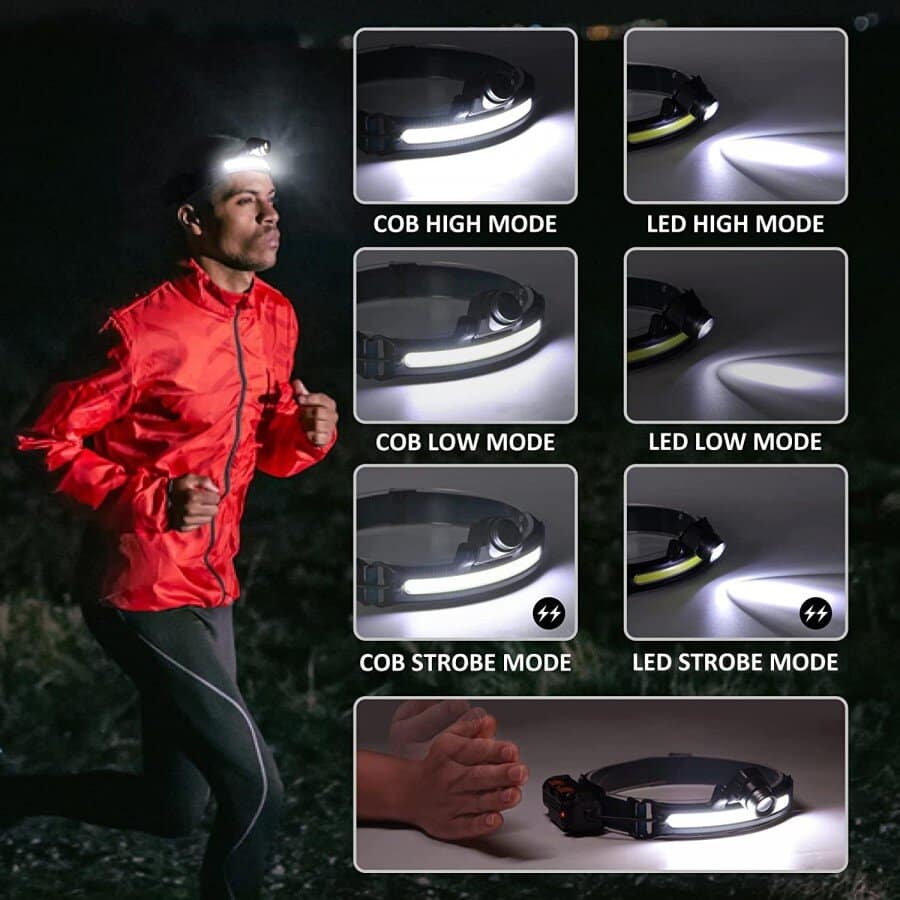 Running in the dark can be dangerous, but this 2-in-1 flashlight and headlight should give you more security on your run.
This LED running headlight delivers an astonishing 1300 lumens in its highest mode. It allows you to change the light mode from floodlight to spotlight. The maximum distance can be covered with a zoom lens. It also features motion sensing, which will give you a better experience when you're exercising. The spotlight angle of this running headlight is adjustable, which helps to effectively illuminate the path directly in front of you. At just 4.66 ounces, it's lightweight so it won't affect your running stride. When you run into a rainy day, you don't have to worry about whether running led lights will stop working, because it has advanced waterproof technology that can continue to illuminate the darkness even if it encounters water. This running light also has a battery indicator, so you can check its power at any time and charge it via a USB cable.
BEST FOR SWEATY RUNNERS
Hokolite rechargeable wide beam headlamps deliver up to 1200 lumens of maximum output. It gives you 5 lighting modes, including torch mode and 2 red light options. It also has built-in SOS and strobe mode for better security when moving around at night. Additionally, motion sensors allow you to control your running headlights with a wave of your hand. The sensor also allows for hands-free operation, allowing it to adjust its beam through five light modes with just a wave of your hand.
The IPX4 Waterproof means it won't suffer when it runs in the rain, and the USB charging port allows you to charge from a range of devices. Its reflective headband also helps you be seen by approaching cars from behind.
BEST FOR LONG RUNS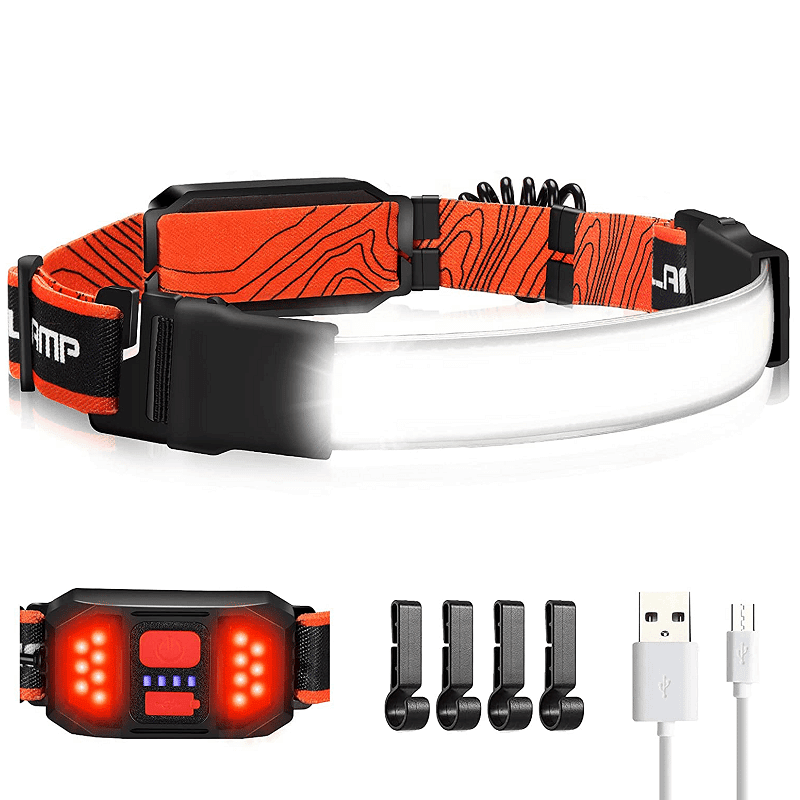 If you're looking for the incredibly comfortable and versatile lights for running at night, you can't miss this 1000-lumen running light with a unique design.
1000 lumen headlights provide 230° wide-area illumination. Has three lighting modes: COB High (1000Lumens), COB Low (500Lumens), and COB Strobe. The red taillights can be turned on or off individually to protect your safety when necessary. This light can give you up to 5 hours of light on low settings or up to 3 hours on high light without battery charging. And it also has a power indicator to let you know its power level at any time. Its headband can be sized to your head circumference and evenly distribute the weight of the light. Made from an ultra-lightweight material that stretches for a secure fit, it's a great option for late-night workouts.
BEST CLIP-ON RUNNING LIGHT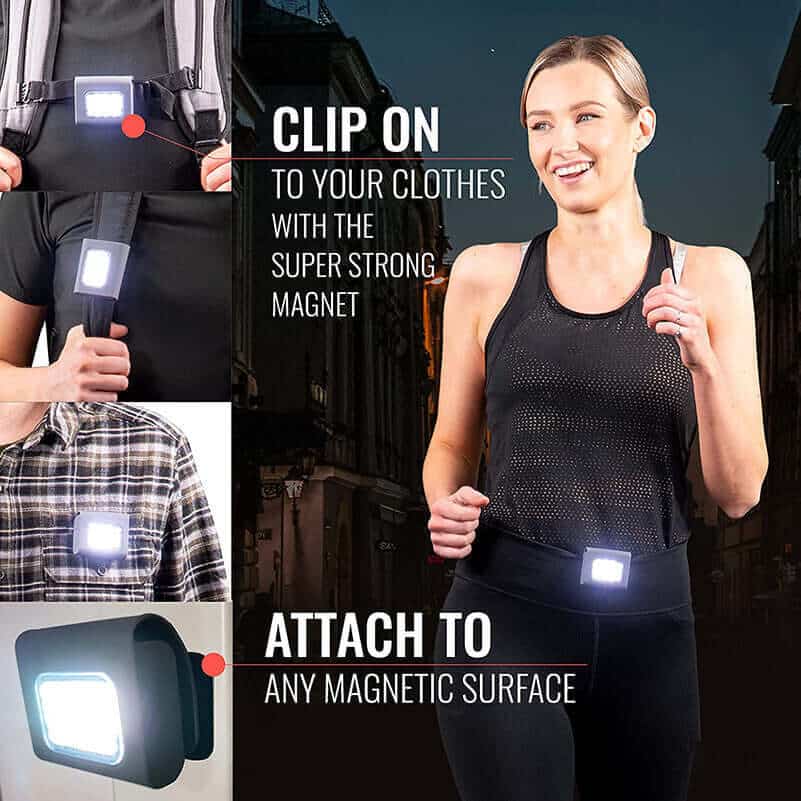 Hokolite clip-on night running lights keeps your hands free on dark runs, the light has a strong magnet to clip directly onto your belt, running shorts or vest straps, or even your backpack. First, it offers three light modes - high, low, and red. Secondly, it is small and portable, weighing only 1.76 oz, you can hardly feel its weight when you carry it. You'll get 5-6 hours of light on a full charge, after which you just plug it into a USB cable or power bank charger to charge. Finally, its built-in LED light creates a wide-angle beam with 180° Safety Visibility and four lighting modes, so you can adjust it to suit your situation.
Key features for finding a good headlamp for running:
·Comfortable
The headband is comfortable and suitable for long wear. For example, in a marathon, you might be running for hours at night with your headlight on, and you need a running headlight with comfortable material.
·Battery Life
Long battery life, preferably rechargeable headlamps, all of the headlamps on this list have rechargeable batteries that also act as power banks to charge other electronic devices.
·Light Output
With high brightness, including whether LED or COB, good brightness in terms of lumens, and the spread of the headlights to illuminate the trails you are running or hiking.
·Lightweight & Portable
Be as lightweight as possible, which will keep you comfortable while running.
·Red Light Mode
Ideally, set the red light as required by some ultramarathon organizers. This is also a very useful function for camping, it can play a rescue or warning role in the wild.