You love to trail run and have all the gear you need to get out and hit the dirt. You've got your trail shoes, a hydration pack, a personalized Apple Watch bracelet plate to keep things streamlined and everything else needed to keep you going.
But what about your dog?
Trail running with your dog can be a fantastic way to bond with your pooch and get some exercise for the both of you. So why not bring your furry friend along for the run?
If you want to take your dog to the trails with you, here's what you need to know.
Get Your Dog Trail-Ready
First, you need to ensure that your dog is old enough for the run. Veterinarians typically recommend that a dog be 18 to 24 months before you get them running, as such activities can be bad for their joints at any younger of an age.
If your dog is beyond that age, talk to your vet about your plans and ask for a health check to ensure it is ready for the adventure. Consider investing in dog health insurance you can trust. This can protect your dog in case of an accident or injury. It can also help cover medical expenses like urgent care, hospitalization, diagnostic treatment, and prescription medications. This gives you peace of mind so you can focus on enjoying the run with your furry friend.
Additionally, it is advisable to take the time to train your dog to run with you prior to hitting the trail.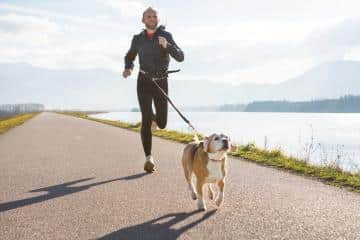 Source: Soloviova Liudmyla/Shutterstock.com
Go to a Dog-Friendly Trail
If you plan on hitting the trail with your dog in the spring or summer, it can get pretty warm outside. Thus, it is wise to select a trail that has a nearby creek, lake or other water source for you and your dog to cool down. However, if this is not an option, try to choose a route that has a considerable amount of shade.
Additionally, when choosing which trail to take your dog to, consider the terrain as well.
Build Your Dog's Endurance
Just as you didn't immediately go for the longest, most difficult run you could as soon as you started, it is advisable to choose a starter trail that you think your dog can handle. Even if your dog runs with you on paved streets or in the park, trail running can work different muscles and can require a bit of an adjustment period.
Therefore, when you start your dog trail running, give your pup a while to build its endurance and stamina.
Bring Some Poop Bags
Even though you are out in nature, it is still necessary to pick up after your dog while trail running. The fact is that other folks enjoy those trails as well, and stepping in what your dog left behind can really bring the experience down.
Therefore, just as if you are taking your dog for a walk around the block, it is necessary to bring some poop bags and leave the place looking just as nice as it was when you arrived.
Bring Water for You Both
In addition to trying to remain cool by running near water or on shady trails, it is imperative to bring water for both you and your dog to remain well hydrated.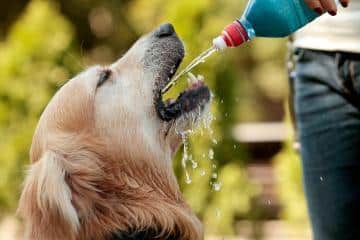 Source: Sasa Dzambic Photography/Shutterstock.com
In order to comfortably carry enough water for the run, it is highly recommended that you buy or bring a hydration pack that can carry enough water. Additionally, you will likely want to look for one that has a variety of pockets so that you can bring the other gear necessary for your dog, such as a collapsible bowl for the water, the aforementioned bags, a doggie first aid kit, some snacks and the like.
Fortunately, there are a myriad of hydration packs available online that will fit the bill.
Abide By Trail Etiquette for Running with Dogs
Before you and your dog hit the trail, it is wise to do your homework. The reason for this is that, generally speaking, dogs aren't allowed on national park trails. Therefore, if you don't know this and show up with your dog, your day will be a bit of a bust.
On the same token, many state and local parks do indeed allow you to run their trails with your dog. However, if you are going to bring your dog, it is important that you must keep it on a leash with a personalized dog collar ID at all times.
When trail running with your dog, some other rules you will always want to abide by include:
Yield the right of way to others: It is best for you and your dog to step off the trail when others are heading in your direction.
Don't use earbuds: When running out in nature with your dog, you need to be extremely aware of your surroundings.
Hitting the Trails with Your Dog
Trail running with your dog can be a fantastic bonding experience and excellent means of getting exercise. To make things easier, you can invest in a personalized dog ID and other trail accessories to ensure you are prepared. By following the tips outlined above, you and your pup can have a fun and safe time running the nature trails in your area.