When you think of how your body is aging, it's probably the most visible changes that come to mind. Maybe you've noticed more cracked or chipped a tooth, or your teeth don't seem as whitish and smooth as it used to be.  These are just external signs of a series of processes going on within your cells and bodily systems that together constitute normal aging.
Age-related diseases are illnesses and mouth conditions that occur more frequently in people as they get older, meaning age is a significant risk factor in your mouth. According to Joseph Benjamin, Dentist, and professor of the college of medicine at the University of Ibadan, examples of age-related diseases are:
Common Mouth and Tooth Pain Relating to Aging

Aging takes its toll on your mouth and teeth as it does with the rest of your body. Good oral hygiene and Taking good care of our mouth is the best way to ensure good health into our senior years. But we usually don't think of our mouth until something goes wrong. Given the amount of stress we put on our mouth in a lifetime, it's easy to see why certain dental problems seem unavoidable. In addition, to wear and tear, there are natural changes that occur with the aging process that affects dental health, making problems like swelling, gum disease and certain mouth conditions more prevalent.
Dry Mouth Relating to Aging

Other causes are related to aging (including rheumatoid arthritis) and compromised immune systems.
Some of the less alarming results of dry mouth include bad breath. But dry mouth also known as xerostomia can lead to more serious problems, including burning tongue syndrome, a painful condition caused by lack of moisture on the tongue.
If dry mouth isn't readily apparent, you may experience other conditions that dry mouth can cause, including an overly-sensitive tongue, chronic thirst or even difficulty in speaking.
If you don't have a medical condition that causes it, dry mouth can be minimized by sipping water regularly, chewing sugarless gum and avoiding smoking. Of course, there is no substitute for regular checkups and good oral hygiene.
Osteoporosis of the jaw relating to aging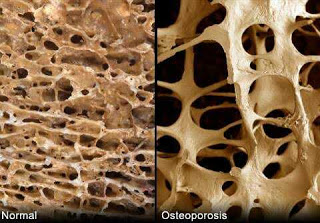 The common bone loss that affects older adults is osteoporosis of the jaw
Research suggests a link between osteoporosis and bone loss in the jaw. The bone in the jaw supports and anchors the teeth. When the jawbone becomes less dense, tooth loss can occur, a common occurrence in older adults.

Women with osteoporosis are three times more likely to experience tooth loss than those who do not have the disease.  Low bone density in the jaw can result in other dental problems as well. For example, older women with osteoporosis may be more likely to have difficulty with loose or ill-fitting dentures and may have less optimal outcomes from oral surgical procedures.

  Osteoporosis is a bone disease that results in an increased likelihood of sustaining a fracture. Osteoporosis can affect any bone in the body. The diagnosis of osteoporosis is made by measuring bone density. If you are diagnosed with osteoporosis, you will be treated to modify your condition in an effort to prevent fractures.  
Osteoporosis diagnosis
Osteoporosis can be easily diagnosed and treatment initiated, but only if the proper tests are performed. Knowing when to have a bone density test can help diagnose the condition and you can begin appropriate treatment.
Osteopenia
Osteopenia represents a loss of bone mineral density, but people with osteopenia should work bone health into their diet and lifestyle routines. You can take simple measures to help stimulate your bones to stay healthy and slow bone loss
Preventing Falls  and Fracture teeth
 The biggest danger in osteopenia is the increased risk of fracturing any part of your body including your teeth, jaw, a hip or your back if you fall. If you have been diagnosed with osteopenia, take special care to prevent falls.

Here are some common real things you can do to reduce your risk of falling:
Avoid walking in an area with too much ice.

Make sure your house is well lit.

Install railings near the bathtub.

Wear shoes that go well and provide support.

Concentrate while walking.
Role of the Dentist and Dental X Rays For Osteoporosis
Research supported by the National Institute of Arthritis and Musculoskeletal and Skin Diseases (NIAMS) suggests that dental x rays may be used as a screening instrument for osteoporosis. Researchers found that dental x rays were highly effective in distinguishing people with osteoporosis from those with normal bone density.

Because many people see their dentist more regularly than their doctor, dentists are in a unique position to help identify people with low bone density and to encourage them to talk to their doctors about their bone health. Dental concerns that may indicate low bone density include loose teeth, gums detaching from the teeth or receding gums.
Managing and Preventing osteoporosis of the jaw (Bone loss)
Diet: Your bones need calcium and other nutrients to maintain their strength. The best sources of these are natural ones: milk, dairy products, and green vegetables. You can also take calcium supplements, though you should talk to your doctor first. Many of the calcium supplements need to be taken with other supplements to be effective (and some types of calcium are better than others).

Exercise: Weight-bearing exercises and resistance exercises stimulate your bones to become stronger. Lifting weights, walking, dancing and anything that puts some weight on your bones will help.

Avoid Smoking, Alcohol and More:
Smoking, too much alcohol, caffeine, and even sodas can work against your body as you try to build up your bones. Cut back on these.

Vitamin D: Your body needs healthy levels of vitamin D  to properly absorb calcium. You can keep your vitamin D levels up by spending about 15 minutes in the sun every day (hands and face exposed) or by taking a vitamin D supplement.
Age-Related Changes in Your Body  
The time of your life when age-related changes appear depends on a variety of factors, including:
Genetics

Diet

Culture

Activity levels

Environmental exposure
Things You Can Control for Healthy Bones
Smoking

Excessive alcohol consumption

Poor diet

Inadequate calcium or Vitamin D intake

Sedentary lifestyle 
How to think about Age-Related Diseases: 
While aging itself is not a disease, it is a risk factor for these different dental conditions. That doesn't mean you will have an age-related disease, it just means you are more likely to experience these conditions as you get older.
Physiological processes like inflammation, environmental exposure to pollutants and radiation (like ultraviolet radiation from the sun), the effects of lifestyle factors like smoking, diet and fitness levels, as well as simple wear and tear, can all accelerate the rate of decline in different people.
Many research projects around the world are underway to determine the effect of aging on the human body, to sort out which conditions are an inevitable result of getting older and which can be prevented
These are the choices you have made in your life that can make you age fast. Making some lifestyle choices can affect your bone health and make it more likely that you will develop dental problems with bone health. The more risk factors you have, the more likely it is that you will develop oral health diseases.


Resources for bone health (osteoporosis)
For more information on osteoporosis, visit:
NIH Osteoporosis and Related Bone Diseases ~ National Resource Center
Phone: 202-223-0344
Toll-free: 800-624-BONE (2663)
For more information on oral health, visit:
National Institute of Dental and Craniofacial Research
NIH Osteoporosis and Related Bone Diseases ~ National Resource Center
Phone: 202-223-0344
Toll-free: 800-624-BONE (2663)
If you need more information about available resources in your language or another language, contact the NIH Osteoporosis and Related Bone Diseases ~ National Resource Center at [email protected].
The NIH Osteoporosis and Related Bone Diseases ~ National Resource Center provide patients, health professionals, and the public with an important link to resources and information on metabolic bone diseases. 
REFERENCES
VERY WELL HEALTH - ALL ABOUT OSTEOPOROSIS
VERY WELL HEALTH - HOW TO PREVENT AND MANAGE OSTEOPENIA