People with type 2 diabetes often have to deal with excess weight. It can increase their chances of developing cholesterol and heart diseases. Semaglutide injections are used to treat type 2 diabetes and help aid weight loss with a proper diet and exercise routine.
The injection is quite popular in the United States and recently received approval from the NHS in England. If you are considering semaglutide, read this article to learn what it does to your body.
What is Semaglutide?
Semaglutide is created by agonizing the glucagon-like peptide-1 (GLP-1) receptor. Type 2 diabetes is treated with semaglutide injection, which aids in blood sugar regulation when combined with diet and exercise.
Patients with type 2 diabetes with heart or blood vessel problems can also use this medication to reduce their risk of mortality, heart attack, or stroke.
Semaglutide mimics the effects of GLP-1, a hormone that occurs naturally and aids in controlling blood sugar levels. When food is present in the stomach, our bodies naturally generate the hormone GLP-1.
The hormone circulates throughout the body after it forms. When blood glucose levels are high, it promotes insulin production and reduces glucagon release by interacting with and activating the GLP-1 receptor.
It binds to receptors in the pancreas, brain, heart, intestines, and other organs. Semaglutide Weight Loss often involves these organs.
Moreover, it slows down the rate at which the stomach empties. For individuals with type 2 diabetes, semaglutide injection is used in conjunction with a diet and exercise regimen to regulate blood sugar levels.
In patients with obesity brought on by certain diseases, this medication is also used in conjunction with a healthy diet and regular exercise to help patients lose weight and keep it off.
However, you need a prescription from your doctor to purchase this medication, as some people with certain medical histories cannot take semaglutide, which may increase their chances of developing tumors.
What Does Semaglutide Do to Your Body?
Semglutide used for the treatment of type 2 diabetes is delivered once a week orally or subcutaneously.
In contrast to other weight-loss treatments like phentermine 1https://www.webmd.com/drugs/2/drug-4151/phentermine-oral/details, semaglutide is not a central nervous system stimulant to suppress hunger. To achieve weight reduction, it is used in various ways by various organs.
Semaglutide has been used since 2021 to treat individuals with a BMI of 30 or higher as well as those with a BMI of 27 or higher. The patients also have weight-related medical conditions such as high blood pressure, obstructive sleep apnea, high cholesterol, and heart or vascular disease.
Semaglutide circulates through the body and is removed through urine and feces in about a week. Once in circulation, it communicates with several organs that cooperate to aid in weight reduction.
Insulin production is impacted by semaglutide's interactions with the pancreas. Semaglutide also increases the body's overall sensitivity to insulin.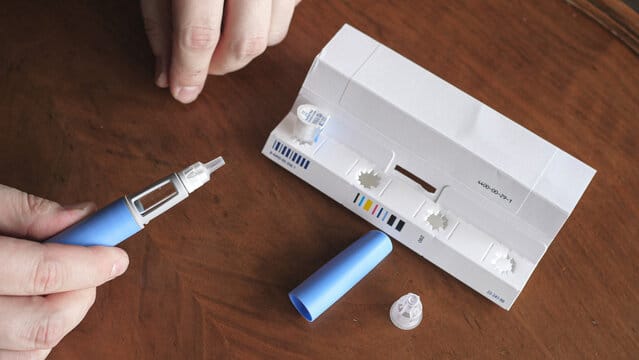 Improved insulin production and sensitivity allow us to more efficiently transport sugar from the blood into the cells, where it may be utilized to produce energy and lessen the consequences of diabetes.
As blood sugar levels rise, such as after eating, insulin is produced in the reaction. The pancreatic beta cells' ability to secrete insulin increases with semaglutide.
Low blood sugar levels, vomiting, nausea, and diarrhea are typical and may be seen in some patients. They were normally mild to moderate in intensity, transitory, and abated with time.
What is the Role of Semaglutide in Weight Loss?
By encouraging fat oxidation, or the preferred breakdown of stored fat for energy, semaglutide seems to positively influence metabolism. Since they are simple to digest and use, carbohydrates are often the body's first option for energy.
Semaglutide stimulates the body's utilization of fat that has been stored as energy, aiding in weight reduction. The hypothalamus 2https://www.healthline.com/human-body-maps/hypothalamus appears to be the mechanism through which semaglutide increases feelings of satiety, modifies the food/reward system, and modifies taste preferences.
They can now manage their food intake more readily than they could before taking medicine, which is crucial for altering eating habits and achieving weight reduction.
Similar to how changes in dietary preferences favor lower-fat and healthier meals than they did before taking medicine.
The medicine, which is administered by injection into the skin, causes patients to feel more content and fuller, which causes them to eat less.
According to data from clinical trials, semaglutide, when used in conjunction with dietary and lifestyle modifications, may help patients lose over 10% of their body weight.
Things to Consider Before Undergoing Semaglutide Treatment
Semaglutide is an FDA-approved injection that has several benefits in weight reduction. However, you must consider certain factors and discuss them with your doctor before taking up the medication. Here are some of these factors.
Semaglutide shouldn't be used with products containing semaglutide, other GLP-1 receptor agonists, or other weight-loss treatments. Whether prescription medications, over-the-counter medications, or herbal remedies, these could negatively affect the treatment.
Patients with a history of pancreatitis have not been examined with semaglutide. Hence, they should discuss their options with a medical professional before taking semaglutide.
Patients should talk to their doctor about decreasing the dose of semaglutide if they are also taking insulin or another chemical that makes the body secrete insulin. It can lessen the chance of low blood sugar if they are taking semaglutide along with these medications.
Those who have previously experienced life-threatening allergic reactions to semaglutide or any of the other ingredients in semaglutide shouldn't use it. If a serious allergic response is detected, patients should immediately stop taking semaglutide and get medical attention.
Healthcare providers should keep an eye on patients who have diabetic retinopathy 3

https://www.aao.org/eye-health/diseases/what-is-diabetic-retinopathy

, renal illness, or who exhibit suicidal thoughts or conduct.
Those with Multiple Endocrine Neoplasia syndrome type 2 (MEN 2) and those who have a personal or family history of medullary thyroid cancer should not use semaglutide.
Wrapping Up
Semaglutide, sold under various trade names, was found to be secure, efficient, and cost-efficient by the National Institute for Health and Care Excellence (NICE). The injection used for patients with Type-2 diabetes to regulate blood levels can efficiently aid in weight reduction.
Consulting a certified medical professional is essential to learn more about the effectiveness of semaglutide in particular patients.
Additional resources and citations
1

https://www.webmd.com/drugs/2/drug-4151/phentermine-oral/details

2

https://www.healthline.com/human-body-maps/hypothalamus

3

https://www.aao.org/eye-health/diseases/what-is-diabetic-retinopathy