To get the best out of your melanin-rich skin, you need to use the best soap for dark complexion. It helps you lock in moisture and despite the reduced effect of harsh sunlight on your skin, it further protects the skin from the UV rays that usually cause sunburn and hyperpigmentation.
The Best soap for dark skin should provide skin protection, skin moisturizing, and skin healing properties. That means, the best soap for dark complexion will usually have ingredients that contain vitamin C and E, which are know for improving skin conditions.
This article will provide information about the best soap for dark complexion and help you decide on the best choice for you. This is because every dark-skinned person needs different types of soaps. While some people live in environments where the detrimental effect of the sun on the skin is minimal but the humidity is low, others live in regions where there is low humidity and intense sunlight.
What Makes a Good Soap for Dark Complexion?
The skin, being the largest organ of the human body, protects many internal organs, and needs to be adequately taken care of. For this reason, it is important to know what to look out when shopping for soaps, especially for dark skin complexion. It is common for dark-skinned people to overlook the quality of soap they use because they believe the strength and abundance of melanin on their skin, which makes it dark, will mask any blemish on their skin.
However, there is usually a visible difference in the health of a dark skin that uses a good soap and one that uses any soap they find. The richness and strength of your dark complexion has to be preserved.
Here are some of the things you need to see before you decide if a soap is good for dark complexion. Note that these factors boil down to the ingredients used in making the soap.
Shea butter is a common product of the Shea tree nuts. It is widely produced in West Africa and has abundant skin benefits. You will usually find it as an ingredient on most of the soaps tagged best for dark skin due to its richness in vitamins and fatty acids.
It is excellent in softening, healing, and toning the skin.
Toxins are let out of the body through the skin in large amounts as they contain pores that help them escape. This exposes the skin to irritation from these toxins, not to mention irritants from the external environment.
Vitamin E is one of the nutrients considered to be beneficial to the skin as it functions as an antioxidant and an exfoliant – helping to rid the skin of dead cells, giving room for new cell growths. This consequently helps to bring skin inflammation expressed as acne, under control.
Aloe vera is one of the commonly used ingredients to address topical skin conditions. Its acceptability is due to its healing properties. It is used in soothing the effect of sunburn and restore the health of the skin. It is also a good skin moisturizer and is generally usable on all skin types.
One of the abundant organic materials that can be used for different health purposes. Honey is rich in antioxidants and also has antibacterial properties. Its viscosity makes it suitable for use on dry skin, helping it lock in moisture and protecting it against the detriments of intense sunlight.
The benefits of honey to the skin is owed to the presence of enzymes in it. It also helps to reduce aging, exfoliates the skin, and prevents the occurrence of skin conditions, such as acne.
Don't let the name scare you. It is an ingredient to look out for in soaps for dark complexion as it is efficient in treating acne breakouts. It is particularly useful for people with oily skin as it helps to remove clogs from the skin pores.
Although salicylic acid is present in soaps, in safe dosages, you may need to contact your dermatologist on the safest dosage of salicylic acid you should use.
Most suitable for people with dry skin, oil in soaps help to moisturize and soothe the skin. Commonly used oils for this purpose in the best soap for dark complexion include peppermint oil, coconut oil, palm kernel oil, and many more.
They are usually rich in antioxidants and have antimicrobial properties, to help improve the health of the skin.
The Best Soap for Dark Complexion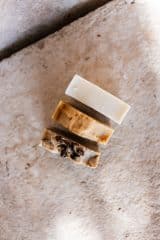 To get to the thick of things, here's a list of soaps that are perfect for improving the health of dark complexions. Ensure that you choose one that fits your environment and your skin type, for the best result.
Tropical Naturals Dudu-Osun
Dudu-Osun as it is simply called, is an old timer in Nigeria and has found its way to different homes in the world due to its authenticity. It is effective in treating acne and prevent future occurrence by performing its exfoliating functions.
Its ingredients include honey, palm kernel oil, and shea butter. Therefore, you can expect to have a well-moisturized skin when you use it. Also, it is suitable for all skin types but especially good for oily skin. It is so good, it can be considered as one of the best soaps for fair and glowing skin, too.
Caswell-Massey Goat's Milk and Honey Soap
Made from a combination of goat milk and honey, Caswell-Massey Soap is one of the best Soap for dark complexion. It is easily found in many cosmetic stores and its effect is more pronounced on individuals with sensitive skin.
It contains other ingredients such as vitamin E and coconut oil.
Raw African Black Soap
This is the original black soap, not to discredit the other black soap. This raw African black soap is the original soap most Africans are familiar with, until they became commercialized and adopted into the mainstream cosmetic industry. They are usually unbranded and come in plain containers. They are made using camwood, shea butter, palm kernel oil, and coconut oil, majorly.
Their beneficial effect on the skin range from moisturizing to exfoliating, and protection against the harsh rays from the sun.
Nubian Heritage African Black Soap
One of the affordable options on this list. Nubian heritage African Black Soap help to balance the skin chemistry and detoxifies the skin of toxins, due to the presence of antioxidants. Although, it contains artificial fragrance and colors, it is a good choice for people with sensitive skin.
As one of the best soaps for dark complexion, it contains aloe vera, oats, and vitamin E; making it a good soap for improving skin health and appearance, while providing a soothing effect.
Dr. Bronner's Liquid Soap
If you are particular about going all-natural, Dr. Bronner's peppermint Pure Castile Liquid Soap is one of the best dark complexion soap options for you. Its characteristic mild and gentle way of cleansing the skin makes it suitable for use on sensitive skins.
It rejuvenates skin cells through exfoliation, serves as a sunscreen – protecting the skin from the harmful UV rays from the sun, and soothes the skin when it has been burnt by the sun.
Conclusion
The dark skin is the most undervalued skin type in the world. it offers more protection to its bearer than other skin types but most dark-skinned people want to make it fairer. For those who have realized the importance of the amount of melanin they have on their skin, the ingredients in the soap you sue go a long way in determining how healthy your skin is and will be.
Choose an appropriate soap for dark complexion from the list provided in this article and watch your dark skin glow and in the most satisfying way.