Heat styling tools can create gorgeous, varied looks for different hairstyles, but if you rely on your heating tools too much, you can seriously damage your hair. Heat can impact your hair in many ways — sucking moisture from hair cuticles, causing breakage and overall harming your hair's natural texture. Taking steps to reduce your use of heat 1https://theeverygirl.com/what-happens-when-you-stop-using-heat-on-your-hair/ and using products like salon conditioner can help mitigate some of the heating tools' impact and bring your hair back to a healthy, shiny state.
Reasons to Take a Break from Heating Tools
1. Heat Tools Strip Hair of Natural Oils
When you are applying heat to your hair, you are impacting the protein keratin found in hair. Over time, the heat you apply can make your hair porous, strip awaying the natural oils that keep your hair shiny and gorgeous. You can use heat protectant products to provide some level of protection, but even with these products, you are weakening your hair's elasticity, making it susceptible to many types of damage. To help repair the issue, you can use salon hair oil to reduce some of the frizz that accompanies damaged hair and hair begins to repair bonds that will help your hair grow strong and healthy.
2. Too Much Heat Causes Breakage
Sucking the moisture out of your hair by using heating products can lead to several issues, including breakage. If you notice that your hair often has split ends or breaks off more easily, you probably have some heat damage. Breakage leads to frizz and dryness, things you want to avoid if you want to keep your hair healthy and strong. Again, using heat protectants is important, but will not prevent breakage if you are using heat tools on a regular basis.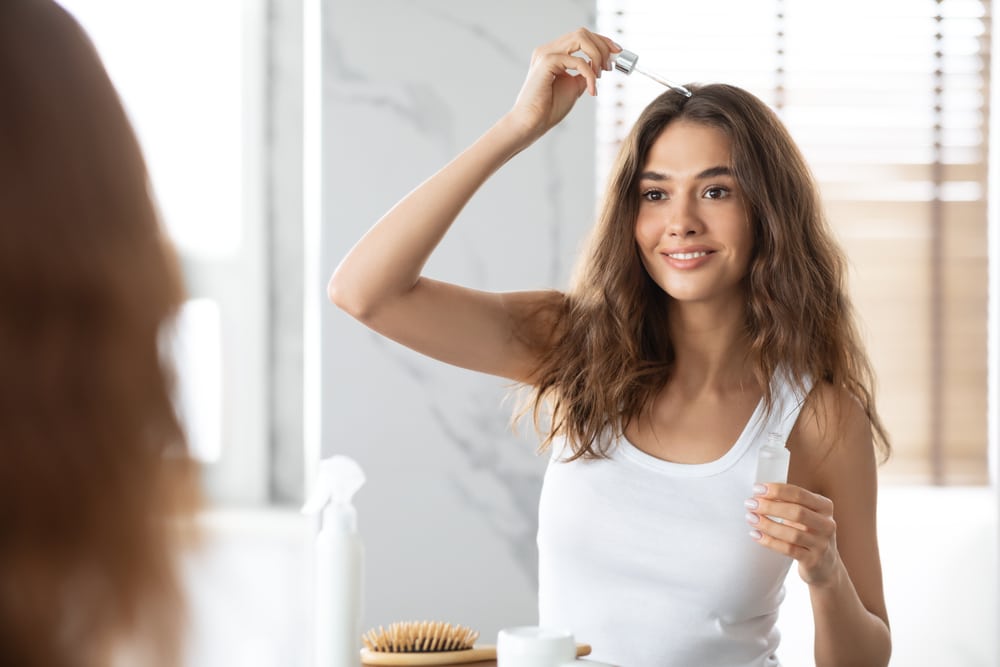 Source: Prostock-studio/Shutterstock.com
3. Heat Damage Can Impact Dryness
Our hair needs to stay moisturized for the healthiest, shiniest end result. But, heating tools can dry your hair out fast. Because heat is impacting the keratin in your hair causing it to break down, brittle strands and dryness are the result. To mitigate dry hair, you can apply a hair mask once a week and incorporate leave-in conditioner to help overcome that dryness, but giving your hair a break is the best way to help it repair itself. Regularly conditioning your hair with conditioner can also improve dryness, but you need to give your hair time to repair without heat.
4. Heat Can Make Your Hair More Susceptible to Other Damage
Though breakage, dryness and frizz are the results of using heat products too often, once your hair has been damaged, it is more susceptible to other damage as well. If you are someone who regularly colors or lightens your hair, you are more likely to cause further damage to your hair. If you've recently had your hair lightened, it's even more vital that you avoid applying too much heat to prevent further breakage and damage. Using hair oil on lightened hair can help repair hair bonds and strengthen hair to mitigate damage from heat and lightening products.
5. Heat Disrupts Your Natural Hair Texture
When you apply a lot of heat to your hair particularly over time, the heat is literally changing the hair's keratin protein makeup from alpha-keratin to beta-keratin 2https://www.express.co.uk/life-style/life/1740501/how-to-look-younger-hair-haircare-air-drying-tips, weakening the hair and altering its natural texture. The heat is changing your hair's shape on a molecular level, which is difficult to recover from. Taking a break from heat and allowing your hair to dry on its own can prevent this process and protect the natural texture and makeup of your hair.
How to Give Your Hair a Break
Let It Air Dry
Using a blow dryer after washing your hair can become a habit that's difficult to break, especially if you've mastered the art of styling a blowout, but overusing your hot hair dryer could cause irreparable damage in the long run. Try giving your hair a break by letting it air dry sometimes. There may be some aspects of air drying your hair that you find unruly or less desirable, but there are dozens of excellent products that you can use after washing your hair to help it dry in its gorgeous natural state. Curl mousse or texture spray can create soft, beachy waves with the crunch of stiff hair gel, while other products can create body and volume. Test out different products for your hair type to find what works best for you.
Reduce How Often You Shampoo Your Hair
Using shampoo is sometimes necessary to remove grease and dirt — but shampoo can also strip your hair of natural oils. If you're using heat tools frequently and shampooing too regularly, your hair is likely having a very difficult time retaining the natural oils that keep it shiny and healthy.
You may be unsure whether or not you need to shampoo less. If your hair feels dry most of the time, it's likely you're over shampooing. Try reducing heat and shampoo your hair just once or twice per week until you find the right shampooing regimen for you. Some people with naturally dry hair will require less frequent shampooing than others.
Apply a Hair Mask
Weekly or biweekly hair masks are a great way to reintroduce moisture into your hair follicles and encourage hair to grow strong and shiny, in addition to avoiding heat tools. Hair masks can be applied to wet hair. Allow it to sit for at least 10 minutes (or more, depending on the product's individual instructions) and then rinse it out in cooler water to encourage the hair follicles to retain the moisture. Your hair will thank you!
Avoid Using Hair Straighteners
Of course, the easiest way to reduce exposure to heat tools is to avoid using your straightener as much as possible. Though there is no definitive answer as to whether hair straighteners or blow dryers are worse for your hair, many experts agree that blow drying is slightly less harmful 3https://metro.co.uk/2017/06/20/is-a-blow-dry-actually-any-better-for-your-hair-than-using-straighteners-6720984/ than using a straightener. This is because the heat from a blow dryer is more evenly distributed throughout your hair, allowing less time for the heat to cause intense damage. However, blow dryers are still damaging to your hair. You can try using the cool setting on your blow dryer to reduce heat exposure while still styling your hair with this tool.
Additional resources and citations
1

https://theeverygirl.com/what-happens-when-you-stop-using-heat-on-your-hair/

2

https://www.express.co.uk/life-style/life/1740501/how-to-look-younger-hair-haircare-air-drying-tips

3

https://metro.co.uk/2017/06/20/is-a-blow-dry-actually-any-better-for-your-hair-than-using-straighteners-6720984/