It's time to stop wearing that cheap pair of underwear for guys that, while being knit, manage to bunch and squash your gentlemanly bits.
We recommend beginning and completing the day with a pair of kangaroo pouch underwear since many of us like to work from home while wearing our favourite underwear.
All-day comfort is guaranteed by these cutting-edge undergarments, which, dare we say it, may even improve our nether regions.
In order to help you choose the finest men's pouched underwear for you, we've collected everything from performance sports briefs to silky-soft patterned trunks.
5 Best Kangaroo Pouch Underwear
Why Does the Front Pouch on Men's Underwear Exist? Where else are your reproductive organs going to be placed? Men's underwear may not always have a designated pouch, but the majority do have at least a little additional space to hold your pebbles.
Less daily adjustment is possible with a pouch. From another perspective, pouches are a great option for athletes since they may keep your bag cool, calm, and collected when you're doing a strenuous activity.
1. Jockmail; Best Budget Pouch Underwear
The majority of pouch underwear is expensive, high-end goods. This may be a little bit of a culture shock for some males who are fascinated by pouches but are accustomed to buying the $15 giant packs of underwear.
Visit Jockmail if you want to test out a few pouch underwear sets on the cheap.
The pouch on Jockmail underwear isn't quite as supportive as any of the other alternatives on our list, I'll admit that upfront.
Shinesty will, in my view, provide you with the finest value and support while still not charging as much as some other companies. But if you only have $10 to spare, Jockmail is the better option.
2. Saxx Hyperdrive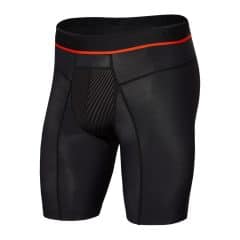 The grandfather of pouched underwear is undoubtedly Saxx. The company has recently launched a sport short that not only features a "13D hammock-shaped pouch," but also mesh panels and "Flat Out Seams" to reduce friction and guarantee chafe-free support.
These new additions join some vibrant prints and tastefully coloured solids in comfort-oriented fibre blends. For both training and competition, they provide a compression fit.
3. T-Bô; Best Trunk Underwear with a Pouch
Don't boxer briefs receive all the attention?
Yet why? Surely, there are other solutions available.
So be sure to check out T-Bô if you're searching for a pair of trunk-style underwear with good support in the grundle region.
T-Bô offers a large selection of cuts, but their trunks stand out and truly "get the word out," if you see what I mean.
4. Everlane The Boxer Brief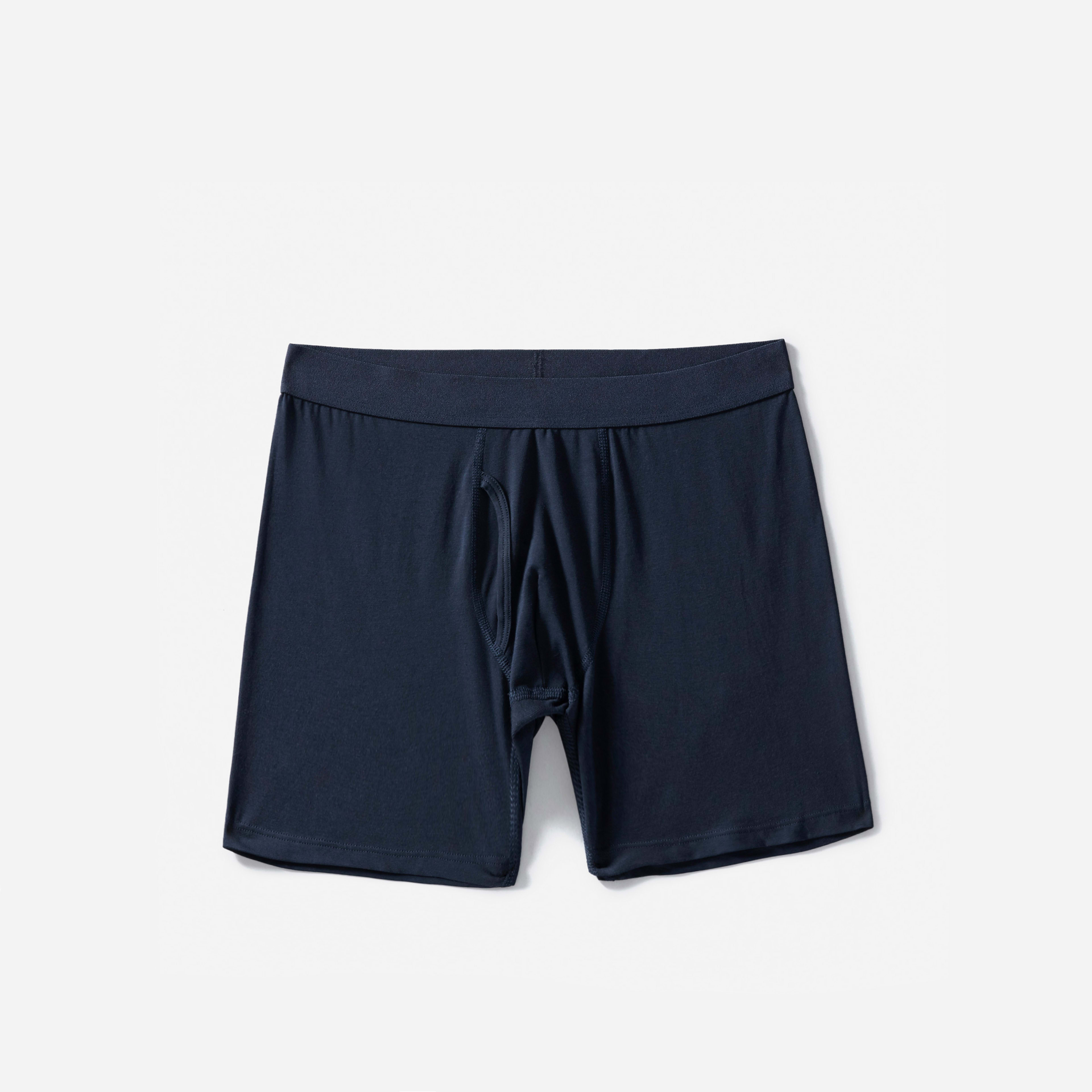 Everlane is wonderful for high-quality essentials, and because of its outstanding comfort and fit, its boxer briefs are a hot seller.
They provide a 365-day warranty on every item in their Uniform line, which includes boxer briefs. Everlane will replace it without charge if there are any holes or visible signs of wear and tear.
These boxer briefs are marketed as the ideal initial layer and are manufactured from Supima cotton, which is farmed in the United States and is twice as robust and softer as regular cotton.
Read Also: How Many Pairs of Underwear Should a Woman Own?
5. All Citizens; Best Growers' Pouch Underwear
I won't mention him by name, but one of my closest friends from childhood always said he was a "grower" and not a "shower," which was particularly bothersome for him in high school when we had to strip off in the locker room before gym class.
Try out All Citizens if you want some pouch underwear that will improve your appearance (particularly their Paradise Pocket Boxer Briefs).
These place the whole package at the front, which not only makes it more comfortable but also provides your box with some aesthetic movement.
6. Rhone Everyday Essentials Boxer Brief
Pima cotton which is very soft is also used by Rhone to create their line of pouched underwear. Who are we to dispute the brand's description of its designed structure as a "rocket pocket"?
According to the description, a friction-free flight to the moon and return is provided for your cosmonauts with a smooth fly opening.
7. Separatec; Best Dual-pouch Underwear
Separatec has pushed the idea of pouch underwear to its logical conclusion: you get a pouch for your delicate orbs and a separate pouch for your dong.
Due to this dual-pouch arrangement, Separatec does well in the gym. The majority of males will do just fine keeping everything in one bag, but if you battle with a lot of downstairs perspiration, a dual-pouch may be advantageous.
8. Ergowear HIP Bikini Pouched Underwear
Knit boxer or boxer-brief styles make up a large portion of the greatest pouched underwear designs now available.
Ergowear provides this low-cut bikini shape for men who would want a little less coverage but yet want plenty of enlargement. presenting a "nose-shaped" three-dimensional bag.
A soft, quick-drying, and extremely elastic combination of polyester and elastane is used to create the company's HIP Bikini line.
The fabric readily releases body perspiration, making it less likely to discolour and simpler to clean. The fabric has a modest lifting and boosting effect and conforms to the natural shape of your clothing.
9. Shinesty; Best Ball Hammock Underwear
While relaxing on a hammock is lovely, it is absolute ecstasy to do so while also resting your nuts.
Many pouch underwear companies just sew an empty space onto the front of their boxer briefs and move on. Although this is an improvement over ordinary briefs, the ball location is still far from ideal.
I thus advise wearing a pair of boxer briefs with what is known as "a ball hammock" in the trade.
It all comes down to how the underwear is made, and Shinesty is the industry leader in this area. Your nuts won't adhere to your leg, which is the main advantage. That's quite a lot.
However, you're also receiving a lot of support, making Shinesty's boxer-briefs useful at the gym as well. Although I wouldn't buy them expressly for the gym, Shinesty's underwear is always up to the challenge. I often put these on in the morning, drive to work, rock it at the office, and then hit the gym later.
10. Bang & Strike Strike Pro Emboss Sport Trunk
Bang & Strike provides a real performance trunk that will keep you dry and comfortable during the toughest of workouts or the longest days at the workplace. It is available in gunmetal grey, black, or white, but this forest green colour looks terrific.
They have a quick-drying, moisture-wicking body and a breathable micro-mesh pocket. Additionally, they are made of high-stretch, lightweight microfibre for optimal comfort and flexibility.
Read Also: 5 Best Cotton Boyshort Underwear of All Time
Why use pouch underwear?
Undergarments with pouches may provide additional support, provide more contouring, or lessen chafing. The most crucial element is choosing the right cloth for your needs.
Are boxers underwear bad to your genitalia?
No, boxers underwear are good for your balls. However, they are a bad option for training since they provide no support, and movements like box jumps may cause 2testicular torsion, which can be harmful.
Conclusion
You're not alone if you're interested in underwear technology. Try Shinesty for the best supporting ball hammock.
Check out Separatec, All Citizens, or T-Bô for the dual pouch, the "grower flattering," or the alternate trunk.
Go for Jockmail if you're on a tight budget. Although you will give up some comfort there, I recommend choosing one of the other high-end brands listed above.
Additional resources and citations