When 2021 began, cautious optimism seemed warranted. The COVID-19 vaccines were on their way to the general public, the winter wave of infections seemed to have reached a plateau and the future seemed much brighter.
It's true that the vaccines available to us now are still very successful and the booster shots now being offered to Americans are reason still to celebrate. It almost goes without saying, though, that with the continued rise in coronavirus infections among the unvaccinated and increased worry about breakthrough infections and waning vaccine efficacy, the end of 2021 looks far different than what we hoped for at its beginning.
Self-care will be paramount for healthcare professionals in the coming year, and what better way to achieve it than with products like hand masks and lip serums to help ease the skin stress of working in such a tough field.
Want to find out what the start of 2022 will look like for doctors and nurses? Read on!
Increased Use of Mobile Telehealth Devices
According to a study by Zebra Technologies, a company that provides the kind of mobile technology that has allowed telemedicine to flourish throughout the pandemic, healthcare professionals expect to rely even more on mobile devices to communicate with and treat patients in 2022.
The findings from Zebra's Future of Healthcare: 2022 Hospital Vision Study not only show that more healthcare professionals are using mobile devices than ever before, but that a vast majority of them expect to use them all the more in 2022. From the 98 percent of nurses who said they will use mobile technology for Electronic Health Record notifications to the 96 percent of healthcare professionals who expect to use these technologies for patient tracking and monitoring by 2022, it's clear that the pandemic has revolutionized the way the medical industry uses technology to safely and hygienically communicate with patients.
While these kinds of technologies are an incredible advent for the medical industry at large, they also are an additional surface healthcare workers use that must be sterilized. With increased surface touching comes an increased need to sanitize and wash hands, which is rough on the skin. Thankfully, Careisma's incredible hand mask is a great way to protect your skin and practice self-care in one fell swoop.
Difficult Flu Season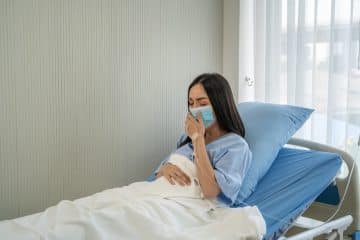 Source: Tapui/Shutterstock.com
With so many hospitals full to the brink with COVID-19 patients, 2022's cold and flu season is expected to be a doozy. Some doctors have suggested hospitals brace themselves for a "twindemic" of both coronavirus and the flu as the pandemic continues to spread unabated among the unvaccinated due to the lifting of lockdowns in the United States.
What's worse is that so few people gained natural immunity to the flu last year when in lockdown (which, at the time, virtually eliminated the usual fall flu surge because people weren't congregating the way they normally do) that many more people may get sick from it.
"This low flu activity was likely due to the widespread implementation of COVID-19 preventive measures like masks, physical distancing and staying home," Dr. Rochelle Walensky, director of the Centers for Disease Control and Prevention, said in October. "Because of so little disease last year, population immunity is likely lower, putting us all at risk of increased disease this year."
Because schools are also open for in-person instruction in most of the country, children are also at greater risk of contracting the flu at school, getting sick themselves and bringing it home to their families.
Though a heightened flu season early in 2022 may be scary, there are lots of ways doctors and nurses can protect themselves and their families. Like with the COVID-19 vaccine, getting your flu shot is a great step towards becoming one less vector for the virus.
Staying hydrated and drinking lots of water is another good way to boost your immunity from the flu and other viruses. In a fast-paced healthcare setting, however, one generally has to choose between hydrating themselves and hydrating their lips — especially during an ongoing pandemic that requires staff to wear face masks. Your patients may not be able to see your smile for some time yet, but you can keep your lips as moisturized as possible with Careisma's patented lip serum, which was created by and for nurses to keep your lips hydrated on the go.
Increased Access to Rapid COVID-19 Antigen Testing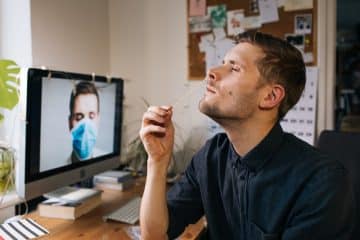 Source: Girts Ragelis/Shutterstock.com
As more and more rapid COVID-19 antigen tests are being approved by the Food and Drug Administration, that means more consumers both inside and outside the medical industry will have access to this surprisingly accurate diagnostic tool.
With more people being able to test themselves at home, at school or at the office, this frees up hospitals and other healthcare facilities from administering COVID-19 tests. Increased production of easy-to-use rapid coronavirus tests also means that healthcare workers will have even more opportunities to test themselves regularly to ensure that they are not inadvertently bringing COVID home.