After enough years of utilizing their brains and bodies to the max, many nurses have a hard time when they're forced to adjust to meet the needs of their pregnancy. Adjusting to pregnancy can be hard enough on its own, but given the dedication that most nurses hold for their careers, having to adjust their performance in this area only tends to make things harder. Knowing the risks, as well as the best practices, though, will help you stay glowing in your pregnancy and shining in your career.
From reconsidering the night shift (probably not for the first time!) to investing in the best pair of compression socks that you've ever owned, staying safe and healthy as a pregnant nurse can be easier than you think — and more enjoyable than you might expect!
Why It's Important to Follow These Tips
Along with facing the risk of exposure to chemicals, diseases and even radiation throughout the course of a shift, nurses who maintain their positions in clinical settings while pregnant have been shown to experience amplified levels of fatigue, stress and more. Unfortunately, these are issues that are already commonly observed in nurses and in pregnant women individually, and the combination can leave a pregnant nurse battling extremes — and even pregnancy or birth complications. Along with this, the nature of the position extends to time constraints, emotional stressors, physical labor demands and abnormal shift schedules that all tend to increase a nurse's desire and intention to quit.
10 Work Tips for Pregnant Nurses
Invest in Maternity Scrubs: You're glowing, and you feel great, but you're still a little uncomfortable. If this sounds familiar, consider your clothing. The waistband of your favorite scrub pants have likely started digging in, and your expanding baby belly has likely left your favorite scrub top a little too tight for comfort and professionalism. You'll feel better, and your glow will get brighter, with a pair of cute and comfy maternity scrubs that have room to grow. Extra pairs for when morning (or anytime) sickness hits is always a good idea, too!
Go to Bed Early: No matter how much you get, your pregnancy is undoubtedly going to leave you craving sleep more than anything else — and it's important to make sure you actually get it! Getting enough sleep in your first trimester is essential for your health and your likely already sleep-deprived body, but also in order to help you get used to sleeping adjustments early on in your pregnancy.
Get Quality Exercise: It may seem counterintuitive, or like you're already getting enough exercise from work, but exercising while pregnant will actually provide you with additional energy to get through a long shift and will aid you in keeping a healthy brain and body during the course of your pregnancy.
Always Have Good Snacks: You don't want to be forced to grab vending machine snacks, or run to your locker when the opportunity to grab a bite arises — so have something easily accessible! If possible, consider keeping some light snacks in your pocket. If you don't get the opportunity to take a proper break, or if you suddenly feel that you need it, don't feel guilty about stepping off the floor for a moment and grabbing a bite or two.
Stay Hydrated: Both as a nurse, and as a pregnant woman, the need to stay hydrated becomes more important than ever. Making a conscious effort to drink more water can be as easy as implementing a hydration schedule and sticking to it.
Wear Compression Socks: During pregnancy, your blood volume increases, your body weight increases and your uterus continues growing. When combined, these changes can and likely will increase the venous pressure within your legs. Thankfully, a solution as simple as wearing some cute compression socks will encourage a significant improvement in any swelling and discomfort that this brings with it throughout the day.
Don't Forget Good Footwear: During your pregnancy, you'll be carrying additional weight — or, more accurately, your legs and feet will be carrying additional weight. Good footwear is crucial as a nurse, but you'll feel the need for this footwear grow even stronger as you continue to grow in size. Keep in mind, however, that your feet will inevitably swell up a little, and that you may want to consider moving up half a size when you're exploring new nursing shoes for women during pregnancy.
Sit down: This may seem overly simplified — but sitting down is an overlooked and proactive way to prevent a number of issues when it comes to working in a profession where you're on your feet all day. There tend to be many opportunities to sit for a moment that we simply don't take, but you'll get plenty of time to be on your feet over the course of your shift, so make yourself take advantage of a sit every time you can.
Consider Switching Your Shifts: As a nurse, 12-hour shifts, rotating shifts, split shifts and night shifts are exhausting — but as a pregnant nurse, these types of shifts can be near impossible. Once you become pregnant, you may want to consider requesting shifts that help you maintain your health and wellness more efficiently.
Know Yourself: It's important to step back a little during your pregnancy and ask for a moment, or some help, when you need it. There's a lot of reasons that people won't just do this for you, especially if you have yet to tell your colleagues or have yet to start showing, so you'll want to communicate. More likely than not, your colleagues will be willing to accommodate and help when asked.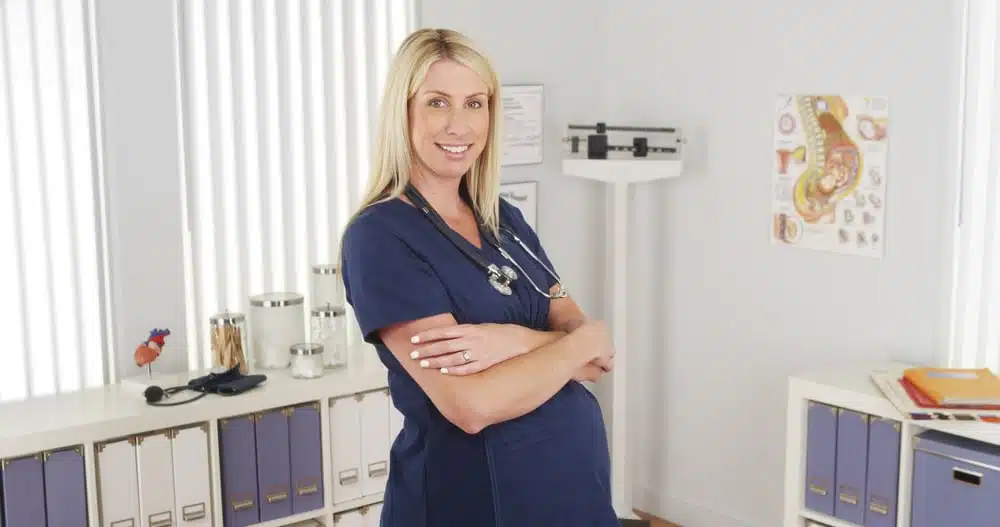 Source: Rocketclips, Inc./Shutterstock.com
Even If You're Not the One Expecting…
Even if you're not the expecting mother/nurse, read and reread these tips again and again and make sure that the experience is as good as it should be for everyone involved!
Pregnancy is a beautiful, amazing and exciting thing — even if you're a nurse working 12-hour shifts. With the difficulties that it can provide, however, enjoying your pregnancy to the fullest as a working nurse can be hard. By knowing the risks and embracing the proper precautions, good health, gratitude, excitement, team building and joy can all be grown alongside your baby!