This post is also available in: Français (French) ìɡ͡bò (Igbo ) Yoruba
Weight loss can be a challenging and time taking process. Many people struggle when losing weight because they don't know how to balance their diet while incorporating exercise into their lifestyle. So, if you are looking for a few ways to make it easier, perhaps we have something that may interest you.
Try and opt for homemade meal replacement shakes.
You might be confused about how to replace your daily meal with a shake. Most people believe they could never replace their meals with an alternative, which is why we are here.
Here is everything you should know about meal replacement shakes, how they benefit you, and what are the best meal replacement shakes at home.
What Do You Mean by Meal Replacement Shakes?
Wondering what meal replacement shakes are? Doctors initially developed meal replacement plans to ensure people suffering from various illnesses could meet their daily nutritional intake without compromising food quality.
This is where meal replacement shakes became the perfect alternative to daily meals because they include all the nutrients a human body requires to function efficiently. Meal replacement shakes are quite similar to protein shakes. However, these drinks don't contain artificial health supplements so don't worry about that aspect.
Some benefits of meal replacement shakes include
Whether you're trying to lose weight or gain muscle mass, meal replacement drinks can be a very effective option to make your journey to a healthy lifestyle easier.
Many people dread going on a diet because they are afraid they may have to stop eating their favorite foods. Then some often have to skip breakfast, lunch, or dinner because of their busy schedule.
If you belong to either group, keep in mind that skipping meals is not a good option. Instead, you should find an alternative that takes less time to consume yet gives you the same amount of nutrients a whole meal would.
This is where meal replacement shakes are ideal. They offer maximum nutritional value while ensuring you stay healthy and in shape.
Top 5 Homemade Meal Replacement Shakes
Take a look at some homemade meal replacement shakes that can accompany you through your journey to a healthy lifestyle 1https://www.medicinenet.com/what_are_10_tips_for_a_healthy_lifestyle/article.htm. All you have to do is make any of these shakes with the mentioned ingredients, and shake them up in a blender; behold; your favorite healthy drink is ready.
Feel free to change the type of milk according to your preference, like almond or soy milk. However, make sure the milk you choose is a sugar-free option.
Without further ado, choose the beverage of your choice.
Banana Chocolate Protein Shake
Looking for something delicious to have while on your weight loss journey? Then this shake is for you. Chocolate and banana make the perfect healthy yet delicious shake for weight loss. For this, you need
One cup of milk
One banana
Ten almonds
One teaspoon of cinnamon
One cup of yogurt
One-ounce quinoa (cooked)
One scoop of any chocolate protein powder (hyperlink to anchor site)
Then, add all of these in a blender, and start mixing until you get the consistency you want. Pour, serve and drink.
Spinach Flax Protein Shakes
For those who are vegan and searching for a vegan homemade meal replacement shake, this shake will be your go-to. It's delicious while fulfilling all your nutrient needs. To make this healthy drink, you just need
One tablespoon of chia seed
One cup of leaves of spinach
One tablespoon of flaxseed
One cup of unsweetened almond milk
Half a cup of banana
Half a cup of mango chunks
Grab your blender, add these ingredients and mix well. Thanks, us later!
Chia and Peanut Butter Shakes
Another vegan-friendly option is this chia and peanut butter shake which is suitable for people who prefer soy milk. It tastes delicious and will be a great alternative to a solid meal. The ingredients are pretty handy; you will find everything in your kitchen. It includes
Soy milk,
Cocoa powder
Peanut butter
Chai seeds
Rolled oat
Blend and blend until you have the consistency you need, and enjoy your healthy drink while you watch your favorite season.
Bender Diet Shake
Next on our list is this delicious and healthy shake for weight loss. For this, you need
One cup of frozen or fresh berries
Half a cup of skim milk
Half a cup of banana
Half a cup of fat-free, plain yogurt
One scoop of any protein powder (low caloric)
To make it more delicious, you can add one tablespoon of peanut butter or instant coffee. Both ingredients are rich in flavor, whereas coffee is rich in antioxidants.
Combine these ingredients in a blender and shake till you make a healthy energy drink. Also, to get a perfect consistency, you can add ice to this drink perfect for summer.
5.Ginger Beet Smoothie
Lastly, we also have an option for fruit lovers. This ginger and beetroot smoothie is an exceptionally healthy drink. And the cheery on top is that it also has anti-inflammatory properties. It is also a great energy drink for athletic performances. Grab that blender and mix up:
One boiled beetroot
One teaspoon of ginger (grated)
One cup of Greek yogurt (plain)
Half a cup of strawberries
One tablespoon of chia seed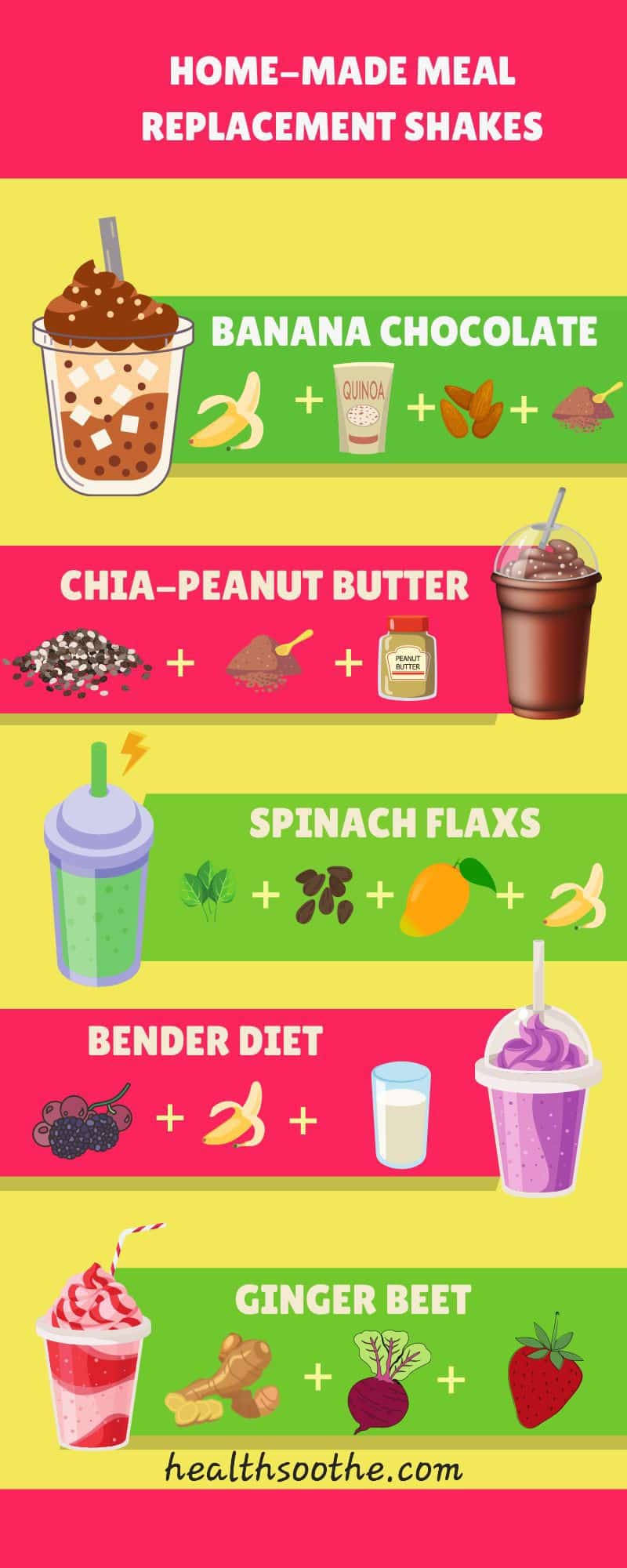 Common FAQs About Meal Replacement Drinks
Answering some of the most frequent questions about meal replacement drinks below,
Is it healthy to replace all the meals with these shakes every day?
Absolutely not! Even though these shakes make a great source of protein, for your health and wellness it's important to consume proper solid food.
When is the best time to have these shakes?
The best time to have a homemade meal replacement shake is after a proper workout, to help your body in recovering and growth of muscles.
Final Thoughts
So, this is everything you need to know about meal replacement shakes. Use these ingredients as per your taste and requirement to make something you can enjoy instead of a full meal.
Don't worry about the nutritional value of these drinks. All the ingredients that we have suggested are rich in anti-oxidants to ensure your body functions effectively. You will feel a boost of energy without feeling even the slightest dizziness. But never replace all your daily meals with these drinks.
They are healthy only if you drink them as guided by your nutritionist or healthy guidance counselor.
So, use these ingredients, enjoy your drink and lead a healthy lifestyle.
Additional resources and citations
1

https://www.medicinenet.com/what_are_10_tips_for_a_healthy_lifestyle/article.htm