Prepared in homes, restaurants, and parties, Semovita has been discovered to be a very popular meal among Nigerians. It is one of the most common swallow meals taken by most people in this part of the world. This widespread Nigerian food is frequently taken with vegetable soup. 
SEMOLINA OR SEMOVITA?
Semolina and Semovita are commonly confused by several Nigerians. Some of us are confused when making choices in the markets, malls or restaurant.
However, the difference between Semolina and Semovita is that Semolina is made from coarsely ground durum wheat whereas Semovita is made from Semolina. Therefore, Semovita is a brand name of Semolina. Hence, the health benefits of Semolina can also be said to be the health benefits of Semovita.
Top Benefits Of Semovita: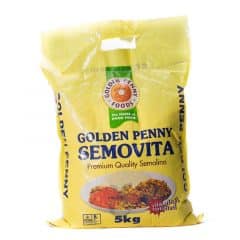 If you're considering a Nigerian food that is rich in fibre, then you ought to eat Semovita. Since semolina contains dietary fibre which boosts our bowel movement and relieves constipation as well as aiding digestion.
Semovita has abundant folate which is what makes a perfect food for a pregnant woman. During the early stages of pregnancy, folic acid helps form the neural tube.
Folic acid is very crucial because it can help avert some major birth deficiencies of the baby's brain. That's why pregnant women are encouraged to get enough folic acid or folate daily during pregnancy.
Semovita is made of selenium that is essential for protecting the heart from infections. It also promotes cardiovascular health by preventing heart failures, heart attacks and others. Other nutrients like folate and magnesium help to reduce the risk of heart ailments.
The main reason why people may gain undesired weight is hunger which leads to the high intake of foods. Semovita keeps you full for a long time whilst providing your body with energy because of the carbohydrates present. Additional reason why Semovita is great for weight loss is because of its high protein level. Several studies have shown that eating foods with high protein content will help you lose weight.
Rather than engaging in some foods which are high in gluten and can be detrimental to the health of diabetic patients, Semovita can serve as a good replacement for people with low gluten intolerance. In comparison to regular white flour, Semovita flour undergoes more gradual digestion and absorption process in the stomach and in the intestines. This is helpful in diabetes management because the slower rate prevents quick instabilities in the blood glucose levels.
SIDE EFFECT OF SEMOVITA
Semovita takes away a whole lot of calcium stored in reserve in the human body. Availability of calcium in the blood should not be reduced. Young ones need calcium for stronger bones and rapid growth And if as a mom, you regularly feed your baby Semovita, then the baby undoubtedly have a shortage of calcium in the body. Asides the development of strong bones, shortage of calcium in the body will give rise to blood clotting. Seizures, and signs of rickets. So be cautious.
Health Benefits Of Semovita:
It is good for weight loss.

Semovita keeps your belly full for a long time because of carbohydrates present.

Semovita is rich in fibre.

Because of its magnesium, it help reduce the risk of heart disease.

Semovita

is rich in iron, which helps boost the heart and kidneys.

For pregnant women, Semovita is good for them.
HOW DO YOU PREPARE SEMOVITA?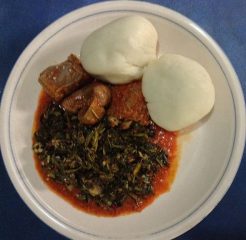 Add 500 ml of water to a handy pot and place it on the stove. 

Wait until it begins to boil. 

Now add a cup of semovita into the cold water. 

Stir the mixture with a wooden spoon. 

Then pour the cold-mixture into the hot water and continue to stir and boil it for another 2 minutes. 

Continue stirring until the consistency becomes tough and elastic without any lumps left. It should be smooth and pleasant-looking. 

Ensure there are no lumps left.

Serve the meal on the plate. 
Conclusion
You see how meek the procedure is. It might not be the perfect solution for people who are losing weight or watching their weight, but it's a delicious traditional food in Nigeria that is quick and easy to cook at home. 
Got any amazingly awesome uses of Semovita for us? Tell it in the comment box!