Are you about to purchase your first pair of compression socks? When purchasing such undergarments, you need to be certain in the size and compression level of the model you intend to buy. Since these socks are designed to treat various venous diseases, doctor consultation is obligatory before making a purchase.
Considering the multitude of models in the market, available in diverse sizes, lengths, pressure levels, and materials, you need to make a reasoned decision.
The following tips will help you with the choice.
Select the right level of compression
The primary factor to consider when choosing the right pair of compression socks is the amount of pressure they provide, measured in mmHg, which stands for millimeters of mercury. There is a variety of compression levels to choose from, mainly depending on your medical or non-medical requirements. Therefore, people suffering from a certain venous disorder are advised to consult a doctor to determine the right amount of pressure for their medical condition.
The slightest amount of pressure such socks provide is 8-15 mmHg, appropriate for individuals experiencing achy legs and minor swelling. The models with mild compression of 15-20 mmHg are a suitable choice for people whose job position is sedentary as well as for the ones having varicose veins. Additionally, these models are ideal for long travels and exercise sessions. Read more about the health risks of leading a sedentary lifestyle.
Moreover, the 20-30 mmHg models are most commonly prescribed by doctors, as these are the most effective treatment for mild medical conditions like edema, varicose veins, and deep vein thrombosis. Conversely, 30-40 mmHg socks are used in the treatment of the same conditions, which manifest in more severe symptoms. These models are also used as a post-sclerotherapy treatment, after the elimination of varicose or spider veins through a medical procedure.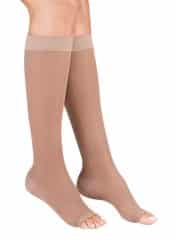 Ultimately, the 40-50 mmHg socks are solely supposed to be worn if being prescribed by a doctor. These models are believed to provide excellent treatment for chronic venous insufficiency. Anyhow, make sure you have a consultation with your healthcare provider prior to purchasing your first pair.
Choose the right style
Despite their primary role in the treatment of medical conditions, compression socks are available in a variety of materials and styles to match the preferences of all users. There are three main types to choose from, those being the knee-high, thigh-high, and waist-high socks.
The knee-high models cover the part of the leg below the knee, while the thigh-high stockings cover the entire leg, from the top of the thigh to the foot. The latter are designed to improve the circulation of the entire leg, not just the lower part. Waist-high stockings are also known as compression pantyhose, particularly beneficial for future mothers.
Additionally, these socks and stockings are suitable for both men and women to wear, being manufactured in a wide range of materials. Sport compression socks, such as Lasso Gear Socks, are made from a blend of cotton and wool, thus providing excellent control of heat and moisture. Anyhow, these models most commonly provide a pressure of 15-20 mmHg.
Women prefer wearing stockings made from sheer materials, which can be easily matched with different outfits. These models are not only comfortable and durable but fashionable as well.
Determine the right size
Another indispensable factor to consider when choosing the right model is determining the optimal size, which generally depends on the type of undergarments you prefer. In order to select the right size, you are supposed to take measurements of the circumference of your ankle and calf as well as the length of your calf, from the knee to the heel.
Furthermore, after taking the right measures, you are expected to compare them with the sizing chart, which you can find on the official website of the manufacturer. In case you are between sizes, make sure you purchase a model one size larger.
When purchasing undergarments with the strongest level of compression, you need to measure thigh circumference and length as well. The following link, https://www.wikihow.fitness/Measure-Your-Thighs#:~:text=Wrap%20the%20tape%20around%20the%20thickest%20part%20of%20your%20thigh.&text=This%20is%20your%20upper%20thigh,the%20tape%20measure%20meets%20itself., includes helpful tips about measuring your thighs.
Conclusion
Before ordering your first pair, consult a doctor, and take the necessary measurements!
We are sorry that this post was not useful for you!
Let us improve this post!
Tell us how we can improve this post?