Nigerian Research shows that some kinds of chewing sticks can prevent cavities and tooth decay. As well as cure bad breath. Find out how to use it for optimal oral health.  
For centuries, chewing sticks has been a household item, used instead of a toothbrush, teeth cleaning twig, and a medicinal remedy. Today, you'll find a variety of chewing sticks, Fagara zanthoxyloides (candlewood or Senegal prickly ash/orin ata in Yoruba), Vernonia amygdalina (bitter leaf) and Massularia accuminata (chewing stick (pako ijebu in Yoruba/atu uhie in Igbo), all claiming to treat or cure mouth conditions. 
Although there is growing evidence to suggest that the leave and root of these sticks can help Boost fertility; stimulate sexual arousal and performance in men, suppress body fat accumulation. Not enough proof and more research are needed to support this claim.
Chewing sticks: timeless natural toothbrushes for oral cleansing.
"It's low risk, and it's been used for many, many years," says Odeleye Olubola Florence, the researchers from the Department of Pharmaceutical Microbiology, Faculty of Pharmacy, Olabisi Onabanjo University, Ago-Iwoye, Ogun State. "Many integrative practitioners suggest using chewing stick along with your regular toothpaste because the study showed good antimicrobial activity against the isolates and could provide better care than fluoride toothpaste." 
She adds, "one of the chewing stick, Massularia accuminata, increased testosterone and libido." But more research is still going on.
What science says about chewing sticks
The study titled "A Study of the Anticaries Activity of Three Common Chewing Sticks and Two Brands of Toothpaste in South West Nigeria" was published in the British Journal of Pharmaceutical Research. The researchers from the Department of Pharmaceutical Microbiology, Faculty of Pharmacy, Olabisi Onabanjo University, Ago-Iwoye, Ogun State, include Odeleye Olubola Florence; Okunye Olufemi Lionel; Kesi Christopher; and Abatan Temitope Olubunmi.
The active compounds if isolated would be good caries-controlling components of herbal toothpaste."
The researchers evaluated three common chewing sticks and two brands of toothpaste in southwest Nigeria for the ability to control caries-causing bacteria.
With an increase in tooth decay and gum diseases all over the world, there is a need to produce oral cleaning agents that will better control caries-causing bacteria.
The scientific proof can be found in U.S National library of medicine And Africans journal online 
Types of chewing sticks
Three common chewing sticks – Fagara zanthoxyloides (FZ), Vernonia amygdalina (VA) and Massularia accuminata (MA)- and two brands of toothpaste- Close Up and Macleans- were evaluated for their anti-caries activities.
We have different types of chewing sticks but the most popular and good ones are;
Massularia acumita (pako ijebu) :
 -  It cleans the teeth and also whitens teeth.
  - The mineral analysis revealed that the percentage composition of sodium ion, potassium ion, calcium ion, and zinc ion, in Massularia acumita (pako ijebu) is higher than others. Hence, it is most commonly used in society for teeth cleaning and removing stains, plaque.
Orin Ata (zanthoxylum zanthoxyloides): 
 - It cleans teeth. also, it might help to arrest sickle cell anemia.
Orin ayan (Distemonanthus benthamianus)
It whitens teeth and removes dental plaque and food deposit
pseudocedrela kotschyl (Emigbegiri)
- It cleans teeth. 
- And also it is capable of curing gum diseases and other mouth-related diseases.
The scientific proof can be found in Africans journal online here
These plants have also been reported to possess antisickling, antiparasitic and antiseptic activities and have been known to be used to treat other ailments including toothache, bad breath, sexual impotence, gonorrhea, malaria, dysmenorrhoea, urinary and venereal diseases, and abdominal pain.
The advantage of the chewing sticks over the conventional toothpaste
Until now, some of these chewing sticks have been shown to possess varying degrees of antimicrobial activity against oral microbial flora which indicates, therefore, that the chewing sticks, in addition to providing mechanical stimulation of the gums, also destroy microbes, a feature which is absent in the common toothpaste and brush method. This advantage of the chewing sticks over the conventional toothpaste and brush could explain why many Africans have strong teeth.
The extracts of some chewing sticks have been demonstrated to have anti-plaque and antimicrobial activities against certain oral bacteria like Streptococcus mutans, Bacteroides gingivitis and oral anaerobes commonly implicated in dental caries and orodental infections.
The researchers added: "Chewing sticks, therefore, can safeguard against dental problems, which is probably the reason why dental caries (decay) is not rampant in certain parts of Nigeria where the use of chewing sticks is frequent. Thus, the World Health Organization has encouraged the use of chewing sticks. In Nigeria, about 80-90 percent of the population in rural areas use chewing sticks, mainly because they are readily available, cheap and efficacious.
Finding the Right Kind of Chewing sticks
While most chewing stick has oral health benefits, the most commonly used are Zanthoxylum zanthoxyloides (Fagara zanthoxyloides) is a glabrous shrub or tree with an English or common name of Candlewood or Senegal prickly ash. It is called Orin ata in Yoruba. It belongs to the family Rutaceae. Its chewing sticks are obtained either from the stems or the roots and they give a warm pungent and numbing effect on the palate.
Massularia acuminata (synonym Randia acuminata) is of the family Rubiaceae. It is called pako-ijebu and orin-ijebu in Yoruba and atu uhie in Igbo. It grows as a shrub or small tree. The inhibitory properties of the plant are attributed to its phytochemicals, which include saponins, flavonoids, glycosides, tannins, and anthraquinones. 
Effect of two common Nigerian chewing sticks on gingival health and oral hygiene. 
 
Massularia acuminata is a traditionally used herb in Yoruba medicine, used as a chewing stick and aphrodisiac; the chewing stick aspect was researched for being an anti-gingivitis agent, and it appears to increase testosterone and libido in research animals.
"The cleansing efficacy of chewing sticks is attributed to the mechanical effects of its fibers, the release of beneficial chemicals or a combination of both. Some African chewing sticks have also been reported to contain fluoride ions, silicon, tannic acid, sodium bicarbonate and other natural plaque inhibiting substances that can reduce bacterial colonization and plaque formation.
You can find the kind of chewing sticks from Amazon if you are outside Nigeria/Africa
When should you use chewing sticks
The use of chewing stick should not be discouraged rather the correct method of usage should be taught to anyone who insists on continuing usage of chewing sticks. The use of toothbrush may be recommended to serve as a supplement.  I and my mother used chewing stick every day and use a toothbrush as a supplement. I recommend using it.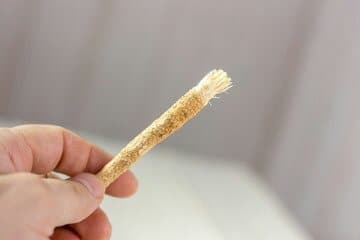 Firstly, wash the chewing stick clean thoroughly.
Chew ones end to a soft tuft.
Start with upper left last tooth (third molar) to the upper right last tooth (third molar).
Scrub teeth from the neck (cervical margin) to the edges (incisal or occlusal margins) on each tooth, a maximum of five strokes are needed to achieve reasonable massage of the gum and thorough cleaning of the tooth.
Scrub the teeth grinding surface (occlusal) backward and forward be in a sawing motion.
Repeat the same procedure on the lower jaw.
Scrubbing upward from the lower-left the last tooth to the lower right the last tooth.
Gently, massage the gum carefully to avoid laceration.
Also, clean out the tongue and mucosa linings.
Finally, rinse out the mouth with water and at the same time clean out the chewing stick and keep.
CONCLUSION
Before the introduction of a toothbrush into our society, so many local methods have been used in an attempt to make the mouth clean.
Today, chewing sticks are still used in many developing countries because of religion and or tradition, and because of their availability, low cost and simplicity. The World Health Organization also encourages its use.