In Nigeria today, there are lots of blood tonics available in pharmaceutical shops. However, not all are effective when it comes to gaining more weight.
A common tonic contains Vitamins B12 and organic iron, which are important when it comes to the formation of haemoglobin, and folic acid, and another Vitamin B, which helps absorb iron and can help in the treatment of anaemia.
When it comes to blood tonics for weight gain in Nigeria, it is also important to get the doctor's approval before adding them to your regimen as some tonics may interact with medications you may be taking.
What is a blood tonic?
A blood tonic is a supplement in liquid form that is often consumed in order to produce more and new blood cells within the body. They are used majorly for the treatment of iron deficiency anaemia or any other forms of nutritional anaemia. The recipe varies but mostly contains iron and other varieties of Vitamins.
The following are what is included in a typical blood tonic:
12. Pregnancy women are advised to take 2.6 mcg per day, when breastfeeding, they should take 2.8 mcg. 14 years and above need 2.4 mcg of this vitamin per day.
This vitamin helps the body absorb iron. An average adult requires about 500 mg daily.
While men need about 8 mg per day women will need about 18 mg per day. Low RBC production is a result of iron deficiency.
An average adult requires about 15 mg per day
Pregnant women need around 600 mcg per day while those who regularly menstruate need around 400 mcg. An average adult is recommended to take about 100 - 250 mcg per day.
The recommendation for men is 900 mcg while that of women is 700 mcg per day.
Women need 1.5 mg of the vitamin while men need around 1.7 mg per day.
Blood Tonic For Weight Gain In Nigeria 
People would like to gain more weight for several reasons. Receiving compliments like "you look so beautiful and sexy",  "you have a lovely body shape", from friends and family or people on social media can be so amazing.
Ladies, you may desire to look healthy, attractive, and bodily and that is quite understandable. And as a man, your thoughts on how to increase your size healthily to boost your presence are well understood.
That's why we have outlined below the best blood tonics for weight gain in Nigeria.
Astyfer Blood Tonic
Astyfer blood tonic is one of the best Blood Tonics For Weight Gain In Nigeria because it contains Iron, Vitamin, B-complex, with Amino acid syrup. The best part is that it doesn't just boost your blood level and boost your weight gain effort, it also contains vitamins that help in keeping you healthy in other health areas. Astyfer is registered and has been approved by NAFDAC and is available in all pharmaceutical shops in Nigeria.
Bunto Blood Tonics for Weight Gain in Nigeria 
Bunto Blood Tonic is another blood tonic that helps with gaining more weight. It helps to produce blood cells and platelets in the body; treat vitamin B12 deficiency, also create antibodies and haemoglobin by maintaining the blood sugar level at a normal range.
Bunto Blood Tonic For Weight Gain can quicken weight gain because of the formation that contains vitamin B, vitamin B12, iron, and zinc.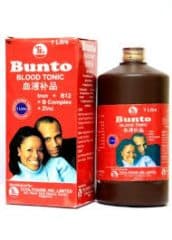 Chemiron Blood Nourishing Tonic
Chemiron blood nourishing tonic consist of vitamin A and B complex, vitamin B12, and vitamin C.
Taking Chemiron blood nourishing tonic or capsule helps tackle iron deficiency that helps restore lost vitality with a combination of added ingredients to promote good health, tackle debilitating illnesses, slow ageing, boost work and athletic performance. 
Vita Globin Blood Tonics For Weight Gain In Nigeria
Vitaglobin is a very strong blood tonic, it works by producing energy, strength, and vigor. Its unique combination consists of iron, vitamin B12, vitamin B complex, minerals, and Folic acid. Which provides the desired quantity of Iron in organic form. Vitaglobin Liquid is deliciously flavoured with Natural Honey and Malt, and popularly known in Nigeria and available in all pharmaceutical shops in Nigeria. 
Astymin Blood Tonics For Weight Gain In Nigeria
Astymin blood tonic consists of essential vitamins such as vitamin A, C, and E and also folic acid which helps the body maintain all-round health and vitality especially as regards preventing nutritional anaemia. It also contains Vitamin B-complex which helps to maintain healthy growth, immune system defence, and energy release. 
Astymin blood tonic is recommended for both children and pregnant women. It is also an effective weight gain blood tonic as astymin is rich in amino acids and helps stimulate appetite for food. 
Liquid Iron Blood Tonic
Liquid iron blood tonic is widely known in Nigeria is among the popular Blood Tonics For Weight Gain In Nigeria because it is affordable and it helps in the treatment or prophylaxis of iron deficiency and megaloblastic anaemia due to the deficiencies of iron and Vitamin B12 and/or folate respectively. 
Vitabiotics
Just like Vitaglobin, Vitabiotics also consist of organic iron and Vitamin B12, which is needed for the formation of haemoglobin, and folic acid, another B vitamin, which helps with the absorption of iron.
Children's multivitamins & minerals
As the name implies, this is an effective blood tonic for children, it works by providing good food dietary supplements for children and it works perfectly well without any hurtful symptoms. It is recommended for children of all ages but makes sure you consult your doctor before giving your child this tonic as this is very powerful and effective.  
Conclusion
All these Blood Tonics For Weight Gain In Nigeria are all effective when it comes to weight gain and are available in all pharmaceutical shops across the country. While some are very affordable and some are a little bit expensive. They all work well. It is also advisable to consult your doctor before usage. 
Thanks for reading through. Let us know if you have any questions for us, you can drop them in the comments section below or use the contact form, our team will respond to them as soon as possible. we would love to hear from you.