While growing up, most of us never heard of a school of nursing until recently. This is so because there have been numerous legal tussles between the nursing profession's governing body and the government officials that are supposed to solidify the professionalism of nursing in the country. This tussle has made it almost impossible to see the prestige that lies in the nursing profession.
However, it should be noted that nurses are the primary care givers and care providers to not just patients but patients; family members as well. They cater to their physical, mental, emotional, and spiritual needs, all to make their recovery faster and easier.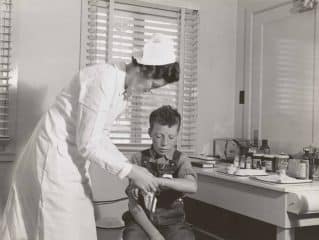 Schools of Nursing are basic institutions of learning where individuals who are interested in the nursing profession study and acquire the title of Registered Nurse. It, unlike the degree in nursing requires a lesser examination requirement and lesser length of study years to become a registered nurse.
In this article, we will list the best schools of nursing that are here in Nigeria, the academic years you will be required to spend to become a registered nurse, the academic requirement to get accepted into any one of these schools of nursing.
Best Schools of Nursing
The schools of nursing in this list are ranked as one of the best due to their history and facilities that make learning easier and faster. They also gave approved curriculums for the purpose of producing qualified nursing professionals.
University College Hospital (UCH), Ibadan; School of Nursing
The School of Nursing, UCH, Ibadan is the oldest school of nursing. It came into existence in 1952, before the opening of the University College Hospital. It was situated at Eleyele before it was moved to its permanent site in the premises of the University College Hospital on Queen Elizabeth Road, Oritamefa, Ibadan in 1957.
The school has modern day facilities such as hostels that accommodate about 340 students, modern science laboratories, facilities for practical demonstrations and many more.
ECWA School of Nursing, Egbe
ECWA School of Nursing is situated on an intersection between Ilorin, Kwara State and Lokoja, Kogi State. It offers two major programmes in Nursing; Basic Nursing and Post-Basic Nursing. Both programmes begin acceptance of application for admission at the same time but they end at different times as you will see on their official website.
It was established in 1955 but was closed in 1972 due to financial challenges. It was reopened and resumed operation in 1992 and by 2006, it had been fully accredited by the Nursing and Midwifery Council of Nigeria.
University of Nigeria School of Nursing
This School of Nursing was established in 1971. It was initially a Specialist Hospital School of Nursing, but it was later given the authority to offer training to General nurses. The approval was given in 1973 by the Nursing Council of Nigeria after their inspection in 1972. The school of nursing was to work with the University of Nigeria to deliver the trainings.
The school offers the General Nursing Programme only.
University of Benin Teaching Hospital (UBTH); School of Nursing
The University of Benin Teaching Hospital is the fifth Teaching Hospital in Nigeria after UCH, Ibadan and Lagos University Teaching Hospital, LUTH. It was taken over by the Federal government in the 1975 to make it more up to standard.
Expectedly, it offers clinical and medical laboratory services to the public but its services doesn't stop there. On its premises is the School of Nursing Complex that serves the purpose of housing individual who are and are interested in pursuing a career in Nursing.
It is well equipped with facilities and personnel to impart knowledge on its students.
Ahmadu Bello University Teaching Hospital School of Nursing
The Ahmadu Bello University Teaching Hospital is poised at offering quality healthcare services to people in their catchment areas. To improve the personnel that helps it achieve this mission, it has a School of Nursing where Nursing professionals are trained.
The Teaching Hospital has a basic school of nursing after which when individuals who undergo this school become registered nurses. However, they can further their nursing education by enrolling in the Post-Basic Nursing School.
Accommodation for students are available in the teaching hospital premises.
Obafemi Awolowo University Teaching Hospital Complex School of Nursing
The Obafemi Awolowo University Teaching Hospital has a Nursing Department. One arm of the department is the Nursing Education. Its mission is to produce manpower needed to carry out healthcare needs in the nursing department through education and training.
To help with this mission, the nursing department has four schools; two schools of nursing (one at Wesley Guild Hospital, Ilesa and the other at Ife Hospital Unit, Ile-Ife), one school of midwifery at Wesley Guild Hospital, Ilesa, and a school of Perioperative Nursing at Ife Hospital Unit, Ile-Ife.
Ondo State School of Nursing, Akure
School of Midwifery, Akure was established in 1978. It is located on Igbatoro Road, Akure, Ondo State. This school is a popular choice among nursing aspirants in the southwest of Nigeria.
The school provides training in both nursing and midwifery with facilities that help to make the education and training of students easy.
It admits students for Midwifery, Post-Basic Nursing and also internship programmes.
College of Nursing Sciences, Mbano
This nursing school is a private catholic school of learning it started as only a School of Nursing in 1983 but by 2019, it became a College of Nursing Sciences running as a private institution from its inception till date.
When it was a School of Nursing, it awarded its students with a Diploma as registered Nurses. However, when it became a College and was accredited by the Nursing and Midwifery Council in 2018, it had more facilities to cater to its students.
Hostels for male and female students' accommodation, an ICT centre, a standard Basic Science Laboratory, recreational facilities and library.
Federal Teaching Hospital, Abakaliki; Basic School of Nursing
FETHA, as it is popular called is situated in the state capital of Ebonyi State. It admits prospective students to study General Nursing and Post-Basic nursing and Midwifery programmes.
With modern day facilities provided by the Federal Government of Nigeria for the use of the Federal Teaching Hospital, the school of nursing is well equipped to produce quality nurses for the healthcare industry.
How Long Does It Take to Become a Professional Nurse?
In contrast to popular belief among certain set of people that nursing is a profession that can be learnt in an informal setting, it is recommended that you enrol in a School of Nursing to obtain a diploma that certifies you as a Registered Nurse. The duration for this formal education is three years.
However, if you wish to further your education, you can enrol for the Post-Basic Nursing programmes in the above-listed Nursing Schools. The duration for the Post-basic programme is two years.
Academic Requirements to get Admission into a School of Nursing
Unlike the academic requirement for getting a nursing degree, you do not need to write UTME to get admitted into any School of Nursing. All that is required of you is your O' level subjects pass.
It is important you have at least five credit passes in English Language, Mathematics, Physics, Chemistry, and Biology/Health Science in WASSCE or NECO in not more than two sittings.
Conclusion
The nursing profession is one of immense importance in the healthcare industry. Their roles cannot be swept under the rug. It is, therefore, important that you obtain your training from certified institutions so as to defend the prestige of the profession.
You should also ensure you have the academic qualification required by these Schools of Nursing before applying for admission.
Related reading