Online counseling is a service that allows you to have a professional counselor at your very own convenience. The therapist can recommend therapy, counseling, or talk therapy to improve and enhance your lifestyle for the better as you work on your problems. This is becoming increasingly popular due to the increase in people working from home or flexibly. It is also attractive to those in rural areas who may not otherwise have access to counseling.
The counseling industry is expanding continuously. It has become an increasing demand in society mainly due to multiple reasons like social-economic factors, globalization, increased divorce rates, etc. Thus, this industry is growing enormously and offers numerous job opportunities. Anyone willing to enter the increasing arena of counseling can opt for online counseling. There are many online counseling companies, but choosing the one that suits you is a little bit difficult. To make it easy, we have listed some of the best online counseling companies to follow.
Here Are The Best Online Counseling Companies To Follow
Clients utilizing Betterhelp receive access to certified counselors, registered medical social workers, and family counselors who all hold masters or doctoral degrees. Based on the user's preferences, therapy may be provided via a variety of channels, including messaging, chatrooms, phone calls, and video calls. Additionally, the system's re-read function enables patients to view previously written feedback from their counselor at any time. Betterhelp claims to pair patients with counselors within a few hours of joining. However, consumers are always free to switch therapists. In some instances, users might choose to remain anonymous during therapy by creating a profile using a pseudonym rather than their entire name.
This website makes it simple for consumers to schedule appointments, and its treatment app has been downloaded more than 3 million times. All Amwell therapists hold master's or doctorate degrees, and their biographies and other pertinent qualifications are listed in profiles on the business' website. Therapy for LGBTQ people, stress management, PTSD counseling, grief counseling, and other services are available. Additionally offered as a distinct service at an additional fee is psychiatric treatment.
Utilizing Cerebral's online counseling service is easy and quick. Online registration, medical evaluations, and first appointment booking are simple processes for patients. Cerebral provides three different plan options to select from, including medical care and counseling, treatment and therapy, treatment and coaching, and coaching just, in contrast to other services on our list. For convenience and confidentiality, the platform may ship your medication directly to your house if you require one.
For individuals seeking online treatment, Teladoc may be a fantastic choice. Seven days a week, its network of licensed healthcare professionals is accessible. After registration, the app will ask users questions about their individual requirements and preferences for a mental health expert before presenting a selection of provider profiles that fit. Patients can talk to an expert via cellphone or video chat if they are feeling nervous, sad, shocked, moody, or not themselves. While medication management is a unique program, it is not available for those with schizophrenia or bipolar illness.
Within the field of internet counseling, an Open Path is a nonprofit group. It boasts that its service caters to people of diverse racial backgrounds, religious beliefs, sexual orientations, and gender identities. It gives them a distinct network of health care professionals to choose from. According to the organization, Open Path focuses on helping "customers who lack medical insurance or those whose insurance policy doesn't provide enough mental health coverage." Depending on the patient's specific requirements, the frequency of appointments is chosen.
Before setting up an appointment, customers of MD Live can pick their therapist from a list of licensed specialists. Typically lasting 45 to 60 minutes, therapy sessions can cover various issues, including addiction, anxiety, stress, bipolar illness, obsessive-compulsive disorder, and more. Additionally, psychotherapy and prescription management with certified psychiatrists are offered as separate services.
The Three Questions To Ask Yourself Or Others, Before Starting Online Counseling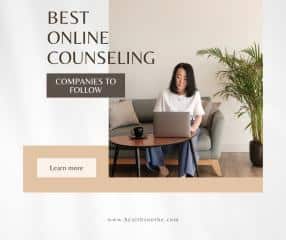 1. Are The Therapists On The Website Licensed?
According to the American Psychological Association (APA), some websites advertise their services like counseling. However, these claims may be incorrect or deceptive since some counselors may not hold valid professional licenses. The APA claims that in some jurisdictions, the terms counselor and therapist are not protected by law, which means a person who advertises themselves as a counselor could not be licensed. Many companies that offer to counsel online promote the credentials of their therapists.
2. Is Online Counseling My Best Option?
Not everyone should use online counseling in every circumstance. According to Frontiers in Psychiatry research, internet treatment may not be the best option for persons with multiple mental illnesses or who are dangerous to themselves or others. Nevertheless, evidence indicates that telehealth is well-received by practitioners and patients and that teletherapy is sometimes successful. In some respects, Henderson asserts, that some of her clients have concurred online counseling is even a little bit relaxed and better than being in the same room.   And that has effects on individuals feeling at ease and opening up, she continued.
3. Is Online Therapy Covered By My Insurance?
Online counseling and other telehealth services are not equally covered by private and publicly funded health insurance. According to the U.S. Department of Health and Human Services, some private health insurance policies cover at least certain telehealth services.
However, Medicare and Medicaid occasionally pay for telemedicine. If an online therapist approves your insurance, they can submit a claim to your insurance company directly. Your deductible and payment obligations will still be your responsibility. According to your policy, you might be able to present your invoices to the insurer for compensation if the website doesn't take insurance. A diagnosis could also be required to use insurance. You might be capable of paying for online treatment in the meantime using your flexible savings account (FSA) or health savings account (HSA).
Final Summary
In conclusion, Online counseling provides counseling sessions for people living far away and with busy schedules. The counseling sessions are done through video, chat, and email. Online counseling is a personalized treatment backed by new technology. It gives benefits such as time flexibility, cost, privacy, and motivation.