What is bariatric surgery? Who should consider weight loss surgery abroad? And why is weight loss surgery Latvia something you might want to think about?
What is weight loss surgery?
Weight loss surgery is also known as bariatric surgery or metabolic surgery. The most obvious benefit of this kind of procedure can be very significant weight loss.
More importantly however, those who undergo this surgery usually experience drastic improvements in their overall health. For many patients, their high blood pressure and type 2 diabetes issues can be significantly improved. For those suffering from the scourge of sleep apnoea, this surgery can reduce this problem.
Who should consider this type of surgery?
Bariatric - weight loss surgery - is recommended if the patient's body mass index exceeds 34, their weight continues to increase and other attempts to lose weight continue to be ineffective. Bariatric surgery also helps counter type 2 diabetes, sleep apnoea, back pains, joint pains and many other related health issues.
Bariatric surgery abroad - the most popular procedures
The most popular bariatric surgery procedures are gastric sleeve, gastric banding and gastric bypass.
Gastric sleeve surgery leads to a significant reduction in the size of the stomach meaning that there is a physical limit on the amount of food someone can consume. This in turn often leads to major weight loss. During surgery, small incisions are made in the upper abdomen.
During gastric band surgery, the surgeon inserts a band around part of your stomach. Thanks to this band, the individual post-operation will feel full after eating smaller portion sizes.
If you elect to have a gastric bypass, your physician makes changes to your stomach and small intestine to alter the way they absorb and digest food.
Gastric bypass requires modifications to your stomach and small intestine and the ways in which they digest food. Post surgery, the recovered patient will experience their body absorbing less calories and feelings of appetite suppression.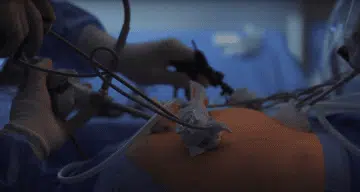 Photo: Aiwa Clinic
Cost of gastric sleeve surgery
Gastric sleeve surgery costs around €4000. Costs in Latvia average 40-70 percent less than in many parts of Europe.
Why choose Latvia and HealthTravelLatvia.lv?
There are numerous benefits and advantages to undergoing bariatric surgery abroad.
Lower costs, less waiting time
First of all, there is the cost, which is often half the cost of what patients would expect to pay in their home country. And then there's the ability to have the surgery when and where you the patient wants it - in Latvia there are no 12-month waiting lists as is the norm in most of Europe. In Latvia, surgery can typically be organized in 1-2 months.
Three decades of experience
Many of Latvia's surgeons trained in Europe and have been performing bariatric surgery in Latvia for three decades.
High standards of comfort and technology
Patients can also expect the highest standards when it comes to the technology used and in patient comfort.
Latvia: perfect for medical holidays
Latvia is one of the greenest and most peaceful countries on the continent with almost half of this small Baltic nation covered by forests. Its capital, Riga, is considered by many to be one of the most beautiful cities on the European continent and is the perfect destination for a medical holiday.
Meeting the needs of medical tourists
The Latvian Health Tourism Cluster is an association of Latvia's leading private and state hospitals and clinics and spa hotels. Together the Latvian Health Tourism Cluster provides everything the medical tourist needs. Many of those who have bariatric surgery in Latvia are from Iceland, Norway and the UK.
Patient review
Monika Baka, Norway:
I underwent gastric reduction surgery in Riga. I decided to have surgery outside of my own country as the operation is twice cheaper here. The surgery in Norway could cost around 12,000 euro. My expectations before coming to Latvia were that the hospitals and medical supplies would be old. But I came to a very new hospital with very nice nurses and good medical service. I feel I was taken very good care of all the time. One of the nurses even spoke Norwegian. Most of them speak good English. I knew I was in safe hands when I came here. I thought the levels here would be lower than Norway but it's actually the same level. I would recommend medical services here in Latvia for friends and family.
Bariatric patient (from Norway) referral about the surgery for weight loss in Latvia, 2020
British patient:
I had my gastric bypass two days ago. I'm feeling very good. I'm very happy with the professional service I've received. Everything has been fantastic. The staff have all been very professional and have given me great care. So I'm ready now to continue on my journey to lose more weight and thank you to everyone who has given me help here. The reason I decided to come to Riga was because I was recommended by a friend who had a great experience and is now losing weight. I travelled here with my husband and the great thing has been that he's been able to stay with me. We have a beautiful double room which is like staying in a five star hotel.
Paciente no Lielbritānijas stāsta par Aiwa klīnikā veikto kuņģa samazināšanas operāciju