A mattress is a sleeping pad that is rectangular in shape. A quilted or similarly secured case, typically composed of thick cloth and stuffed with materials like hair, straw, cotton, foam rubber, or a structure of metal springs, may make up a mattress. Air or water may also be used to fill a mattress.
We have collected a list of the top mattress companies in the US to aid in the search for quality mattresses.
Top Mattress Companies In The Us
From our little research, the top mattress companies in the US are:
1. Serta, Inc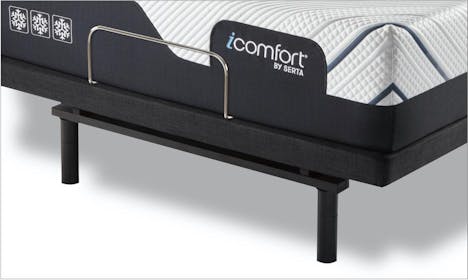 The Hoffman Estates, Illinois-based Serta is an American business that specializes in creating and producing mattresses. 13 mattress manufacturers who had obtained licenses to use the Serta name began Sleeper, Inc. in Illinois in 1931; following that, the business was owned by eight independent licensees who worked together as a cooperative.
It is one of the top mattress companies in the US.
2. Tempur-Pedic, Inc
All Tempur-Pedic mattresses come with the company's unique Tempur foam, which was first developed by NASA for use in its chairs, to help absorb shock waves and provide comfort. It is a unique memory foam that is dense, slow to react, and excellent at releasing pressure. They were established in 1991, and its main office is in Kent, Washington.
3. Sealy Inc
The majority of user and expert reviews for Sealy mattresses fall between good and outstanding, indicating that they are of a high calibre.
Tempur Sealy International markets and sells mattresses under the Sealy (previously the Sealy Corporation) brand in the United States. It takes its name from Sealy, Texas, the American city where the Sealy Corporation was founded.
Its headquarters are in Trinity, North Carolina, and it was founded in 1881. They produce mattresses with springs, foam, and hybrid materials and it is one of the top mattress companies in the US.
4. Sleep Innovation
Mattresses, mattress toppers, and pillows are among the foam bedding products that Sleep Innovations specializes in producing. They also produce hybrid mattresses.
Its goods are available from independent merchants including Amazon, Wayfair, Walmart, and Best Buy. Eleven pillow styles, five mattress toppers, and six mattresses are all produced by Sleep Innovations.
It is headquartered in West Long Branch, New Jersey, and was founded in 2003.
5. Ashley Furniture
Ashley produces furniture for the living room, dining room, bedroom, entertainment centre, home office, and other rooms in the house both domestically and abroad. In addition to China and Vietnam, manufacturing and distribution operations are situated in Wisconsin, Mississippi, Pennsylvania, North Carolina, and Florida.
In 1945, it was founded. They produce a variety of furniture, including mattresses, and are headquartered in Arcadia, Wisconsin. It is one of the top mattress companies in the US.
6. Symbol Mattress Inc
In1935, Richmond, Virginia's Symbol Mattress became one of the top 15 manufacturers of bedding. Eastern Sleep Products, the company that would become Symbol Mattress, was formed in 1961 with the goal of offering value-driven, low-cost products to the retail bedding industry. 
Today, Symbol 1Mattress manufactures a wide range of bedding goods with a wide range of comfort and support features, ranging from promotional to premium retail price points. Additionally, Symbol has increased the range of sleep products it offers, including those for the healthcare, dormitory, rent-to-own, and hospitality sectors.
7. American National Manufacturer Inc
For more than 30 years, American National Manufacturing Inc. has been a top producer of sleeping surfaces for both the consumer and medical markets. The company also has a successful OEM division that produces a wide range of goods that need RF welding or precise sewing.
American National was founded in Orange, California, in the early 1970s with just a few machines with the ambition to produce the best sleep surfaces possible.
It was established in Corona, California, in 1993. They produce mattresses and other sleeping surfaces for both the consumer and medical markets.
8. Restonic Mattress Corporation
Restonic manufactures foam, latex, and2hybrid mattresses for home use. It was founded in 1938 in Buffalo, New York, and it is among the top mattress companies in the US.  
Since 1938, the Restonic brand has been selling premium mattresses all over the world. Their beds are constructed by skilled artisans with an emphasis on comfort and luxury. Recently, Restonic collaborated with the famous television brothers Drew and Jonathan Scott to launch the new Scott Living line. 
Drew and Jonathan Scott's unique style is reflected in their Scott Living mattresses, which are motivated by the things they value most: their home, their family, and a dedication to excellence. The mattresses made by Scott Living are created by hand with hours of skill using the best components and patented construction.   
9. Southerland
, Inc
It is headquartered in Nashville, Tennessee and was founded in 1933.
The 123-year-old, privately held Southerland is a top 20 American producer of foundations, mattresses, and adjustable foundations. 
The best-known attributes of Southerland are its capacity to offer premium sleep systems at the greatest prices available and its dedication to "making it right" for its staff, clients, and partners.
The company's basic principles include honesty and integrity, high-quality materials and workmanship, worker and customer safety, teamwork before self-interest, humility, and ongoing improvement. 
Southerland's growth strategy, which has enabled it to grow from a single facility in Nashville, Tennessee, to four factories across the US, is centred on its legacy and ideals.
With its family of brands and private label products, Southerland today provides service to over 40 states and keeps up its ambitious growth strategy.
10. Kingsdown incorporated
Greensboro, Raleigh-Durham, and Charlotte are only a short drive from the Kingsdown Mattress Factory Outlet in Mebane, North Carolina.
Kingsdown has been handcrafting some of the most comfortable mattresses in America since 1904. They have spent decades honing the art of support and comfort so you may take advantage of all the transformative advantages of sound sleep.
Read Also: Top Trends in the Sleep Health: 5 Ways to Enhance Sleeping
Conclusion:
Your body will be supported while you sleep on a mattress, whether it is a latex one or another kind. This implies that you avoid waking up every morning with aches and pains from sleeping on a poor mattress and instead feel rested and ready to face the day. Lack of the proper mattress might exacerbate chronic discomfort.
These are the top mattress companies in the US, and the durability of this mattress is outstanding.
Additional resources and citations